Some rules should be applied in the summertime – light foundation, or no foundation at all, nude lipsticks instead of dark colors, and a lot of bronzer or highlighter. If you limit yourself to using only the most important products, we guarantee you will have a flawless tan and makeup.
Summer is just around the corner, and now is the right time to get inspired by some fresh and modern summer makeup looks. Check some of the summer makeup tutorials, and inspiring photos below. Let's see how you can make your face glow, and your makeup long-lasting.
Top Summer Makeup Looks To Get Inspired
Metallic Hue
Metallic hues in the summertime are more than welcome. Even for everyday wear – you can definitely make yourself shine under the summer sun. Rose gold on your eyes and lips will enhance the beauty of glowy makeup.
Bold for the Summer
If you are heading to some elegant event, such as wedding, engagements or birthday parties, you can afford to look like this. A bit stronger makeup should be reserved for special occasions only. The intense sun can melt the makeup down, so make sure you put on a good primer and fixator.
Gold Hues
Is there anything better than golden hues in summer? We don't think so. Gold on your eyes, golden highlighter, as well as lip gloss, will make this makeup glow! It is appropriate for both everyday and special occasions. You should try it!
Enhance the Natural Beauty
Summer everyday essentials should be minimal and should enhance your natural beauty. Blue eyes match with beige, orange shades. Opt for creamy ones, since they are perfect for warm weather. You can put on matte, creamy lipstick in the same neutral hue.
Pinkish Shades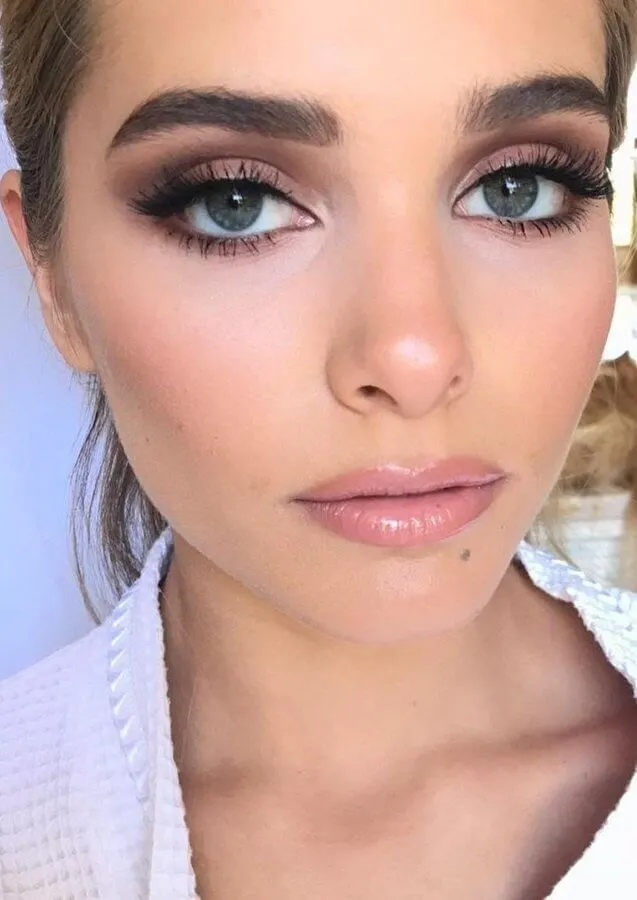 Porcelain tan can be achieved with a good primer, glowy foundation, and highlighter on your cheeks. You can make your eyes pop up with pinkish and brown shades. Use good crease brush to make your smokey summer look.
Caramel Eyes
Caramel shades suit perfect girls with brown and blue eyes. For this lovely everyday look, you will need an excellent matte foundation, a bit of bronzer, creamy orange lipstick, and creamy eyeshadow in the same shade. Apply it with your fingers.
Wet and Glowy Look
Sometimes, you don't need a bunch of makeup products to make your skin glow. You can only apply a concealer, to hide the imperfections, blend it well and in the end add a highlighter on your cheekbones. Don't hesitate to add a lot of blush as well.
Fruit – Inspired
Have you ever wished to have fruit – inspired look? If you are nodding, then this is a great opportunity to achieve that. This look is juicy, watermelon looks alike, and utterly eccentric. For the lips, opt for neutral lip gloss.
Smokey Eyes for Summertime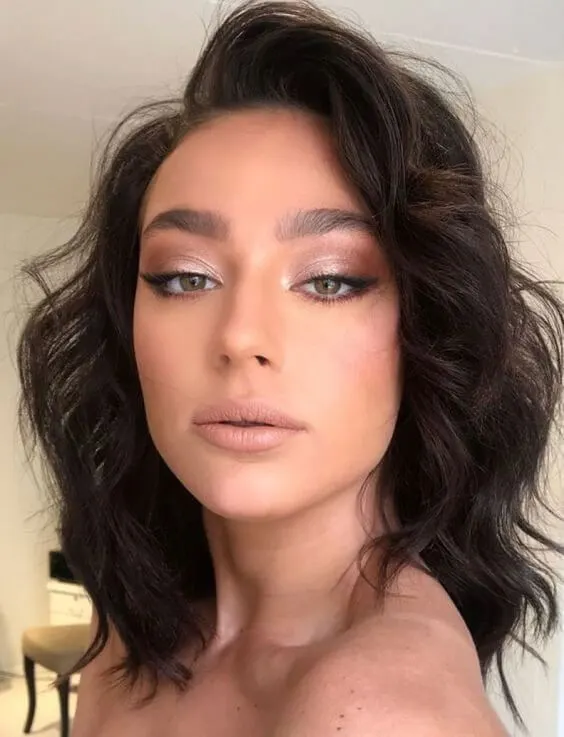 Smokey eye is one of the best makeup techniques and definitely the most used one. You can wear smokey eyes in summer or winter, and every time you wish. Neutral, beige, and shimmery eyeshadows will suit to every eye shape and every eye color.
Color Block
For those girls looking for something new and interesting, you can always try this kind of makeup. It is quite artistic, a bit of eccentric, and so colorful! Orange, yellow, and pink are matchable, even though we didn't know it!
Brows on Point
Making your eyebrows look like this is trendy and quite easy. You should leave your brows to grow, instead of twitching them and brush them. You can also color them with a gel and fix them with liquid products. They are definitely on point here.
Lilac on Your Eyes
Lilac is definitely color of the season. However, it is unusual to see it on your eyelids. It looks great, though! Instead of putting it on your crease, apply the lilac cream eyeshadow on the lower lid. Make a small wing to prolong your eye.
Red Lips
Matte lipsticks are great for summertime due to their long-lasting performances. Make sure to apply it with a lip liner – that is how it will be perfect, and it will last longer than usual. When it comes to the face, just add a bit of highlighter to the cheekbones, and correct the marks with the concealer.
Eyeliner and Blush
Eyeliner wing will make your eye pops as well prolong it. It is perfect for all seasons. You can also opt for other colors if you like your looks to be more eccentric. However, the black one is classic. Every girl should have one liquid black eyeliner in her cosmetic bag.
Ready for the Beach
Colorful scarves will add boho, summer vibe to your style. Combine the colors with the hues of your makeup and rock this beach look. Make sure your lips are shiny, and your eyes matte. Brush the brows and make them look messy.
RELATED: How to Create a Beautiful Makeup Without Eyeliner (Tips & Pictures)
All that Glitter
Supermodels adore it, and it is not a surprise. Glitter is the best addition to your makeup routine. It is ultimately stylish, it shines, and it gives you that special look for sophisticated, elegant occasions. Make sure the rest of your makeup is minimal.
Warm Tones
Make your face shine with a highlighter and perfect rose blush. Blend it well and enjoy the results. When it comes to the lips, pick some warm pinkish color of meat. It will blend perfectly with your sun-kissed skin and blush.
Simply Orange
We are fans of using minimal makeup in the summertime. Only one eyeshadow will be enough to make a statement and make your makeup look great. Make sure your lips stay neutral as well. Just a bit of blush and mattifying foundation make your face look flawless.
For Special Occasions
Wearing coats of makeup in the summertime might not be the best idea. However, if you opt for this kind of makeup, make sure you are heading to some special occasion. Everything should be blended perfectly to stay longer on your face.
Glowy and Natural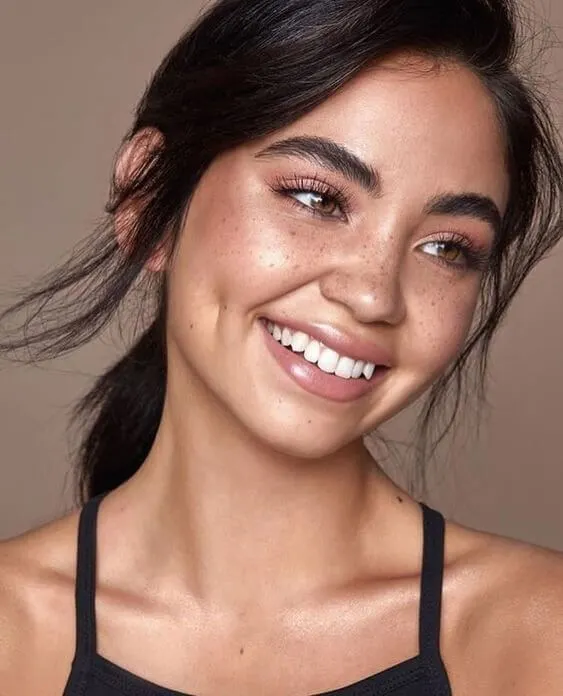 This is one of those no-makeup makeup looks that all girls love to wear. Including us. We adore looks that appear so effortless, still makes you shine and your skin glow. Apply a creamy eyeshadow in the nude or beige shade and add creamy lipstick in the same hue.
Like a Sunset
Some girls can make miracles on their faces. We consider them to be real artists. Try to make your eyes look like a sunset. It would be perfect makeup look for grabbing all the attention, wherever you go. Lips can be metallic.
Bronzed Skin
Bronzed skin can be achieved with many different products. However, there is no better time for bronze makeup than summer. By using a big brush and bronzer, highlighter, and blush, you can get this lovely bronze sun-kissed skin. Coral lipstick is an excellent choice since it gives a perfect contrast to the rest of the makeup.
Smokey on Fire
Smokey eyes are appropriate for summer events. For instance, if you are a fan of darker makeup looks, try something like this. Flawless looking skin, bit sun-kissed, neutral meat shade lipstick, and black smokey eyes – this combo is perfect for special wear.
Orange and Yellow Combo
Yellow eyeshadow is undoubtedly not a color you will imagine on your eyes. But, here it is, and it looks more than beautiful. If you are still not sure if you should wear it, apply it in the corners and on the lower lid. Combine yellow and orange for an ultimate summer look.
Eccentric and Colorful
Girls usually use black liners for their waterline. However, this blogger opted for something more extreme – a baby blue liner that will catch all the attention. Like this look is not enough, she decided to paint her upper and lower lids with an orange hue.
Metallic Green Eyes
Metallic eyeshadows are perfect for enhancing the color of your eyes. As you can see, this makeup artist combines green and matches it with the color of her eyes. It not only looks beautiful, but it is perfect for special occasions.
Wet and White Look
White shimmery eyeshadows are the best ones to combine with black eyeliner. The white hue will make your eyes look bigger and wider. This wet look is perfect for everyday, casual occasions such as after-work drinks with friends, and a relaxed walks with your boyfriend.
Orange Lips
Orange is not reserved for your eyes only. Orange lipsticks are trendy and perfect for summertime. When your skin is sun-kissed, and your hair is wet because you spend your days by the sea, use orange waterproof lipstick to make this look wonderful.
Yellow with an Eyeliner
Yellow with eyeliner is definitely the look you should try this summer. Everybody loves a yellow color on their eyes, even though it is not the natural color you choose to wear. Let your lips be neutral, only with a lip gloss or nude matte lipstick.
Pink Eyeshadow
Same as yellow, pink is not one of those colors that come to your mind so easily when you think about them. However, when you try it, you won't be able to stop applying it to your lids. It looks so lovely and sophisticated. The good thing is, you can match it with any eyes color.
Bronze on your Eyes
Bronze eyes will leave everyone breathless. They look fantastic and appropriate for elegant events, such as weddings and engagement parties. Get ready for the wedding season now, by learning how to make this look works for you. Don't hesitate to add a pinch of color – eyeliner in blue shade.
Delicate Pink
This delicate pink shade is not like those you are used to seeing. It is not so vibrant and strong, but really romantic. You can wear it as your everyday makeup or put it on for special occasions only. Let the lips be in the same neutral pink shade.
Baby Pink and Baby Blue
These two shades were the trendiest ones last season. Everyone was wearing them! Clothes, shoes, and accessories – the choice is yours. But what about makeup? Yes, you can absolutely try wearing baby blue eyeshadow in the mix with light pink shade.
Matchy With Eyes
Orange hues match with blue eyes, and pale skin tone. However, there is nothing better in the summertime than a bit of sun-kissed skin with freckles and orange eyeshadow on your eyes. Brush your eyebrows to look messy and natural.
Natural and Shimmery
A good creamy highlighter is everything you will need to make this style perfect. This girl made this look wet and perfect for the parties at the summertime. Eyes are done in orange and black hues, which are great for everyone who likes classy and effortless looks.
Silver Eyeliner
If you don't want to experiment with colorful eyeliners, make your eyes shine with a silver wing. Silver is shiny but quite neutral and more matchable with other shades. You can always add some eyeshadow below the eyeliner or leave the lid nude.
Wide and Bold Line
Do you want something bold and unique? A bold and wide line of your eyeliner will make such a difference in your everyday makeup routine. You can pick the shade of your eyeliner to be silver and to make your sun-kissed skin shine even more!
Summer Makeup at its Finest
Matte lips, a bit of black mascara, and thin eyeliner wing – that is how we imagine the perfect summer makeup look. If you want to look effortless, still so chic and stylish, make sure to pick the orange color for your lipstick and to put on just a bit of peachy blush.
Vibrant Lilac Eyes
Vibrant eye shadows are not for everybody. They do look great, but the thing is that not every girl is brave enough to wear them. You can leave the rest of your face minimal and your lips neutral – that is how you will be sure you didn't overdo the look.
Yellow Halo Makeup
Yellow eyes are not that often seen. However, this girl rocks this yellowish look and makes it look perfect with the halo effect. Shimmery eyeshadow in the center of your lid gives your yellow look an even better vibe.
Rose Gold Look
Rose gold became popular once Apple started making the iPhone in this shade.
Everybody went crazy about this shade. Jewelry, accessories, and most of all, makeup – all these things look fabulous in this lovely shade. In the summertime rose gold looks even better, by giving you the lovely wet look.
Brown Shades
Brown, earth tones are perfect for summer. Add a bit of metallic brown color to your eyelids, with just a bit darker shade in your corners. Make sure to apply a bit of shimmery gold shade in the inner corners of your eyes.
Colors on Point
Colors are always welcome for summer. Whether you opt for only one vibrant shade or you would like to make a mix. Pink, blue, and a bit of orange will make an impressive combination, perfect for both everyday and elegant wear.
Green Eyeshadows
This singer really knows how to make a statement with her makeup. She applied the creamy green eyeshadow all over her eyelids, and she didn't use anything else. Everything that you can do is to add some neutral, orange shade on your lips. And your look is done!
Neon Pink
Are you interested in trying something new and trendy? If you are nodding, then we have the right suggestion for you – neon eyeshadows. Choose the most vibrant shade, such as pink. Apply it on your lower lids and leave the upper lid nude or apply a black liner for the better contrast.
Bold Lipstick
We all know that we should pick lighter forms and neutral hues for our summer lipsticks. But what about special events? You can afford to wear bold and dark lipstick like the one in the photo above. Leave your eyes nude and without any eyeshadow.
Green and Gold
Green and gold make an awesome combination, whether you decide to wear it as clothes or as makeup. Matching your makeup with your hair accessories is a fantastic thing to do! You can add gold shimmery eyeshadow in the inner corners of your eyes, and apply the green on both lids.
Eyeliner Only
Perfect tan, neutral lips, and black eyeliner – that is everything you will need to make this makeup look work. You can wear this makeup if you are a fan of light and minimalistic makeup and in the summertime when the weather is hot.
Red Coral
Coral is one of the colors of the summer season. You can wear it every day from day-to-night events. It is perfectly stylish and simply timeless. Match it with some attractive eye makeup. For instance, you can combine yellow and red on your eyes to finish off the look.
Pink Blush
This look is quite romantic. Pink shades are always delicate and perfect for every skin tone and every possible occasion. A pinkish peachy eyeshadow on your eyes will make your eyes pop up. The pink blush is great for everyday wear.
Brown Eyeliner Blended
By blending your eyeliner, you will make it look amazing and a bit more effortless. You can choose the color that is not black. Brown is great for summer, but it also matches with green eyes. You can leave the rest of your face minimal and neutral.
Goldish Makeup
Gold creamy eyeshadow should last longer on your lids than the regular ones. You should switch from powder to creamy eyeshadows in the summertime. The face is done with minimal products – a good foundation, a bit of blush, and setting powder.
Watermelon Inspired
Watermelon is the favorite fruit in the warm summer. Why don't you recreate watermelon on your eyes? Yes, you can absolutely do that! You will need vibrant colors and a bit of skill to achieve this lovely look. This one is a head-turner.
Bronzer and Sun-Kissed Skin
Adding a bronzer into your makeup routine will make your skin sun-kissed even on colder days. However, by using it in the summer, you will secure that beautiful glow that is great for everyday wear. Just a bit of gold on your eyes will make a huge difference.
Eyes on Point
Wedding season is here. We all need those lovely summer makeups that are appropriate for elegant occasions as well. This eye makeup is great for that. Brown and beige hues are unavoidable for summertime.
Pinkish Hues
When your skin is sun-kissed, every hue appears better. Especially pinkish ones.
They are perfect on dark skin. Lip glosses are great, and they have come back to style, again. You can also opt for a matte one, as you wish.
Cherry Lips
Cherry lips are something everyone should try. They make your lips appear more prominent, without any filters. Since cherry red is really vibrant, intense shade, leave the rest of your face minimal and barely put on any makeup. Mascara is obligatory though.
Freckles and Blush
If you have natural freckles, good for you! You can enhance their beauty in the summer when you don't wear foundation. Simply add a pink blush with a big brush and make sure to blend it well. For glowy skin add a bit of highlighter.
Vibrant Pink Lips
Matte lipsticks are definitely one of the most sold ones. They are perfect for all seasons, but women love to wear them in summer due to their long-lasting features. When you pick a color like this, in the photo above, you need to be precise when applying it.
Orange Lines
Orange is definitely something we should all try. Whether you would like to do complete looks or you just want to add some orange detail, you can get inspired by this look. A combination of shimmery eyeshadow and orange lines on the crease and the lower lid will leave everyone breathless.
About The Author