Winter is a perfect time to show off your new boots. This season let them be over-the-knee ones. They are both practical and stylish. Let them keep you warm, while still looking charming.
Despite the fact they are a long time considered to be vulgar and intimidating, the fashion world has given them another chance. And we can't be more thankful for that!
Let's see how you can wear thigh-high boots in winter. Check here for advice and tips for wearing thigh-high boots without looking too vulgar.
Thigh-High Boots in Winter
The mini leather skirt is great to wear with thigh-high boots. But when you add a chunky sweater on, you get a stylish winter look that you can easily pull to wear every day.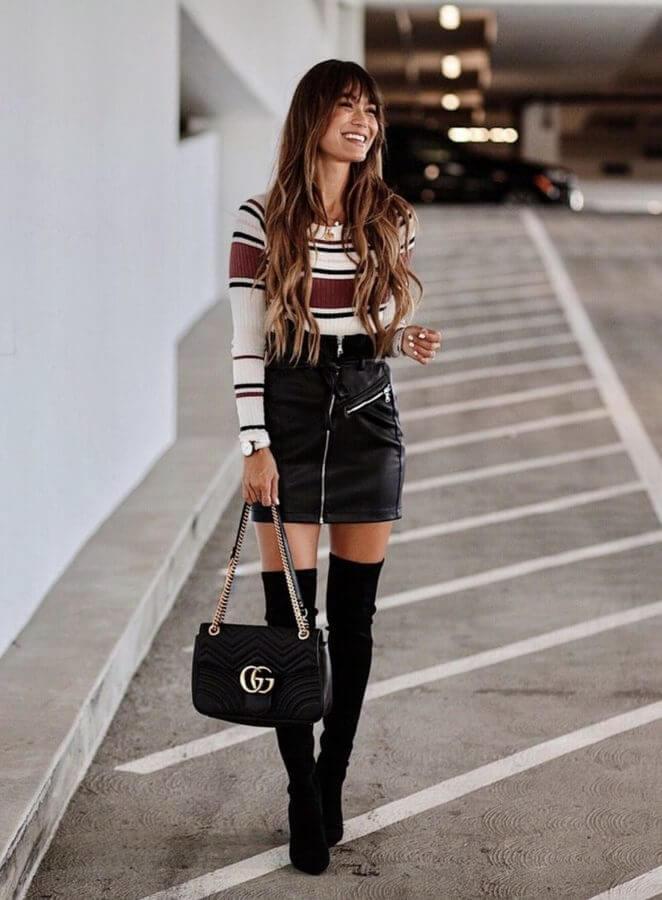 If you are looking for a fashionable and bold look for everyday wear, then this outfit can be the perfect hit. The black leather skirt is bold, while striped sweater in red and white gives you the Parisian vibe.
Maybe seems impossible, but the combination of green and blue is beautiful! The chunky sweater is perfect as a dress, accessorized with a belt. Drape blue coat over your shoulders, and you are ready!
Don't hesitate to wear mini skirts with oversized sweaters when winter comes. Get out from your jeans, and style your suede skirt with thigh-high boots.
Even if we all switch to darker colors in winter, you can easily work with this lovely and bright red sweater. When combined with jeans and brown boots, you end with a perfect combination for an everyday stroll.
Warm yourself in a black beanie, cashmere scarf, and lovely white coat. Boots will provide you with extra warmth. You can opt for a cape coat as well – it will add some uniqueness to your look!
Patent leather might seem intimidation to wear, but when it comes to boots, everything is allowed. White and black combinations are timeless.
Outfit alert: only for the brave ones! Pink over-the-knee boots and blazer dress are two items that you should mix only if you have giant confidence.
Layers are important as much as cozy boots in the winter time. Combine button-downs with sweaters, layer tops over dresses – all that will help you feel cozy and warm.
The retro looking dress looks so chic when combined with thigh-high boots in black shade. Wake up your inner French girl and don't forget a leather beret.
If there is anything better than knit dress in winter, please show us! The metallic trend doesn't quiet down this season as well.
Emerald green is one of our favorite colors for cold weather. It works perfectly with many other shades, from black to beige.
Make a statement in this chic and casual winter outfit. Over the knee boots, jeans, and camel sweater are perfect items for everyday wear – working hours, stroll or dinner with friends.
Maybe you are not so sure about it, but patent leather boots mixed with grey and brown make the perfect combo. All you need to do is to add a double-breasted coat.
Leather leggings and thigh high boots look everything but dull. Drape warm faux fur coat over your shoulders, and you will be ready for zero temperature days.
You can't hate monochrome outfit combinations! They are perfectly polished, and above all, they look sophisticated and always trendy, whether color you choose.
Leather coats were a pretty big thing back in the '70s and '80s. They are absolutely the piece of clothing that never goes out of style – try pairing them with leather thigh-highs.
Stylish and corpo – two words that can describe this monochrome look. It is perfect for both day and night events.
Velvet boots will make you stand out from the crowd! Especially if you pick some eye-catching color, such as red, blue or emerald green.
Red patent leather boots are surely not something you see every day. However, if you pair them in a sophisticated and chic way, then you can wear them as you do usual black booties. They are a confidence booster!
Long legs and sweater dress are not reserved only for supermodels. You can pull off this look yourself – pair your over-the-knee boots with a grey sweater dress and make yourself cozy.
The asymmetric skirt will even make your boots even more highlighted. Red details match amazingly with white clothes.
Brown is color of the season. That is why you should mix your suede boots with an oversized sweater and layer a black blouse below.
The checked skirt which is also asymmetric is a bull's eye for the winter season. Combine it with a striped sweater, and you will get the perfect look for either dinner, a casual stroll around the city or even for shopping.
Combining brown and black might seem like a surprising thing to do, but trust me, it looks fantastic and fashionable.
If you were wondering how to style thigh-high boots with pants, here is the answer. Black over-the-knee boots and flare pants are items that you will need to make this outfit work.
Although this silhouette is not suitable for everyone, oversized dress and thigh-high boots in the form of socks will make you look attractive.
This fashion editor matches the color of her boots with her lovely winter coat. You can do it with any other color.
A preppy and polished outfit like this is perfect for both day events and parties at night. If you opt for flat boots, you can wear this outfit for a beautiful and long walk around the city.
Faux fur vest and thigh-high boots will be your main alliances when cold winter time comes. The white and grey combination is always a good idea.
About The Author