Boots are undoubtedly one of the go-to items in fall. We see outfits with brown boots everywhere from the streets to a runway or the red carpet.
Whether your style is casual and laidback or glamorous and dressy, you won't regret investing in a pair of quality brown boots. Check these examples to get started. From edgy leather to classic white denim, there's something for every style palette. Have a look!
Brown Boots Outfits With Some Luxury
1) Pairing Leather Boots With A Cardigan
Here style meets comfort when basic black meets the simple elegance of brown, beige, and gray. Combine these neutral shades in soft, luxurious fabrics for an ensemble that not only looks elegant and classic but is also breathable and comfortable to boot.
If you're looking for one style essential to invest in this season, make it over-the-knee riding boots, such as this pair made of durable brown leather. Stylish and modern, they're the perfect choice to create a variety of fashionable fall outfits.
2) Brown Boots Combined With Silver Colors
Indulge in the best of the icy weather outside and incorporate cool, wintry colors into your wardrobe.
Brown boots form the basis of this outfit, worn snugly over skintight navy blue skinny jeans. Up top, soft fabrics are layered to create volume and warmth. A baggy-fitting top in light silver is worn with a voluminous beige wrap scarf.
3) Pair A Gray Poncho With Brown Leather Boots
This is a sleek and stylish outfit with brown boots. Using a basis of pure white as an underlying palette, this outfit is made up of sleek, simple pieces paired together easily yet beautifully. White skinny jeans plus a plain white T-shirt are modern and trendy, especially when tucked into brown boots.
Adding a sophisticated touch is a gray-and-white striped poncho draped effortlessly over the shoulders. A matte leather handbag matching the boots is a stylish touch; its color perfectly accenting warm gold jewelry pieces.
How to Wear Boots to Unleash True Feminine Finesse
4) Boots Matched With Floral Romper – A Country Look
Just because the weather is turning gloomy outside doesn't mean your wardrobe needs to follow suit. Hold onto those warm weather favorites and give them a fall update, like this floral romper.
When paired with navy blue tights, a chunky woolen scarf, and over-the-knee brown boots, you're covered up and stylish at the same time. Keep it fashionable and current by adding a trendy patent leather handbag to the mix.
5) Suede Boots Paired With Floral Dress
Here we have a selection of individual country-inspired items added together for an eclectic, sweetly feminine look. A floral baby doll dress with a lace trim is matched perfectly with a light denim jacket and olive green scarf.
Opaque tights and over-the-knee brown boots add a slight edge to the outfit. A matching brown suede sling handbag completes the ensemble.
6) Elegant Outfit With Duster Jacket And Brown Boots
For avant-garde style straight out of the pages of glossy fashion magazines, look no further than a sleeveless duster jacket like this one in soft dusty pink.
The color is feminine yet versatile, adding shape and dimension to this basic outfit of ripped blue skinny jeans and a white V-neck top. Be sure to match your accompanying accessories, done perfectly here with brown boots and a sling leather bowler bag.
Go Wild with Color
7) Wearing Boots with Berry Leggings
If bright, bold colors are your thing, this trend was made for you. Rich, earthy shades like this deep berry are very en vogue right now. To soften the effect, pair bright leggings like these with a pure white blouse, topped off with a matching plaid scarf with accents of red to pick up on the autumnal theme. Brown leather boots nicely round off the look.
8) Matching Boots with Plaid
Throwback fashion is big right now, especially trends that pay homage to the grungy 80s. Case in point: a red-and-black plaid shirt like this one.
Worn open over a basic white T-shirt, the overall feel is casual and cool, particularly when paired with black skinny jeans. But instead of opting for black grungy boots, go one step lighter with brown ankle boots. The effect is hip and grungy with a modern feel.
9) Subtle Use of Color
A solid base of black is a sure-fire way to slim down the silhouette of the body.
Here we see black leggings worn with a distressed longer-length black blouse. Dark brown knee-high boots break up the monochrome color nicely, topped off with a pop of mauve in a wrap scarf to add dimension. A large carry-all brown leather bag ties in perfectly with the luxurious leather effect.
10) Wearing Lace-Up Booties
This look is all about basic wardrobe items paired together in a classic, traditional way. Black skinny jeans are worn with a loose-fitting pale blue chambray shirt. The two standout items here are a woolen snood scarf in the season's hottest shade of berry as well as lace-up brown ankle boots. Simple, classic and trendy.
How to Wear Boots with An Edge
11) Matching Ripped Jeans and Tasseled Boots
Fashion may come and go but, as far as trends go, there's one look that keeps coming back year after year and that's edgy fashion. You know the style: ripped denim, black leather, distressed fabrics and lots of zippers.
This fall season, though, the edgy motif has a new addition – brown leather boots. Here we see them worn with ripped black denim skinny jeans and an easy loose-fitting gray woolen sweater. A black sling bag is wrapped casually along the body, adding to the easy-going, modern feel.
12) Pairing an Oversized Wool Sweater with Long Brown Boots
Edgy, sassy with a rock star vibe – this outfit screams glamorous and grungy all at the same time. Distressed black skinny jeans peep out underneath stylish over-the-knee suede brown boots. On top, things are kept more loose-fitting, with an oversized mohair sweater scrunched up at the waist with a black buckled belt.
13) Wearing Olive Green Jacket with Brown Boots
This outfit combines military, grunge and form-fitted style for one fall look that remains sophisticated and chic. It's all about layers with ripped black skinny jeans serving as the blank canvas for stylish knee-length suede brown boots.
Beautiful olive green completes the rest of the color spectrum – a soft, draped green top is tucked into the jeans, covered up by a belted olive green military-style jacket worn open.
Styled in Stripes
14) Wearing Booties with Parka
When you want to skip the glitz and glamour and go for a more relaxed, easy-going look, you can't go wrong with sporty horizontal stripes.
Here we see thick green stripes adorn a longer-fit sweater, worn underneath a sleeveless khaki parka. Blue skinny jeans are ripped strategically on the knee, all pulled together by brown scooped ankle boots and a structured tote bag in rich caramel brown.
15) How to Match Oversized Scarf and Same Color Boots
It's all about proportions when wearing heavy, layered fabrics like these.
A large, oversized scarf can overwhelm you, especially if you have a smaller frame. Prevent this by wearing slim-fitting pants down below. Black leggings provide the perfect balance, tucked underneath knee-high suede brown boots. Black-and-white Breton stripes keep things chic and polished, worn stylishly with a Louis Vuitton tote bag.
16) A Look with Riding Boots
Comfortable riding boots are a fall must-have, and if they're a little worn-in, even better. Contrasting against their rugged appearance is a pair of sleek, slim-fitting pants in dark beige as well as a black-and-white striped top.
A fitted navy blazer keeps things chic and classic on top featuring an unexpected pop of color as the sleeves turn up. Bring in a rusty fall color like this burnt orange scarf to tie back into the fall color palette.
17) A Blazer with Boots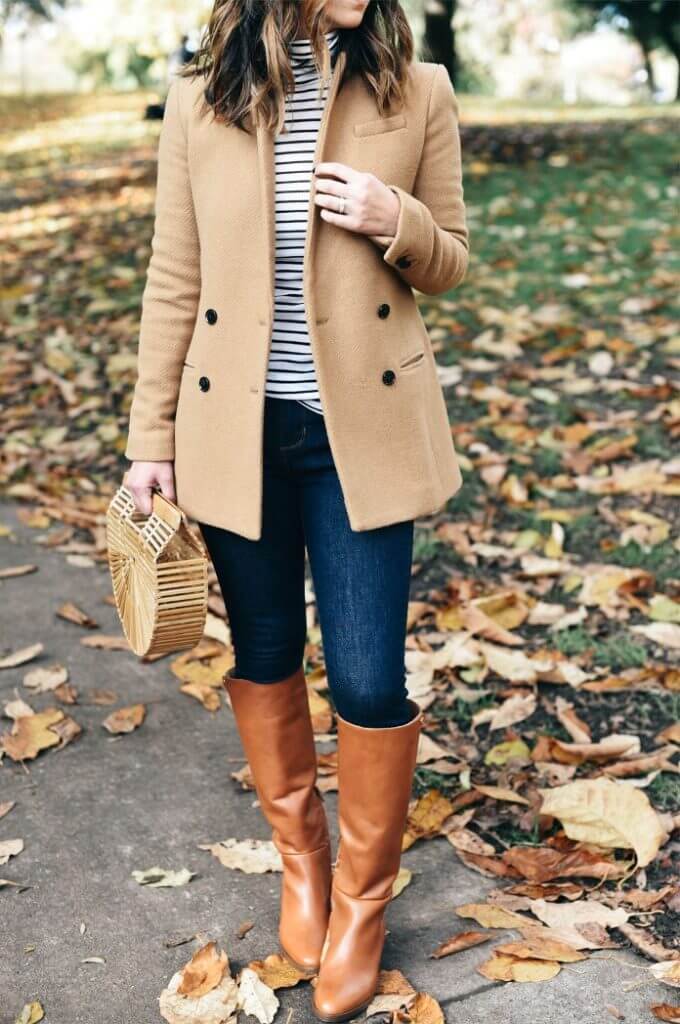 Brown boots with a wider brim like this camel-colored pair go perfectly with straight-leg or skinny jeans. A Breton-striped polo neck sweater covered up stylishly with a structured tan blazer complete the elegant ensemble. The look is simple, graceful and polished – perfect for cool autumn weather.
A Touch of Leopard Print
18) Classic Outfit with Boots with Some Leopard Details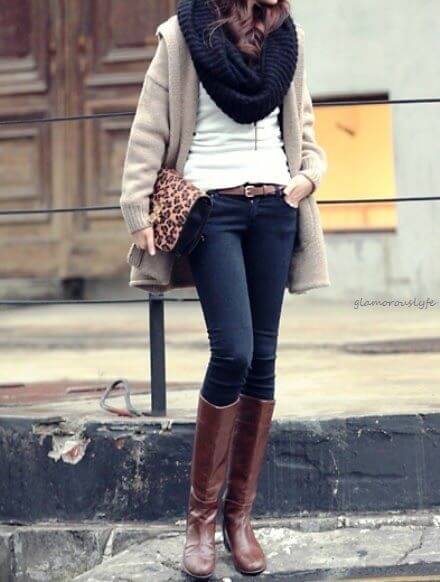 One of fall's biggest trends is undoubtedly the re-emergence of leopard print. A slight touch, as seen here in an envelope clutch purse, goes a long way towards pulling the ensemble together.
The rest of the outfit is kept neutral and basic, with a white top and navy blue straight-leg jeans tucked into sleek dark brown boots.
19) How to Wear Relaxed Sweater with Brown Boots
Country and girly with a touch of edge – this outfit combines the best of fall's most noteworthy trends. We see a white lace dress paired with an oversized beige woolen sweater, plus dark brown opaque tights under knee-high caramel brown boots.
A light neck scarf in fun leopard print and a medium-sized Louis Vuitton sling bag add some fun and whimsy to the look.
Country Feeling
20) A Trendy Look with Cowboy Boots
Take a style cue from the American South and polish off those rustic cowboy boots for a look that is pure country. All it takes is a pair of basic black leggings to create that sleek silhouette along the thighs which then lead down into the wide leg of the boots.
On top, a simple white T-shirt keeps things cool and casual, worn with a button-down long military-style shirt. A statement necklace adds a personal touch, as does a chain-sling black handbag.
21) How to Wear Classic Blue Jeans with Brown Boots
For days that call for more coverage and protection from the cold, you can't go wrong with denim and leather paired beautifully in an ensemble of warm brown tones.
Skinny-leg blue denim jeans are tucked elegantly into knee-high brown boots. The color then continues with a glossy leather jacket and handbag in a similar shade. For added comfort, a voluminous wrap pashmina scarf completes the outfit in a gorgeous shade of golden beige.
22) An Elegant Burgundy Look
These burgundy brown riding boots from Tory Burch are slim and elegant, providing a lovely sleek silhouette to the entire outfit.
Gray knee-high socks peek out cheekily underneath, adding a dash of color to basic black leggings. The rich berry shade is picked up on top with a longer-length cotton sweater, paying homage to one of the season's most decadent shades.
Fine gold jewelry finishes it all off, perfectly accenting the warm fall colors.
Patterned Looks with Boots
23) Matching Aztec Poncho With Brown Boots
The elegance of simple black and white monochrome shines through in this outfit. An Aztec print poncho is perfect for cooler fall temperatures, seen here perfectly paired with a long black V-neck sweater. On the lower half, sleek black leggings tuck neatly into knee-high suede brown boots.
A sturdy brown leather handbag and a dainty gold monogram necklace complement the color balance.
24) A Combination of Plaid And Boots
Plaid comes alive in this wrap poncho-style jacket. But instead of the usual red and green tartan style we're used to seeing, this one incorporates autumn browns and grays into the mix.
Underneath, a gray turtleneck sweater peeks out, worn over slim-fitting dark blue jeans. Suede over-the-knee Michael Kors brown boots are chic and stylish, while a soft beige hat completes the elegant ensemble.
25) Poncho Prowess
A cover-all poncho is the ideal closet essential for those days you feel you've got nothing to wear. Simply throw it on over a black sweater and black leggings and you're all set.
Make sure to add some color down below, though, such as these suede brown boots. With slight ruching along the length of the lower leg, they're great to add some shape and proportion to your figure.
About The Author