Asians around the world come in all sorts of different shapes and sizes, but anyone can rock the fresh-faced, natural look.
Don't think that your eye shape can hold you back from looking gorgeous! All you need is to use the right techniques. Follow along to see how you can get the natural Asian makeup look in no time at all.
Back to Base-ics: Getting That Fresh, Dewy Skin Look
To start off, the natural Asian makeup look often involves a gorgeous complexion that appears to glow. There are a number of ways to achieve this depending on what you're working with. If you're diligent about skincare or blessed with good genes, you may not need to use foundation at all.
If this is the case, apply concealer in a shade that matches your skin tone (not a shade lighter!) to any areas that are discolored or any blemishes you may want to cover. Set it with a bit of translucent powder and highlight to your taste.
If you'd love a really perfect finish, you can use a tinted moisturizer, BB or CC cream, or even a full foundation with a dewy finish. Leave all of your matte foundations and powders for another time – in this look, we want sheen and glow.
If you want even more glow, use a highlighter or even a shimmery eyeshadow in a shade lighter than your skin tone. Apply this to your cheekbones, cupid's bow, and anywhere else you want, such as the bridge of your nose.
Get An Enviable Eye Look: Instructions For Different Eye Types
Now it's the time to apply the makeup. Putting on eyeliner and eyeshadow is a skill, but not an impossible one! To get the perfect eyeliner look, tailor your application methods to your eye shape. Whether you've got a big visible lid or not, don't fret – there's a perfect way to apply eyeliner for every kind of eye.
Check out how you can get a natural Asian eye look below. Don't forget to use an eye primer!
Handy Makeup Techniques for
Large Visible Lids or Double Eyelids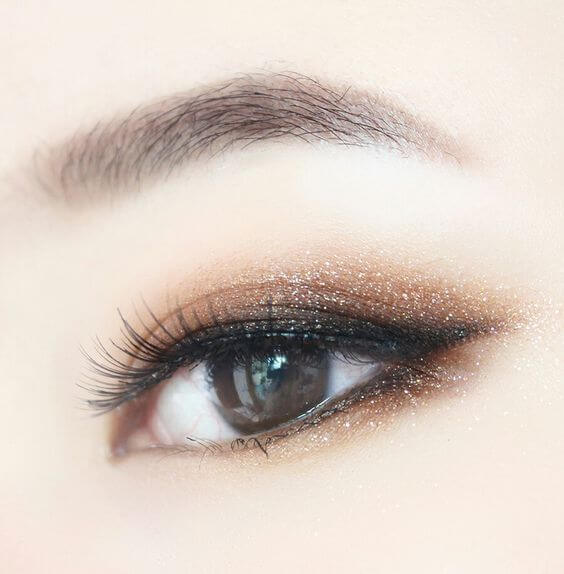 The standard natural Asian makeup look involves a shimmery eyeshadow shade that's not too different from your skin tone, whether that's a champagne, beige, copper, or rose color. This can be applied all over the lid after primer for a no-fuss, fresh-faced look. If you want, you can follow this up with some black or brown eyeliner. If not, skip right to mascara.
If you've got enough lid space, the standard way to apply eyeliner is to apply your pencil, gel, or liquid eyeliner as close to the lash line as you can in an even line across your lid. If you want a cat-eye shape, you can apply a wing. To do this, try to visualize your lower lash line extending towards the tail of your eyebrow.
Slowly extend your bottom lash line towards the tip of your eyebrow. Do the same from your top lash line, continuing your existing line. You should be creating a triangle with the tip pointing towards your eyebrow. After you're satisfied with your wing, fill in the triangle.
You should then have a fabulous cat eye! You can also use eyeliner (with optional smudging) on top of a shimmery neutral shadow for a smokier eyeliner look.
How to Play Up
Almond or Narrow-shaped Eyes

with Eyeliner
If your eyes are almond shaped or are on the thinner side (similar to Lucy Liu's), try a mini cat eye. With your eyeliner of choice, create a small flick on the outer corner of your eyes after lining the lid. To make your eyes really pop, use white or peach eyeliner on your waterline.
For eyeshadow, a lighter shade will open up your eyes. Don't be afraid to apply your eyeshadow well beyond the mobile lid if you don't have a ton of lid space.
Tips And Tricks To Make Your
Monolid Or Hooded Eyes

Fabulous
If you have little or no visible lid space and/or lack a visible crease, you'll want to create an eyeliner or eyeshadow shape that covers an area that's bigger than just your mobile lid. Instead, you will take your desired eyeshadow all the way from your lid up into your crease and even slightly on your brow bone. The shape of your eyeshadow should be rounded on top and end in a wing or triangle shape in your outer corner.
Pro tip: use a piece of tape on the side of your eye (at an angle to your lower lash line) to keep the shadow in a nice, neat line. When you're done applying your eyeshadow, remove the tape for a clean eyeshadow shape.
The following technique was used to create a bold eyeliner look for monolid eyes:
[video_page_section type="youtube" position="default" image="/wp-content/uploads/2016/12/monolid-eyeliner.jpg" btn="light" heading="" subheading="" cta="" video_width="1080″ hide_related="false" hide_logo="false" hide_controls="false" hide_title="false" hide_fullscreen="false"]https://www.youtube.com/watch?v=nvn3roM0UvA[/video_page_section]
To apply eyeliner to eyes with little to no visible lid, mark the spot in which you want the eyeliner to be visible with a small dot or dash of eyeliner. The key is to do with while your eyes are still open. When your eyes are closed, use this dot to create an outline of where you will color in your eyeliner. You can use pencil, but it might smudge, so gel or liquid eyeliner may be the way to go.
Let your eyeliner set for around 30 seconds before closing your eyes so it doesn't transfer to your crease. Then, go over this line as many times as you want, depending on the level of thickness you want your eyeliner to be. It may seem ridiculous with your eyes closed, but once your eyes are open, it will look flawless. You can do this technique with eyeshadow or just standalone eyeliner.
Pro tip: you can layer eyeliner pencil and eyeshadow for a cool new shade.
Cute Eyeliner Looks for
Downturned Eyes
If you have downturned eyes, an easy eye makeup look to do is what's called the puppy eye. It's similar to the cat eye, but instead of going upwards, the eyeliner flicks downwards. After lining your lash line, you'll want to draw a small triangle on the outer corner of your eye, almost in a cat-ear shape. The triangles should be slanted outwards and go beyond your eyelid, into your lower lash line.
The Korean Aegyo-sal Look: Accentuating your under eye area
If you like, you can try a Korean look called aegyo-sal, or eye-smiles. All you need is a soft, matte brown eyeshadow and a light, shimmery highlight shade. The idea is to essentially contour your under-eye area using shadow and highlight to give the appearance of more defined eye bags. Many say that this gives you a cuter, more youthful appearance or can make your eyes look rounder, but you'll just have to try it out for yourself to decide!
The first step to getting this look is to take a matte brown powder that's slightly darker than your skin tone (it can be eyeshadow, bronzer, eyebrow powder, or even a brown eyeliner) and apply it below your lash line with a small brush to where your existing eye bags are. If you don't have any, apply them to the area in the photo to imitate natural eye bags. Be sure to follow the natural curve of your eye.
Once you've done this, blend out the line with a blending brush or a Q-tip so that the line is not so harsh. Next, take an eyeshadow slightly lighter than your skin tone and apply it to the area just below your lash line. If you have highlighter or a light, shimmery eyeshadow, you can apply this to the fullest part of your under-eye area. Blend it out so the transition from brown to shimmer is seamless, and you've got your ayego-sal look finished!
Putting the Finishing Touches: powder, mascara, and more
The first step to finishing your eye makeup is to apply translucent powder on top of your eyeshadow or eyeliner if you think it may be in danger of smudging. If you have particularly oily lids, this is a great preventative measure to take. If you've never had a problem with eye makeup smudging, feel free to skip this step.
Next, you'll want to address your lashes. If you have an eyelash curler, curl your lashes before applying mascara. Asians normally have naturally straight eyelashes, so curling them can make them appear more visible. You can even use a heated eyelash curler for a more dramatic effect.
If you like to wear mascara, apply to the top and bottom lashes. You can use a combination of 2 different mascaras to get big, voluminous lashes. If you don't like the feeling of traditional mascara, try a fiber mascara.
If you really want to take your lash game to the next level, consider applying false eyelashes. You can choose between a strip of false lashes that goes over your entire lash line or individual falsies that you can apply just at the outer corner or anywhere else you desire. False eyelashes will make your eyes look bigger, so if your eyes are on the smaller side, they're worth giving a shot.
To apply, dab a bit of eyelash glue onto your hand. Then, using tweezers or your fingers, carefully pick up a thin layer product on the lash band of the eyelashes. Apply as close to your lash line as you possibly can and wait for the glue to dry. Be sure to invest in a good quality eyelash glue if you don't want to have to fuss with your eyelashes the whole day!
Completing the Natural Asian Look: Brows and Blush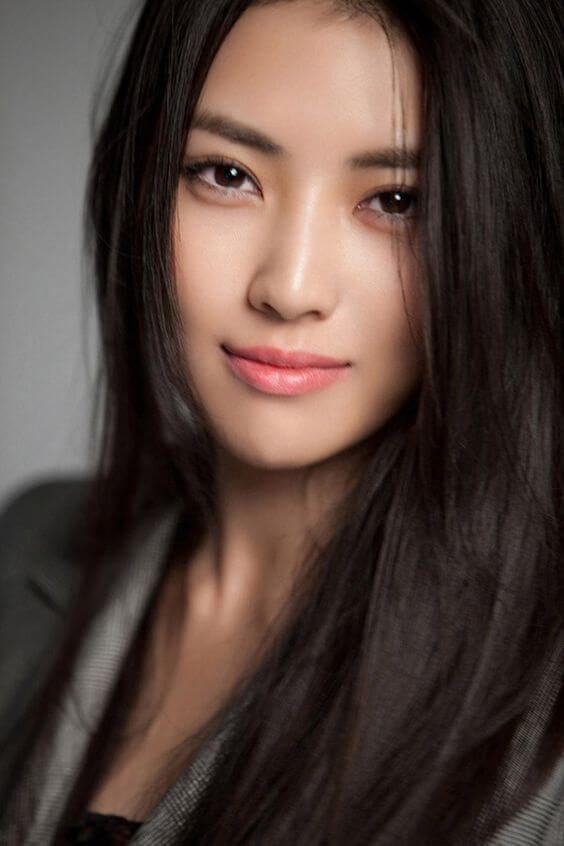 To make your natural makeup look complete, you'll want your brows to be well-groomed. Most of the time, the brows in this makeup style are kept very straight. This look isn't about creating a high, unnatural arch. If your brows are naturally arched, don't worry – keep them as they are. Everyone's eyebrows are different – the important thing is to keep them looking neat and tidy.
If you need to fill in any sparse areas, go ahead and do so. The best brush for applying eyebrow products is a small angled brush, but if you're in a pinch you can use any eyeshadow brush you have on hand. For our natural look, use a soft powder or pencil a shade slightly lighter than your natural color (often a dark brown or gray) and lightly define your eyebrows.
Some people have thick brows and won't need to do this step. Others may need to draw or extend their brows, while others still may just need to brush them into place using a gel or pomade.
Lastly, add some healthy color to your cheeks. This should be a light, natural flush – save the hot pink for a different type of look. If you are very pale, consider a peach colored blush. Otherwise, a wash of subtle pink will make you look healthy and youthful.
Getting the Glossy Gradient Lip: How to Achieve this Hot Asian Trend
The natural Asian makeup look isn't about bold lipsticks or bright colors. Instead, opt for a sheer pink lip tint or gloss. If you'd like to try a more complicated look, the glossy gradient lip look is cute and still natural.
To get this look, first take a concealer in your shade and apply it to your entire mouth. Make sure that the concealer around your mouth blends in well with your foundation or bare skin. Once you're satisfied with that, apply a pink or berry lipstick to the center of your lips as shown. Then, blend your lipstick outwards using a Q-tip, brush, or even your finger and top it off with a clear gloss if desired.
A second way to achieve this look is to take two different lipsticks in similar shades – a darker lipstick color and a lighter lipstick color. Take the lighter shade of lipstick and fully apply it on both your top and bottom lip. Next, take your darker, redder or rosier shade and carefully apply to the center of your lips. Blend with a finger, Q-tip, or brush. Finish the look with a clear gloss.
Now you're ready to enjoy your new, fresh and natural Asian makeup look!