As you probably already know, a moisturizer is essential to keeping your skin from drying out due to harsh winds, indoor heating, or simply cold weather.
We've compiled a comprehensive list of the best moisturizers for all skin types, whether you've got oily, normal, dry, or combination skin, from moisturizing sunscreens and drugstore favorites to high-end luxury products.
Quick Moisturizing Tips For A Softer Skin
Before you set off on your search for the perfect moisturizer, here are a few tips you might want to keep in mind.
Always moisturize immediately after taking a bath or a shower
Hot water strips the skin of its natural oils, so you should restore moisture to your skin immediately afterward. You want to prevent your skin from drying out as much as possible!
Use Vaseline or Aquaphor on top of moisturizer at night
To avoid any moisture from evaporating at night, you can add a layer of an occlusive agent (like petroleum jelly) such as Vaseline or Aquaphor. This will lock in any hydration, allowing you to wake up with great skin. It's a bit too sticky to do during the day, so really take advantage of this at night.
Layer moisturizers for really dry skin
If your skin just can't get enough moisture, try layering different moisturizers. Wait for each layer to sink in fully before applying a second or third.
If it's winter, you should be moisturizing 2-3 times a day.
Get into the habit of moisturizing when you wake up and before you go to sleep. You can still wear makeup over moisturizer, as long as you leave enough time for it to sink in before application.
Great Moisturizer Picks for Oily Skin
While it may sound contradictory, moisturizers can really help cut back on oiliness. More often than not, your skin produces excess oil because it believes it's dehydrated. The right moisturizer will prevent your skin from over-producing oil, as it will be satisfied with its moisture level.
Along with moisturizer, you should also have a gentle cleanser that won't leave your skin completely parched. While you may be tempted to use harsh cleansers that seem like they make your skin "dry," this will only convince your skin that it needs to produce even more oil. We should be especially wary of using these harsh cleansers in the winter. If your skin feels tight and dehydrated after cleansing, it's time to find something gentler.
Those with oily skin should choose a moisturizer that will provide sufficient hydration without being too greasy. That's why oil-free or gel formulas are ideal for people with oily skin. For your convenience, we've recommended both more affordable moisturizers that can be found at most drugstores as well as more high-end, name brand or department store moisturizers.
1. CeraVe Moisturizing Cream
[two_third_first]This drugstore moisturizer is versatile enough for any skin type, including oily skin. It's a great product that was formulated by dermatologists to be non-comedogenic (meaning it won't block pores) and is appropriate for both your face and body.
This is a great daytime option for anyone with oily or combination skin.
Buy Now on Amazon
[/two_third_first][one_third_last]
[/one_third_last]
2. Cetaphil Dermacontrol Moisturizer with SPF 30
[two_third_first]
You should be wearing SPF every day, even in the winter. Luckily, that's not hard to do, with so many moisturizers with SPF available. Those with oily or combination skin might benefit from this drugstore option from Cetaphil.
It sinks in quickly, doesn't leave a greasy film, and you can layer it under makeup. The American Cancer Society recommends an SPF of at least 30, so this product is an excellent choice.
Buy Now on Amazon
[/two_third_first][one_third_last]
[/one_third_last]
3. Jojoba Oil
[two_third_first]
If you've tried what feels like every moisturizer on earth and your skin still doesn't feel hydrated, consider using a gentle oil. This isn't a miracle fix for everyone, but if you have had success using oils before, it could be a good option to try.
Jojoba oil is technically a wax, not oil! It comes from the seeds of the jojoba plant and works well as a moisturizer, even for oily skin. You can use a just a couple drops in the morning, even under makeup, and double that amount in the evening. You could also mix in a couple of drops of jojoba oil into your nighttime moisturizer for extra hydration.
This could be your next holy grail product, and it won't break the bank! Always do a patch test to see if the product is right for you.
[/two_third_first][one_third_last]
[/one_third_last]
4. Clinique Dramatically Different Moisturizing Gel
[two_third_first]
You may have heard of Clinique's highly praised Dramatically Different Moisturizing Lotion. It's a favorite among many skincare enthusiasts as it is heavy enough for winter and won't clog your pores. However, the formula of the lotion just doesn't sit well on oily skin — but that's where the gel formula comes in.
The gel version of this product is oil-free and lightweight, yet still hydrating. You can use it year-round, but you may need to use an extra pump or two of product in the winter. It applies with a silky finish and performs wonderfully under makeup.
The ingredients include glycerin, hyaluronic acid, and urea, which make it ultra-hydrating. It may seem a bit costly, but for something that will last you an entire year, it's worth it. See for yourself why so many people call this their ride-or-die moisturizer.
[/two_third_first][one_third_last]
[/one_third_last]
5. Paula's Choice Resist Youth-Extending Daily Mattifying Fluid SPF 50
[two_third_first]
If you haven't heard of Paula's Choice, it's a brand started by Paula Begoun, creator of the "Beautypedia" skin care encyclopedia. Paula's products are formulated at just the right pH for your skin, are full of antioxidants, and don't include fragrances that might irritate your skin. The brand offers a wide range of products for all skin types.
The Youth-Extending Daily Mattifying Fluid is a great option if you like the idea of the Clinique Moisturizing Gel but want something with SPF. It absorbs quickly, leaves no white residue, looks neutral under makeup, and is a fantastic fit for acne-prone skin. It's packed with antioxidants and dries to a matte finish, making it a fantastic daytime moisturizer for anyone prone to oily skin.
[/two_third_first][one_third_last]
[/one_third_last]
Moisturizer Choices for Normal Skin
If you've got normal or combination skin, you don't have to worry about what formula suits you best. You can use gels, lotions, or creams, and can easily make use of lighter products that other skin types may have to pass by. You can also experiment with oils or heavier creams at night for an extra dose of hydration.
6. Cetaphil Moisturizing Lotion for All Skin Types
[two_third_first]
Dermatologists frequently recommend this product as an effective, all-purpose moisturizer at an accessible price.
It's light enough for everyday wear, and you don't need to use a lot of product at once. It absorbs quickly enough to apply sunscreen on top of and will keep dryness at bay all day long.
[/two_third_first][one_third_last]
[/one_third_last]
7. Pond's Dry Skin Cream
[two_third_first]
You know the saying — don't fix what ain't broken. Sometimes you just need a basic, tried and true formula
Pond's has been worn for generations, and there's a reason it's still on the market. It's the perfect no-frills, no-fuss moisturizer. Just check to make sure the smell is appealing to you, as it's not fragrance-free. If it's too thick for you during the day, you can always use it as a night mask.
[/two_third_first][one_third_last]
[/one_third_last]
8. Clinique Dramatically Different Moisturizing Lotion+
[two_third_first]
We have already sung the praises of the Clinique Dramatically Different Moisturizing Gel for oily skin, but for those of you without oily skin, the lotion formula is a classic choice for the winter.
The lotion is a LOT thicker than the gel, so if you live in an area with mild winters, it may be more of a night treatment for you. As long as you apply the lotion with a light hand, the formula should dry down to a matte finish.
[/two_third_first][one_third_last]
[/one_third_last]
9. Argan Oil
[two_third_first]
Argan oil is relatively new to the western beauty scene, but it has been used for centuries in Morocco, where much of the world's argan oil is produced. The shops of Morocco are teeming with argan oil-based lotions and potions, all from the seeds of the argan tree, often hand-cracked between two stones.
Even if you buy a small bottle of argan oil, it will last for some time as you won't need to use a lot on a daily basis. Argan oil is the perfect product to add to your favorite moisturizer to make it hydrating enough for winter. In fact, mixing 2-3 drops into an existing moisturizer (either during the day, at night, or both) is a perfect way to get more hydration without having to try out several different new products.
You can use argan oil either before or after your moisturizer as long as you let each product sink in before adding the second.
[/two_third_first][one_third_last]
[/one_third_last]
10. Derma E Age-Defying Antioxidant Moisturizer with SPF 15
[two_third_first]
This lightweight moisturizer by 100% vegan and cruelty-free brand Derma E will give you enough SPF for everyday use. It protects against both UVA and UVB rays and will help your skin stay soft and hydrated.
This brand focuses on eco-sustainability and providing safe and natural products to the American market, so it's an amazing option for those concerned about the environment.
[/two_third_first][one_third_last]
[/one_third_last]
11. ELTA MD UV Physical Broad-Spectrum SPF 41
[two_third_first]
Any product that can keep your winter skin beautiful and healthy all while blocking out harmful rays from the sun is worth a write-up. This tinted sunscreen from Swiss-American brand Elta MD will protect, moisturize, and add a bit of light color to your winter skin.
Formulated with zinc oxide and linoleic acid (found in many seeds and vegetable oils), it promises to block UVA and UVB rays and is packed with antioxidants. It is a lightly moisturizing physical sunscreen, so if you find chemical sunscreens irritating, consider giving this a try.
Anyone with normal to combination skin who lives in a sunny climate would benefit immensely from this product, though the tint to this sunscreen will only work for light to tan skin tones. If you are on the drier side and are looking for a gentle sunscreen, you could layer your favorite moisturizer and serum underneath.
[/two_third_first][one_third_last]
[/one_third_last]
How to Save The Driest of Skin from Damage
If your skin is prone to dryness, keeping the moisture in is a year-round struggle. It goes without saying, however, that there's no worse time for dry skin than winter. This often means that having two different moisturizers, one for daytime and one for nighttime becomes necessary.
Understandably, a moisturizer that's too gloopy or thick isn't appropriate for all-day wear. Lightweight moisturizers are simply more comfortable and layer better under makeup or sunscreen. Some even have sunscreen included!
But those precious hours of sleep are also excellent opportunities to rejuvenate and rehydrate your skin. That's why we've also included some recommendations for night-time moisturizers so you can let all that moisture sink in overnight and not worry about walking around with a greasy face. Plus, you'll wake up with glowing skin in the morning!
12. CeraVe Moisturizing Facial Lotion PM
[two_third_first]
CeraVe is one of those drugstore brands you always hear about. The brand is affordable, easy to find, and caters to many different skin care needs. Those of you with less dry skin might be happy enough with the CeraVe Moisturizing Cream, but if your skin needs a little more moisture TLC, consider adding this moisturizing facial lotion to your routine.
The Moisturizing Facial Lotion comes in two formulas, AM and PM. The AM formula contains SPF and is great for daytime wear, while the PM formula is a thicker, creamier formula often recommended by dermatologists for dry skin sufferers. It's unscented and contains hyaluronic acid.
While it is recommended for nighttime use, those with extremely dry skin may want to make a habit of using it in the daytime as well. As long as you blend it in and leave it to sit for a while, it shouldn't leave a greasy film. As a result, your skin should look healthy and plump.
If you choose to wear the Moisturizing Facial Lotion during the day, you can still kick things up a notch at night by adding your favorite oil compatible with the dry skin, such as avocado oil. You could even apply multiple layers of the product. You can also use it anywhere on your body.
If you have experienced problems with products that contain parabens, exercise caution in using this moisturizer.
[/two_third_first][one_third_last]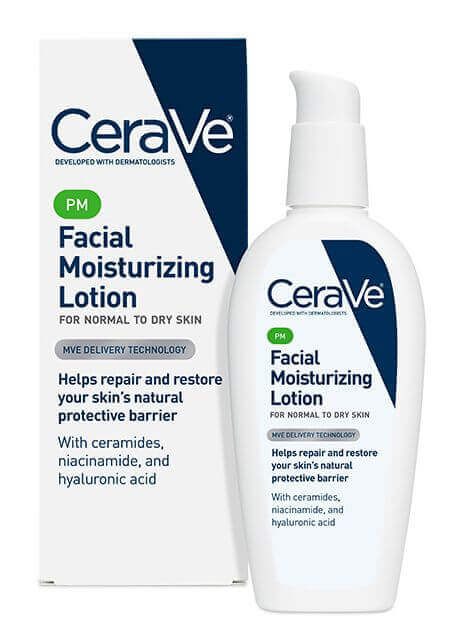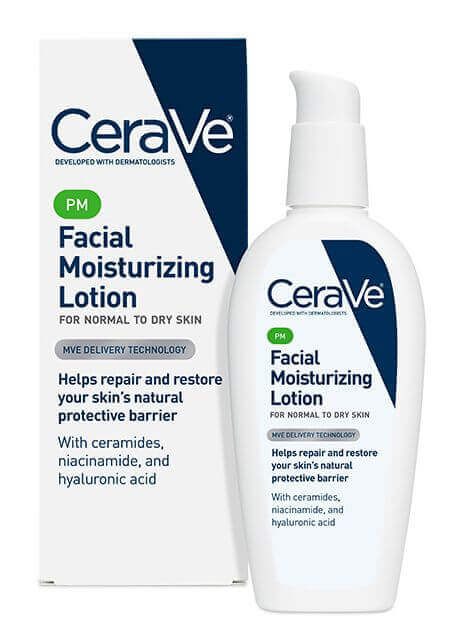 [/one_third_last]
13. Nivea Creme (Made in Germany)
[two_third_first]
Nivea products are fantastic for any skin, but one formula that takes the cake when it comes to dry winter skin is the original German formula of the Nivea Creme in a tin.
This rich cream has a soothing effect and can be used during the day or at night. After blending, it sinks in and shouldn't leave any residue. If you have extra dry skin, you can layer this product with Vaseline at night to prevent moisture from escaping. It's a great classic product that will last you a long time.
[/two_third_first][one_third_last]
[/one_third_last]
14. Aquaphor
[two_third_first]
Similar to Vaseline, this is not a moisturizer per se, but it's a lifesaver for anyone who struggles with severely dry skin.
The main ingredient in Aquaphor is petrolatum (also known as Vaseline or petroleum jelly), but there are other forces at work here, like panthenol, a derivative of vitamin B, and glycerin, a commonly used moisturizing ingredient.
Like Vaseline, Aquaphor creates an occlusive barrier, preventing the moisture from your other products from evaporating or otherwise escaping. This product is ideal for anyone who is experiencing skin cracking or bleeding due to the extreme weather. It is reasonably sticky, so it's best to save for nighttime wear.
You can use Aquaphor on its own, but you can also layer it over any moisturizer. Exercise caution using this product if you have mineral oil or lanolin allergies.
[/two_third_first][one_third_last]
[/one_third_last]
15. Clinique Moisture Surge Intense Skin Fortifying Hydrator
[two_third_first]
Clinique products occupy some spots on our moisturizer recommendations list, merely because they are tried and tested products that work for a wide variety of people. For those who need something that will truly keep dryness at bay, the Intense Skin Fortifying Hydrator from the Moisture Surge line of products promises 24 hours of hydration and plumpness.
It's a thick product, but the consistency is more similar to a gel rather than a lotion or cream. The application is smooth and silky, and after letting it sink in for several minutes, it should not leave a sheen or sticky layer. You can use this product for a day or the night, depending on your skin's needs.
You can buy this product in two different sizes; the 1.7-ounce tub and the 2.5-ounce tub. Don't be scared by the price – in this instance, you truly get what you pay for.
[/two_third_first][one_third_last]
[/one_third_last]
16. Clinique Moisture Surge Overnight Mask
[two_third_first]
If you use the Clinique Moisture Surge Intense Skin Fortifying Hydrator during the day and want something more for nighttime use, consider trying the Overnight Mask from the same line of products. It's substantially thicker than the Intense product, though you won't have to worry about it getting all over your pillow or being overly bothersome. As long as you blend the product into your skin with plenty of time before you hit the sack, you have nothing to worry about.
After using this product, you should wake up with glowing, healthy skin. If you want even MORE moisture, add a couple of drops of argan oil before applying.
[/two_third_first][one_third_last]
[/one_third_last]
17. Lush Celestial Moisturizer
[two_third_first]
This is THE heavy-duty moisturizer for anyone with dry, sensitive skin. With ingredients like cocoa butter, vanilla water, and almond milk, it's guaranteed to smell like a dream. Those with acne or dry or flaky skin patches will sing the praises of this moisturizer's gentleness. It's thick enough to get you through Chicago or New England winters and doubles a night cream for the warmer months.
It glides on smoothly and can be used under makeup, as long as you don't go overboard with the application. Like many thick moisturizers, a small amount of product provides a big amount of moisture, so the product you receive in Lush's signature 1.5-ounce black tube will last you a long time.
[/two_third_first][one_third_last]
[/one_third_last]
18. Mario Badescu Cream X
[two_third_first]
If luxury beauty is your thing, consider this lavish product formulated especially for the driest skin. Don't be put off by the small jar — just one swipe of your finger will pick up enough product to cover half your face.
This product is thick and almost waxy in texture, so your thirsty skin will drink it up. If blended and left to sink in, you can absolutely use it as a day cream and apply makeup over the top. If that's too much for you, however, this product works wonderfully as a nourishing night cream.
[/two_third_first][one_third_last]
[/one_third_last]
19. Kiehl's Ultra Facial Cream
[two_third_first]
Skin care company Kiehl's has been around since 1851, starting as a small pharmacy in New York. Since then, their products have expanded to include serums, treatments, and scrubs for every skin care need. This thick and creamy moisturizer boasts of 24-hour hydration. In other words, you won't have to bother with both a day and night moisturizer.
It's light and hydrating, and though ideal for dry skin, can help regulate oil production for combination skin types without leaving you shiny or greasy. It's rich enough for winter and can also be used as a spot treatment for any dry patches you may have. It's an excellent choice for anyone with sensitive skin.
You can choose the size jar that best suits your needs; 1 fluid ounce, 1.7 fluid ounces or 4.2 fluid ounces. Again — thick, hydrating creams such as these only require a few swipes of the finger to moisturize your entire face, so don't be put off by the small jar sizes.
[/two_third_first][one_third_last]
[/one_third_last]