Pulling a perfect night out outfit can be tricky. However, it is surely not impossible to feel sexy, stylish and after all warm, while at some party.
Whether you like your looks to be more open or conservative, thigh high boots can be a perfect bold choice in all cases. Let's have a look at how girls from the fashion industry and superstars style their knee-high boots on a night out.
What to Wear With Thigh-High Boots On a Night Out
If you are going out, or want to attend an event or party in a pair of thigh highs, getting the balance between boots and outfit is essential.
It can be tempting to go bold on both the outfit and boots; however, this look can sometimes clash too much. Decide whether you want the boots to take the spotlight or the garments – a statement pair of boots with patterns or bold colors should be paired with a neutral base.
A favorite item to pair thigh-high boots with for an evening outfit is a playsuit. Like the well-known jumpsuit, a playsuit is an all-in-one garment except it featured shorts instead of full-length trousers.
Going for a shorter playsuit and allowing the boot to not be obscured is a great evening look and can be a fab way to focus on a patterned pair of boots. Denim playsuits with long sleeves and workwear details can provide an edge, which contrasts the boots, especially if they are textured like leather or suede.
When you have a longer pair of boots, you have a larger canvas to play with, so going for textured or printed materials can be really effective, especially for evening wear when it's more acceptable to dress up.
27 Style Examples with Thigh-High Boots For Going Out
Snow white sweater dress is mixed with burgundy boots for a chic and casual night out with your friends. Add a crossbody bag and a choker – trendy accessories that will add a cool vibe to this combination.
Jeans are one of our favorite pieces – so why don't you wear it for a night out? Combine them with black suede boots and a floral top. Chic and stylish, right?
Make a dramatic appearance at the party by wearing red over-the-knee boots with the classic black dress. The red bag is the must-have to match with boots.
Checked blazer, black mini dress and knee-high boots – everything you need to achieve the perfect Parisian inspired look. It is ideal to wear from day to late night.
This vibrant blue combination will get you a lot of amazing views and positive comments! Boots are made in brocade style, while the dress is volant.
Corduroy is an ideal material to wear in the winter time. It will keep you cozy while providing you a retro, stylish look. This girl opted for mini corduroy skirt, black turtleneck, and faux fur vest.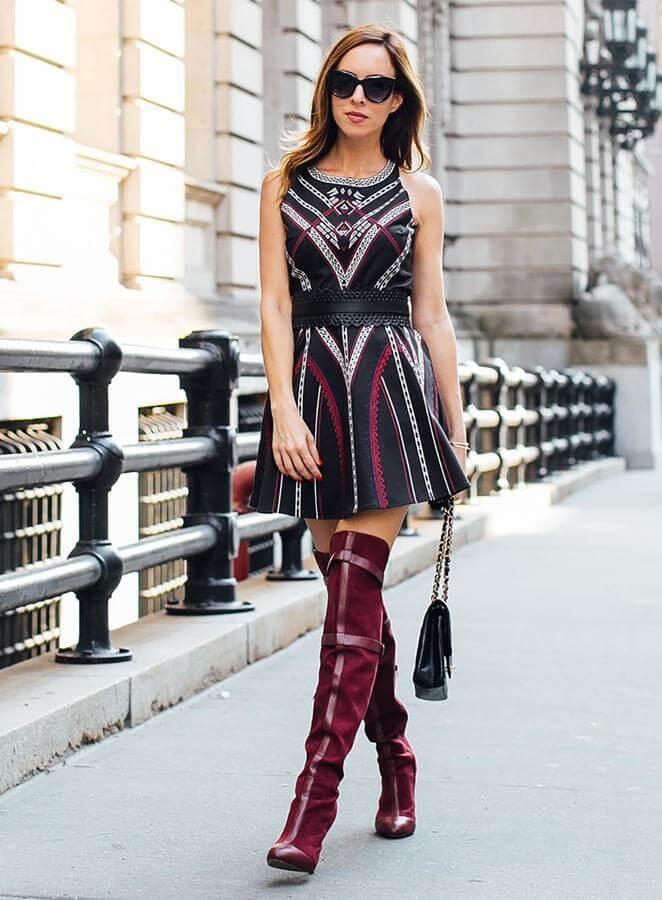 You can highlight details on your dress, by matching them with the color of your boots. It is an ideal combination for cocktail parties.
Fringes and cowboy boots – western vibes on a modern outfit combination. Lace top gives this look an elegant vibe, while suede boots keep it classy.
Cozy sweater and mini skirt might seem like an extreme combination for a winter night out. However, if you opt for thigh-high boots, you don't need to worry about cold anymore.
Neutral shades are perfect almost as black or grey. You can look fabulous in the beige-toned dress, creme shaded thigh-high boots and trench coat. Trust us, you can look amazing wearing bright colors in the nightclub.
Leather combined with thigh-high boots is a bull's eye combination for the night out.
Thigh-high boots in black suede will give you sexy look. Even though they are combined with a mini leather skirt, they make this combination sophisticated and perfect for a cocktail night with your friends.
Black combinations are indeed timeless. You can try everything, but you will always come back to black.
This look is fabulous for going out – studded mini skirt, simple sweater, and lovely faux fur detail. If you opt to go out in the winter months, you can be sure that you will feel warm, cozy, and sexy – all at the same time.
Last year was all about sporty chic combinations – trainers with heels or cozy hoodies with skirts. These unexpected mixes are perfect attires for night outs, cocktail or celebration parties. Try wearing thigh-high boots in some interesting material – shiny patent leather is a hit.
For all the brave girls out there, blazer dress is the right choice. It looks sexy but sophisticated, and it matches with thigh-high boots just perfectly for a regular night out. This look is edgy, black, and most of all it will make you stand out from the crowd.
Monochrome style took hearts of many It girls. It is simple, yet interesting. Black thigh-high boots combined with the white dress look sophisticated and very comfortable for a night out. We can already see you sitting by the bar with a cocktail in your hand.
Play with different lengths – long camel coat and short sweater dress mixed with thigh-high boots give you one hell of a combination! If you are going back from dinner, and you want to prolong your night, walk into your favorite nightclub dressed like this.
Pleated black skirt and green sleeveless turtleneck sweater are two items you can always count on when you need to go out.
Deep V-neck blouse looks like a great piece to style for a night out or some cool house party. Soothe this combo with skinnies and over-the-knee boots in black suede.
Looking cool in winter? No problem. Match a colorful faux fur vest with a beige dress, leather leggings, and tall boots. Leggings will keep you extra warm and cozy.
Camel and black is a perfect combination of colors. You can always pull an outfit wearing these two chic shades.
If there is any piece you can wear from day to night, then it is definitely a sweater dress. Even without any accessory, it seems stylish and polished.
Velvet tall boots will add a touch of luxury and glamour to all your outfits. Pair these boots with the floral dress and don't worry about the cold.
You will surely be noticed in this snow-white dress. Straight cuts are soothed with a chunky sweater and over-the-knee boots.
Skater skirts are reserved for younger girls. Mix it with a top that carries some message, and don't forget to add a beanie.
How to make a night-out look out of critical pieces from your wardrobe – mix leather mini skirt, white tee, black bomber jacket, and round everything off with black over-the-knee boots.
If you think jeans can be found only in blue or black, you were wrong. Grey jeans are perfect to style with basic black items – this look can be your day-to-night one.
Sophisticated in a nightclub – no problem! Wear your favorite tailored blazer, spice your look up with leather pants, and round everything off with a pair of trendy thigh-high boots.
About The Author