Do you plan on going out for a weekend? If you have heard some hot trendy club is opening, and you want to be there first to check it out, then you will need a perfect outfit for the occasion.
Make a showy entrance in the club by wearing your favorite boots of the season. The tall boots trend is here to stay, and you need to buy one pair ASAP if you didn't do it by now. Sometimes there's a thin line between looking elegant and vulgar, and you need to take into account some style advice on wearing high boots. But the club is a specific place, where rules are somewhat relaxed.
Let's see how to make a statement while dancing in a nightclub.
Thigh High Boots Club Outfits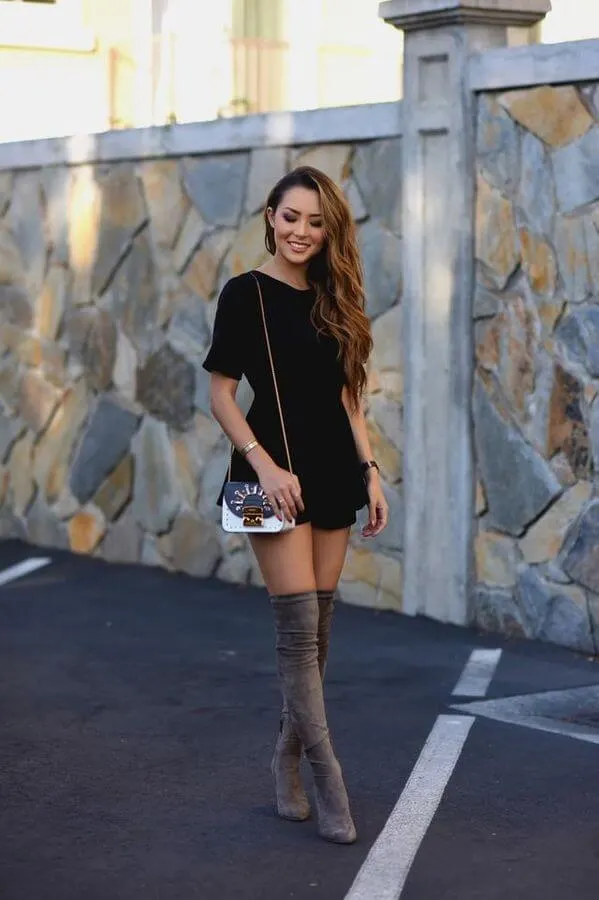 Whether you think this dress length is appropriate or not, just remember one thing – you are going out in the club. Everything is allowed!
Black mini skirt and grey sweater are for those girls who like a casual night out. By adding thigh-high boots, you will provide maximum warmth.
Long blazer, black shorts, and thigh-high boots – anybody interested? We know French women would love this combination!
The leather skirt is perfect to wear to the nightclub. It is sexy, but also a very casual piece at the same time.
Lift up your club outfits to the higher chic level by mixing this ruffle dress with tall black boots.
Stripes will never go out of fashion. You must have a sweater that looks like this one. Pair it with a leather skirt and thigh-high boots for the ultimate club look.
We adore asymmetric and wrap items. They are eye-catching, stylish, and perfect for many different occasions, including clubbing.
To show you how slouchy boots are versatile, we have found this look. It is ideal for the club – green parka, grey sweater dress, and tall boots will make you stand out from the crowd.
Velvet adds a luxurious and posh look to every outfit combination. Combine this statement red blazer and thigh-high boots combo for a Saturday night out.
Wearing tees with our favorite band logos on them is a bit cliché, but on the other hand, it is a perfect detail. Style your tee with a checked skirt, blazer in a bright color, and thigh-high boots.
If you prefer to out looking sophisticated and polished, then opt for the look like this. Floral print, lace top, red coat as well as tall boots will make you queen of the night.
Are you searching for anything eccentric? Don't worry, we have found something for you! An unexpected mix of colors and an exciting design is all that you need.
With this pink sweater, you will be noticed in the nightclub. Round everything off with a mini skirt and over-the-knee boots.
Ruffle dress in winter – why not? You can style this red dress with thigh-high boots and add a crossbody bag. This combo is perfect for clubs, parties, and other special occasions.
A Parisian-inspired combination like this is easy to combine. This can be your day-to-night look. For going out just add your favorite piece of jewelry.
Some girls like to show off some skin when going out – there is nothing terrible in that unless you overdo it. This combo is perfect for the brave ones.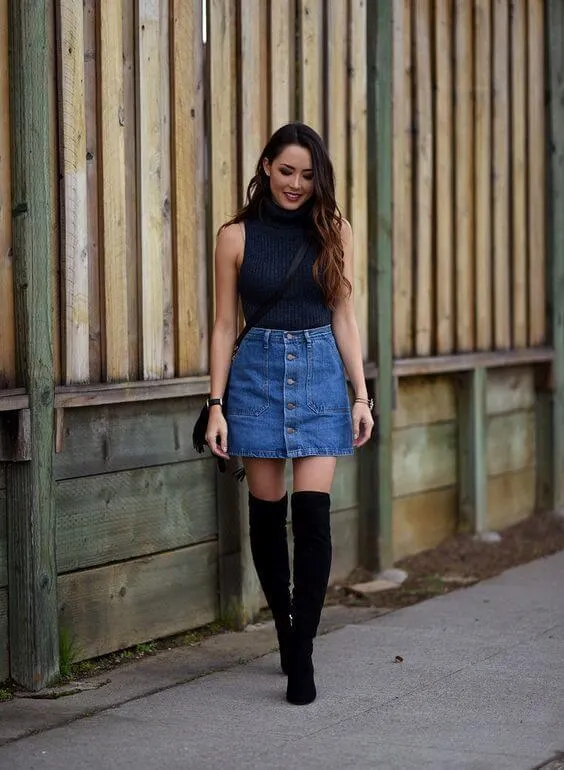 The denim skirt is one of those items that never go out of style. That is why you can wear it from early morning to late night in the club.
Wrap dresses are popular among supermodels and bloggers. Simply because they are sexy, easy to style, and perfect for a night out.
Throw an epic birthday party looking like this – patent-leather skirt, white top with an off-the-shoulder neckline and tall boots are everything that you will need for that occasion.
Navy-blue dress with lace sleeves has a perfect straight cut. You can style it with your favorite pair of boots – thigh-highs.
About The Author