Some before and after makeup looks really leave us breathless. See the fantastic makeup transformations by real people, straight from Instagram.
We have picked the most interesting before and after makeup looks for you to get inspired. No matter if you are going to the prom or searching for that perfect no-makeup makeup – we have gathered the best examples for you to see.
Before And After Makeup: Real People, Real Pictures
#1: Flawless Face
All skin discolorations can be hidden with a good primer moisturizer and foundation. This is how flawless your makeup look can be with a gold-inspired eye look and neutral lips.
#2: The Power of Purple
If you ever wondered how you can make your eyes pop, then this before and after makeup is the answer. Use purple eyeshade on your lids and white in the inner eye corners.
#3: Neutral Gold Eye Makeup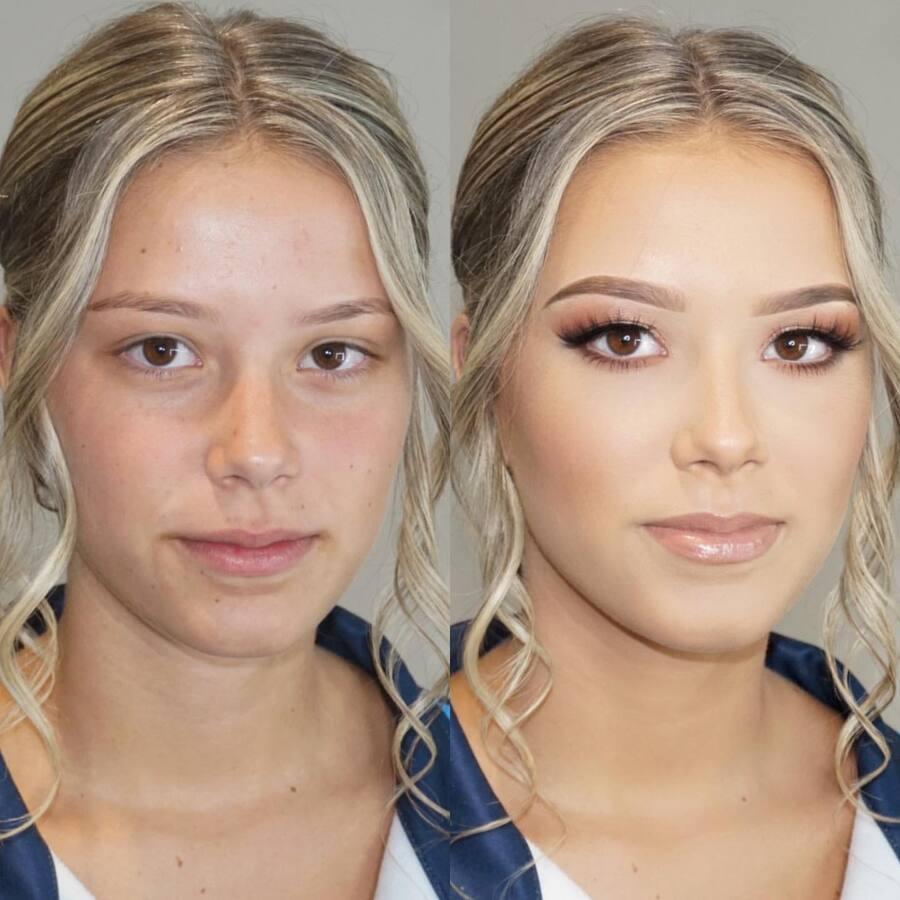 Neutral shades, a bit of mascara, and nude lip gloss are perfect for an everyday look. You can easily transform this look from day to night – just add more eyeshadow or pick more vivid lipstick.
#4: Eyebrows on Point
Eyebrows make a huge difference in how our makeup looks. Whatever you are doing everyday look or more elegant ones, don't forget to do your brows.
#5: Barbie Transformation
You can now look like your favorite doll with just a few makeup tricks. Highlight the eyes and eyebrows while leaving lips neutral.
#6: Dark Purple Smokey Eyes
Dark purple and black eyeshadows can create incredible smokey eyes. You should use a good foundation that hides redness on your face and do a bit of contour to get this lovely makeup transformation.
#7: Neutral Orangy Tones
This is one of those handy and easy makeup looks that are perfect for quarantine. It might not be a dramatic change, but still, it will make you feel better and ready for the day ahead.
#8: Pink Cheeks for Brides
Brides' makeup looks should always look fresh and minimal. The highlight should be on the eyes, like in the photo above, while lips remain neutral or in a light pink shade.
#9: Eyes that Mesmerize
Who would have thought that eye makeup can make such a huge difference? The woman on the left has low eyelids and tired eyes, but with the right amount of eye shadows and colors, everything can be fixed!
#10: Brown and Honey Hues
Brown smokey eyes won't only make your eyes pop but also transform any outfit into an elegant and sophisticated one. Make sure to use a brown lip pencil and fill in the rest with rich, long-lasting lipstick in nude or meat shade.
#11:Spring Pinky Vibes
Spring is a great time to wear pink. Not only pink clothes but pink makeup as well. Show off your eyes with a bit of white, pink, and glitter eyeshadows, and make sure to leave lips nude.
#12:Unexpected Hint of Blue
This makeup transformation shows us that you can wear blue eyeshadow and look amazing. Even if you opt to apply it on the lower lash line, combine it with minimal nude eye makeup on the upper lids.
#13:Glamorous Bronze
Bronze makeup can look excellent on dark-haired women. If your eyes are brown or green, then opt for a makeup transformation like this.
#14: Flawless Face with Neutral Makeup
This before and after makeup might not be as dramatic as you think, it's more natural makeup look. Still, it is very beautiful. The cheekbones are highlighted with bronzer, while thin lips are drawn with a lip pencil and matching lip gloss.
#15: Grunge Vibes
Dark lips, dark eyes, and perfect tan – this can only mean one thing. You like grunge vibes, even when it comes to makeup.
#16: Glitter Eyes
Perfect skin can be achieved with appropriate moisturizing and a foundation that suits your skin type. The glittery eyes will definitely make you stand out from the crowd.
#17: Old Glam
Red lips, black eyeliner, and big hair – all these things scream old Hollywood glamour. You can pick a look like this for a wedding, or even better for a prom night.
#18: Soft Pink on Eyes
Soft pink eyeshadow can look amazing with black eyeliner. Use a brush to soften it and put on a blush pink nude lipstick.
#19: Mysterious Blue
For those that like to get creative with their makeup, this is the look to try. Blue eyeshadow might be intimidating, but we have to admit it looks pretty amazing!
#20: Hint of Green
Even just a hint of green on your eyes will make them pop. Your brown eyes deserve this kind of eye makeup.
#21: Classic with the Twist
If you wondered how a classic smokey can be turned into a hot one, then here is your answer. Just add a lot of glitters and make sure the eyeshadows are blue.
#22: Black Smokey Eyes
The classy and black smokey eye will never go out of style. This look is perfect for events, parties, proms, and weddings.
#23: Rainbow On Your Eyes
This makeup look might take some time to achieve, but the thing is, it looks wonderful. Who wouldn't like to wear rainbow shades on their eyes? A bit of green, yellow, and pink look simply gorgeous.
#24: Full Yet Nude Coverage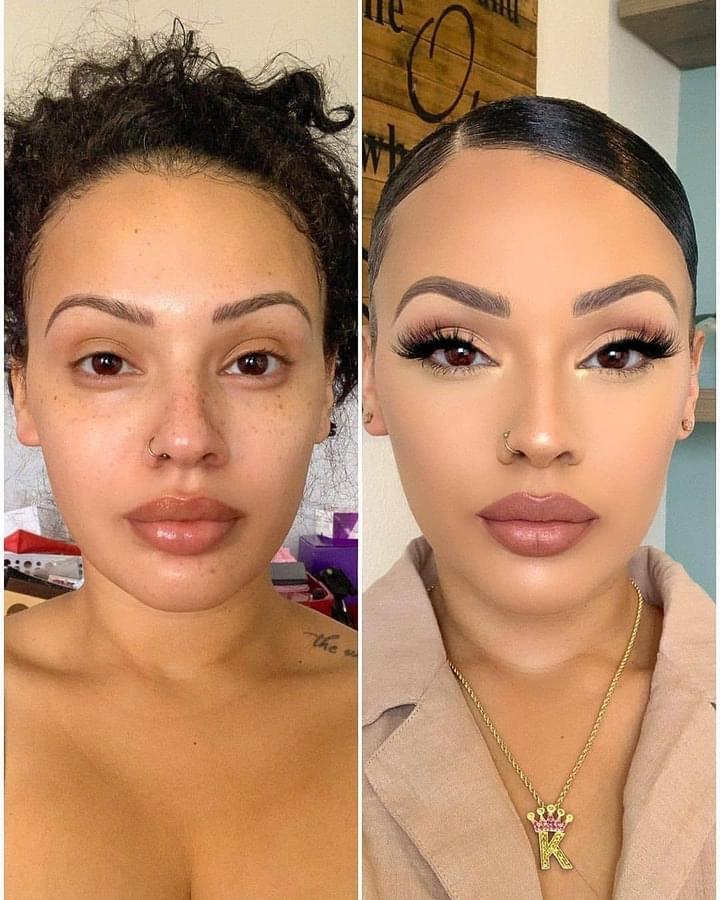 How to make a balance between full and nude makeup coverage? Just make sure to moisturize your face. Use a lightweight foundation and meat-shaded lipstick.
#25: Orange and Black
Orange looks powerful in combination with black. Make sure your face is covered with good-quality foundation, and don't hesitate to contour your cheekbones, forehead, and chin.
#26: Wedding Look
Alongside a white veil and gorgeous dress, every bride needs perfect makeup. However, that makeup doesn't have to be overdone. On the contrary, this transformation shows off how you can look with minimal nude makeup.
#27: Emerald Glam
From zero to hero – we can describe this makeup look like this. It is glamorous, with highlighted eyes and gorgeous emerald eyeshadow that glitters delicately.
#28: Classy Look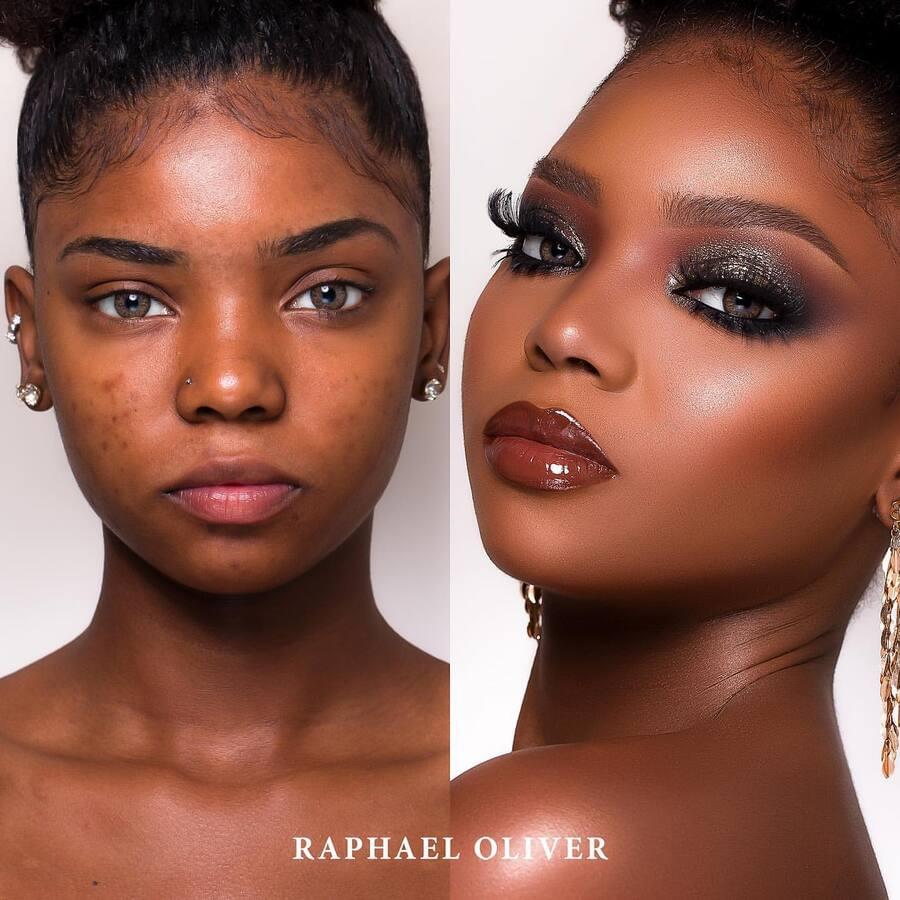 This is how you can look powerful and classy with glittery smokey eyes and brown lip gloss. Your tan should look flawless and covered with a long-lasting foundation.
#29: Delicate Purple
This is how you can look with purple eyeshadow. What is interesting in this makeup is that the eyeshadow is applied to the lower lash line. It looks gorgeous!
#30: Prom Look
If you asked us what typical prom makeup looks like, we would show you this before and after makeup look. Dark purple in combination with glittery eyeshadows makes a perfect and youngish makeup combination.
About The Author