Do you find yourself struggling with the question "What do I wear today?". This is a thought that goes through everyone's head, but with modern life, it can be hard to take time out to plan outfits that make you look and feel good.
It doesn't have to be this way, though! Luckily, outfit planning apps are becoming more popular, allowing us to curate stylish outfits wherever and whenever. Never wear an un-coordinated look again with the help of these handy apps.
Keep on reading to find out why you should download these apps, and how they can help to manage your virtual closet!
What's the Point in an Outfit Planning App?
Think about those mornings where you need to get ready quickly, but you don't have an outfit ready to go. They can be full of stress, quick decisions, and sometimes some questionable outfits!
An outfit planning app allows you to organize your different outfits on the smartphone, saving you time in the mornings and allowing you to experiment more with different styles. These apps have been popular with stylists, influencers, and designers for a few years, but it's time we embraced these apps too!
These apps also often feature different categories to help you further organize your wardrobe. Whether you want to create outfits that are specific for events, seasons, colors, and accessories, you can do it from your phone. Getting outfit ideas has never been easier!
Our Selection Of Top Outfit Planning Apps
List updated in December 2021.
If you're intrigued by the idea of an outfit planning app, try one of these!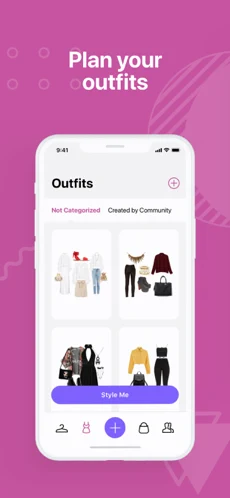 The Pureple Outfit Planner is a great starter for anyone looking to plan outfits on their phone. This app is available on iOS and Android for free, allowing users to use this wardrobe app on any device. This app also features an easy-to-use design and even suggests outfits according to the occasion, weather, and preference.
This app is a great way to categorize your wardrobe virtually, as taking photos of your clothes and then uploading them is quick and easy. Just add any extra data to help filter them, and you can start creating a personal lookbook in no time.
Pros
Cons
– Users enjoy getting organized with the app
– The app saves you time in the long run
– Includes a wishlist feature
– It takes a long time to photograph all the clothing
– You may need to edit the pictures of your clothes
– Some features (like sync) are behind a paywall
If you prefer minimalist apps that are simple to use, Closet + is the outfit planning app for you. Rather than picking from pre-uploaded pieces, Closet + lets users upload images of their own clothes, accessories, and shoes for a unique experience. Users can add up to 50 pieces for free, perfect for anyone with a capsule wardrobe!
Closet + doesn't let you edit the background of the photos, and the app does need payment if your wardrobe is larger, so bear this in mind when looking for an outfit planning app for everyday use.
Pros
Cons
– Simple and easy to use
– You can organize more than one closet
– Outfits can be planned for trips and events with the calendar function
– You must pay for the full version
– Uses a lot of phone data/storage
Stylebox is an outfit planning app that is free to use for all fashion fans. This app collects data to suggest clothes that suit your style through an intuitive algorithm. This is ideal for anyone that wants constant outfit inspiration, alongside outfit planning features too.
The Stylebox app also lets users create wishlists of garments from popular stores. These can be purchased at affordable prices, making sure the fashion is accessible to all users. There are hundreds of outfits to create, and you can also view other users' styles for extra inspiration.
Pros
Cons
– Gives you websites to shop in from information gathered in the app
– You can follow famous stylists in the app
– Saves you time when shopping and styling
– Some may not want the shopping suggestions
– It takes up phone storage
Combyne is one of the most popular outfit apps – it already has a large base of over 2 million dedicated users. If you are looking for a tried and tested app, this is the one to embrace. Combyne works with over 50 stores and over 1000 brands to bring you the latest styles and clothes to create outfit plans from.
The app also gives "what to wear" ideas to users, so you can adjust your preferences according to your personal style. Any garments, accessories, or shoes can be found on this extensive app, so there's no need to worry about not being able to create your dream outfit!
Pros
Cons
– You can connect with like-minded fashion fans
– There is an extensive range of clothes to style with
– The app is intuitive to your style
– There are some in-app purchases
– Some users report the app crashing
This is another excellent virtual closet application. It does a great job of helping to save all your actual clothing pieces online. The app is straightforward to use on a daily basis.
As with many others, the hardest part is the time investment in the initial setup, which is well worth it!
To get started, take a photo of the items and upload them to be accessible. Afterward, you can start creating categories and sorting your clothes, making it easy to assemble outfits for various occasions.
Pros
Cons
– It has some unique features, like a calendar with worn history (wanna identify outfits you didn't wear in a while?)
– Nice and sleek interface
– There is no free version. This is the only paid app on this list (although very inexpensive)
Lookscope is focused on organization and planning using items from your closet. This app is very functional and minimalist, and users consistently prize how easy it is to use it. If you would rather have an app that focuses on your clothes rather than community and inspiration, Lookscope is an app for you to try.
The uploading process is quick and easy, allowing you to create a personalized portfolio of outfits very quickly. When you've compiled an outfit, you can save it so you can go back and refer to it again in the future too.
Pros
Cons
– The app is free to download
– There are easy-to-follow tutorials when you join
– Perfect for anyone who wants to get creative
– The app doesn't focus on your wardrobe, only general styling
When looking for an optimized outfit planner app, you should check out XZ Closet for sure. This modern app focuses on emerging trends and styles, ensuring users are always looking their best. With features that suggest outfits based on your preferences, clothes, and style, you'll never have to stress about what to wear again.
This app lets users upload their own clothes, and you can edit the background out of the images for a more aesthetic outfit plan (e.g. have them all on a pleasing white background).
It even supports over 2000 brands to allow you to plan your next purchases too! Perfect for anyone who loves fashion and organization – life is easier with the XZ Closet app.
Pros
Cons
– XZ has over 32 million fashion items to choose from
– This app is ideal for discovering new styles
– You can use it to plan your next outfit
– There are some reported language issues/mistranslations
– You cannot back up previous outfit styles
A popular outfit planning app – fashion social network is Trendme.net. This online community combines fashion and social media, allowing users to share their outfits on their Trendme feed.
This network is considered one of the existing Polyvore alternatives.
If you like connecting with others or want a feed full of style inspiration, this is the app for you.
Not only can you use the app to pre-plan outfits and connect with others, but users can also use this app to create beauty mood boards too. All of the outfit plans on this app are aesthetic and perfect for those who like to get creative and organized.
Pros
Cons
– TrendMe already has a large user base to connect with
– The app was created by fashion industry professionals
– The leading app right now for fashion organization
– Uploading items can be time-consuming
– Some may not want the social element
Are You Ready to Plan?
Though these apps may seem too futuristic for some, they can be life-changing for others!
The are many alternatives that come with a premise to offer outfit suggestions – like ClosetSpace, Cladwell, GlamOutfit, and more – but we decided to stick to the most popular apps. We looked at the interface, the ease of use, and the existing user base, of course.
Whether you've been looking for a solution for last-minute outfit stress, or maybe you just like the idea of having your closet on your phone, it's worth trying some of these apps. Who knows, maybe one of those will become your personal, irreplaceable adviser someday.
About The Author