If you are a fan of tiny inks, get ready for a dose of winter tattoo inspiration. These tattoos are lovely, representing snow and winter motifs. You can decide where to put them. We have covered all places, from the rib cage to your ankle.
Let's check out how and where you can put your new tiny piece of art.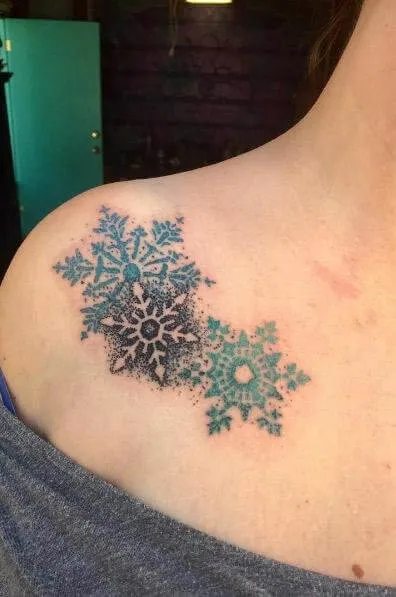 Snowflakes in blue, black, and green are a lovely way to show off your love for winter weather.
Snowflake armband tattoo looks minimal, very cute, and appropriate for all seasons. You can show it off at New Year's Eve party.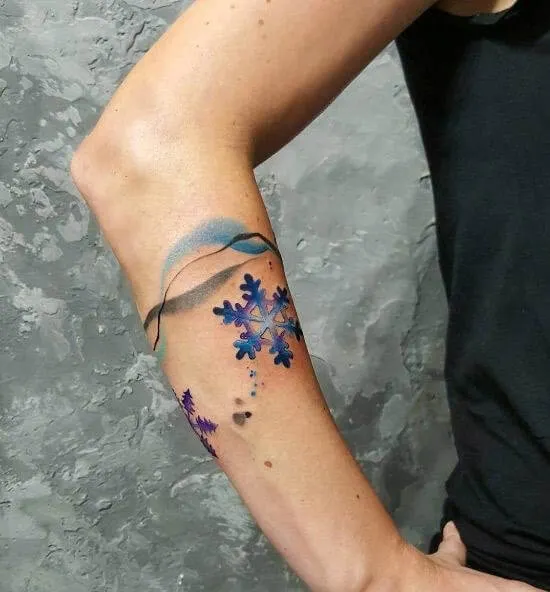 If you are art-oriented, then make sure your tattoos look like a little piece of art. Combine snowflake tattoos with blue and black lines.
Behind the ear tattoos are cute, showing off only when you updo your hair.
If you are tired of black tattoos, then don't hesitate to color your snowflake in blue ink. It will look more eye-catching than ever.
You can ink many tiny snowflake tattoos on the back of your shoulder and neck. Do it in black or blue ink.
If you want your tattoo to look authentic and beautiful, do it in white ink.
Icy snowflake on your shoulder will catch some attention. Show it off by wearing off-the-shoulder tops and sweaters.
Snowflakes along your spine will be perfect if you have short hair and you prefer wearing open-back blouses.
You can always make your snowflake tattoo unique by adding more details. Let them all be symmetrical and tiny.
Simple, yet powerful – these words can easily describe this lovely winter tattoo on your forearm.
One of the favorite tattoo places on the body, rib cage deserves a beautiful tattoo like this. The blue snowflake looks like it went out from a piece of painting.
Order your tattoos from the biggest to the smallest. It is best to find them a place on the inner side of your upper arm.
Tiny, but cute watercolor tattoo finds its place on the wrist of the leg. What a personal and beautiful place for a tattoo.
Falling blue tattoos from the middle of your arm to your fingers will attract many views and gain you a lot of positive comments!
Watercolor tattoos look amazing. Especially if you choose snowflakes to be your new favorite winter tattoo, do it in blue watercolor technique.
Collarbone tattoos are always charming. These three tiny tattoos will be visible when you wear both casual and elegant clothes.
A white ink tattoo on your ankle might not be visible as others, but it looks wonderful.
If you are a fan of minimalism go with a tiny winter tattoo like this. It will be visible, yet very sophisticated.
These gradient snowflakes in cold winter colors will make your hands eye-catching. Imagine how they will look when you wear elegant, sparkly attire.
Mistletoe on your back will perfectly describe how much you love Christmas.
If you are a fan of animals, then do a perfect winter tattoo with little deer on your back.
Winter wreath tattoo on the backside of your leg is nothing less than perfect for the Christmas holidays.
Tiny tattoos might be our favorites. If you want them to revive Christmas and New Year's Eve spirit, then think about this tiny pine tree.
Isn't this penguin the cutest thing you have ever seen? We couldn't agree more!
Mountain is a classic winter tattoo motif. That is another reason why you should do it.
You can recreate the scenery of pure nature on your arm. This mountain view transformed into a tattoo looks amazing.
Along with snowflakes, stars are also one of the most loved Christmas and winter tattoos. Do it minimal like this, and you can wear it for a whole year, without covering.
The inner side of your hand wrist is probably the best place for tattoos like this.
All little tattoos in color should look like this. We have to confess – this deer tattoo looks like a small piece of art.
Snowflake on your finger looks cute, winterish, and perfect for those who like small, yet powerful tattoos.
You can decide to decorate your body with a holly tree on your shoulder. Put it wherever you want, and it will still look gorgeous and perfect for winter.
The minimalist bear tattoo is for those girls who adore simple yet eye-catching details. You can show it off the whole year – cuteness doesn't stop ever.
Geometric circle tattoo, showing off freezing winter landscape, looks lovely.
Simple mountain tattoos never go out of style. The best place to put it is on your rib cage.
How can a winter pass without making a snowman? If you want, you can also decorate your rib cage with a lovely snowman tattoo like this.
Add some New Year's joy by tattooing Christmas tree lights on your thighs.
Santa Claus and his hardworking helpers will be a perfect detail on your hand and finger.
You can also have mistletoe in color on the inner side of your wrist.
Somehow, circle tattoos look way much more interesting than the regular ones. That is why you should opt for it.
About The Author