If you don't know what a trench coat is, you've been living under a rock. The trench coat is one of the most versatile pieces a woman can own. You can style it casually, dressed up, it can be worn in winter, summer – the list is endless.
The piece itself hails from a rich heritage of design. Its history spans the 20th century. It's one of those garments that everyone should own at least once in their life.
So, What Is A Trench Coat?
In plain words, the trench coat is a coat that originates from the trenches and soldiers' uniforms in the war. It is usually a three-quarter-length jacket, with functional details that used to help the soldiers out. These come in the form of a storm flap (a back detail that covers the jacket's yoke), a gun flap (seen on the front), and epaulets (usually on the shoulders).
These design features sound very harsh – that's because they are. Way back, these all had military functions, such as holding guns, but now they remain a fashion symbol.
Classic trench coats should allow a tailored and snug fit around the body. If the specific coat includes a belt, this can be used to cinch the waist in for an hourglass shape. Usually, the coats do not feature boxy shoulder shapes like blazer do – though this varies between brands. That being said, though, these garments are tight-fitting. They usually have enough space to layer clothes underneath – perfect for layering jumpers in winter.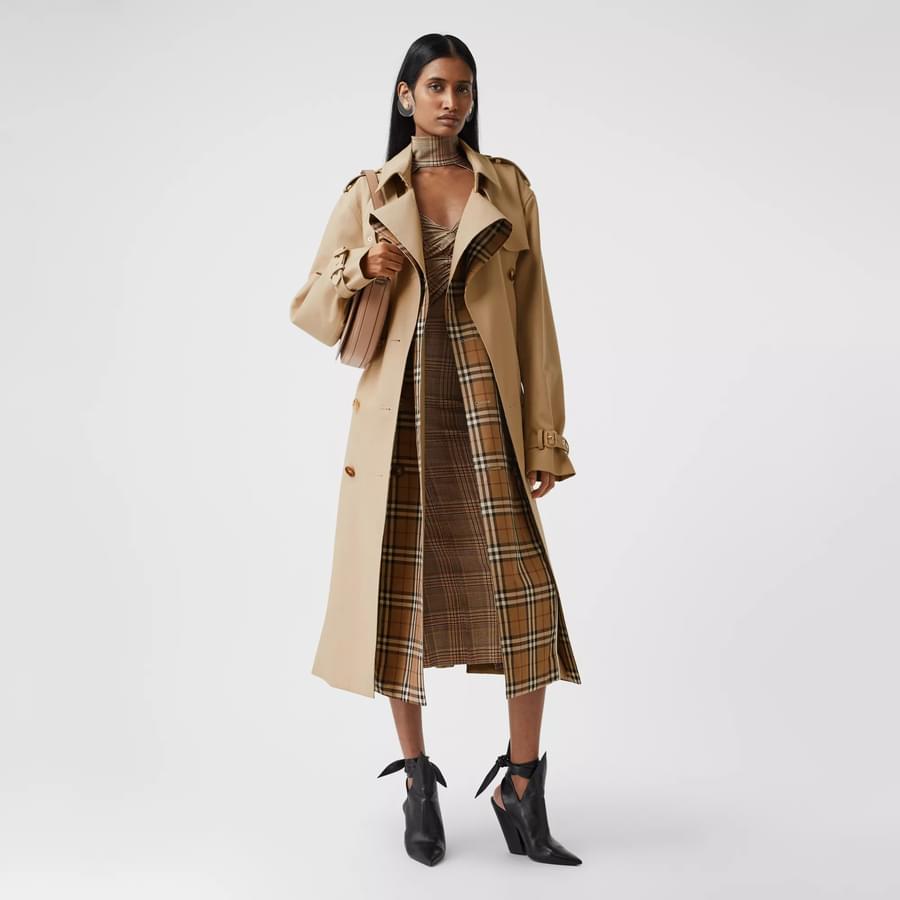 Trench coats tend to vary, but many features do stay the same. The coat traditionally features raglan sleeves too. These were to stop rain seeping through the normal shoulder seams. The storm flap, one of the most iconic features, was originally created to also allow rain to run off the body, keeping the wearer nice and dry. Great for British weather! A double-breasted style adds extra fabric to keep the wearer warm. It will help you battle against the elements in the winter months.
Why Is Burberry Associated With The Trench Coat?
When you think of the English Heritage brand Burberry a trench coat always comes to mind. But why is this?
Thomas Burberry created the British brand in the 20th century; he originally created functional clothes and was always striving for a practical garment. He discovered and patented the fabric 'Gabardine'; this was a tightly woven, tough fabric perfect for use and durability. This leaned itself to the function and style of the trench, thus Burberry's signature look was born!
Since its origin, Burberry's trench coats have had many makeovers. From the 'Westminster' to 'Waterloo,' there are many different styles. In recent collections, current creative director Riccardo Tisci has modernized the garment even further. Models are seen wearing versions of the coat with bright red Burberry prints on it – an updated take on a classic.
What Other Forms Does The Trench Coat Take?
These days most brands have their version of the coat. These can be made out of different fabrics (think drill, poplin, or even twill weaves), and some include patterns and color instead of the classic beige. These hybrids are catered towards the more fashion-conscious audience, less geared for function, and more to be eye-catching. These coats can also range from a cinched, feminine silhouette to boxier more masculine ones. There really is a coat out there for everyone.
RELATED: 15 Stylish Trench Coats To Wear This Fall
Kate Moss, supermodel extraordinaire and once the face of British fashion, was spotted wearing the Coach x Jean-Michel Basquiat Trench Coat. This coat is unlike others, as it features Basquiat's graffiti-like art printed onto it. Moss shows how versatile the piece can be, pairing hers with black-heeled boots and suit trousers for a day out in London.
How Can You Style A Trench Coat?
It's great to be protected from the weather, but we all want to look good while doing so. Luckily, you can pair a coat with most looks. For an elegant evening look, wear an outfit with pops of color or even some glittery elements. The trench coat in its standard beige color looks great alongside a bright outfit, add some heels into the mix, and you're ready to go for a fabulous night on the town.
If you're opting for a more casual day look, any trainers will go with it – since the garment isn't too striking, there is a lot of room for experimenting. Denim also goes well with a casual look, giving that 'just hopped out of bed and thrown on my trench coat, but I look great' vibe. Though the coat is English, this whole 'thrown together' cliché is very French. Pair with a messy bun and eyeliner for the ultimate combo. The only thing to avoid is wearing copious amounts of beige with a beige coat – this will all blend and create a block-like look.
5 Places To Look for a Trench Coat: Our Picks
We are big fans of this staple piece, so here is where we would go shopping for trench coats!
1. Burberry Trench Coats
This feels like a slightly obvious one as we have spoken so much about the history already, but they're classic for a reason.
Burberry got the formula right, and if it's not broken, don't fix it. Burberry is one of the more expensive options, but with good manufacture comes a lot of life. If you can, invest in one of these pieces – it'll last a whole lifetime and will never go out of fashion.
Check Burberry trench coats
2. Aquascutum
Another brand well known for its trench coats, Aquascutum is a good brand to go for.
Have you seen the film 'Casablanca'? Well, the iconic trench coat Bogart wears is not Burberry, but Aquascutum! Their coats are set aside from others, as they tend to have a more oversized cut, this can give a more relaxed and less tailored fit.
3. Ted Baker
If you fancy a more feminine take, Ted Baker offers the Pandura mac coat. This has the traditional beige color and even featured gun flaps. But, the difference here is that the coat is cut shorter than the traditional three-quarter length style. It also flares out from the waist, giving a skirt-like look.
Check Ted Baker trench coats
4. Asos
For a more affordable but no less stylish look, try Asos.
The ASOS DESIGN Boyfriend Trench Coat takes a boxier shape and is a longer style, but has traditional features – such as cuff straps. It's available in the beige color and is paired with a casual outfit.
5. Mango
The Feb Trench Coat by Mango comes will a storm flap and epaulet details. The best part about this version is that it is also offered in khaki green, perfect for the autumn/winter color palette.
---
Come rain or shine, a trench coat will always be applicable to your style. Invest in one while you can!
About The Author