Our bodies are all different. We all come in different shapes and sizes. This is what makes us unique, and it should be celebrated. But when we are faced with adverts and models who all have the same shape, it can be hard to know how to dress when we look different.
There are general categories that we can divide body shapes. Still, even inside these groups, there's a lot of variation. Some of us are taller, shorter, curvier, or slimmer.
You may have heard of the fruit terms before, such as pear or apple, sometimes people use shapes like rectangle or triangle. We've broken down each body type and given some styling advice to help you get to know your body!
Why Should You Know Your Body Shape?
Since we are all different, it can be confusing to know what styles suit you – especially if you're not identical to the models on billboards.
Knowing your body will improve your style game. It will help you dress to emphasize certain parts of your body. Understanding which parts of you are narrow, wide, large, and small will improve your ability to balance proportion within an outfit.
Shopping can become fun and more manageable when you know what suits you. No more moments in changing rooms wondering why a certain dress looks weird when you wear it (yes, we've all been there). Instead, you'll know what type of clothes to go for! This will help you develop your personal style and will build up a solid wardrobe.
How Do I Determine My Body Shape?
There are different ways of working out your individual shape: through visual infographics and through measurements. Remember, even in each body type group, there will be variations, so go for the closest group.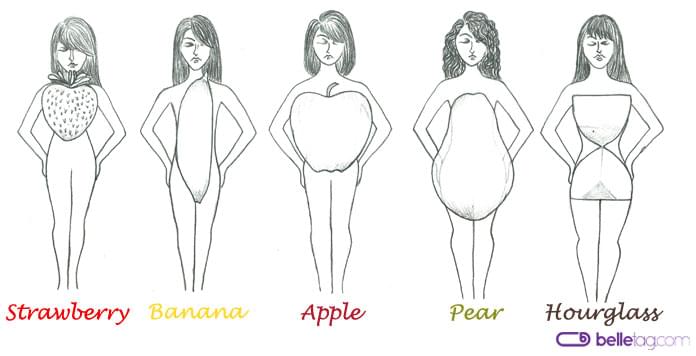 Measurement Method
First, you'll need a measuring tape. Stand in front of the mirror in your underwear and take the following measurements.
Bust – Measure the fullest part of your bust in a fitted bra – not a padded one!
Shoulders – Measure from shoulder to shoulder to get the width of them and double this number.
Waist – Your natural waistline is above your belly button. Measure around this area.
Hips – Your hips are the widest part of your bottom. Wrap the tape measure around these.
Examine your measurements and see which parts of your body are largest and which are smallest. Compare them to these categories:
Strawberry (Inverted Triangle) Body Type
If you're an inverted triangle shape, you have broader shoulders, and your waist and hips are narrow. You might wear a larger size on your tops and a smaller size for trousers.
Banana (Rectangle) Body Type
If your shoulders and hips are almost the same and your waist isn't very curvy, you are a rectangle body shape. Many rectangle women have broad shoulders and long, muscular legs. Fun fact, some studies suggest this is the most common body shape.
You are larger above with a generous bust. Your waistline is smaller, and you have narrow hips with slender legs. You might gain weight easily on the midsection.
Pear (Triangle) Body Type
If you're a triangle body type, your hips are the widest part of your body, and your upper body is slim. You might wear a smaller size on your top and a larger size for trousers. Many triangle body shapes have smaller busts, but not everyone.
Your shoulders and hips are almost equal in width, but your waist is well defined. Your body goes wide, narrow, wide.
Finding Your Body Shape Visually
If you don't have a tape measure on hand, don't worry! Body types can be determined visually.
To start, stand in front of the mirror in your undergarments and observe your body. Work out which parts of your body are wide and narrow. Focus on your bust, shoulders, hips, and waist. While you won't have measurements, visually take note of what is more prominent and smaller. Compare your findings to the descriptions above, or use a handy infographic to compare your shape to.
How To Dress For Your Body Type
You may be thinking, "ok, now I know my body type… now what?" Well, now you know your type, it's time to work out which styles will compliment your body best! Here's a guide to key styles for each of the five main body types.
Dressing for Apple Body Shape
The apple, or circle, body type is known for having a larger upper body than the lower body with no defined waistline. If you have this body type, you probably have slim legs and a slim waist but lack definition from the hips up.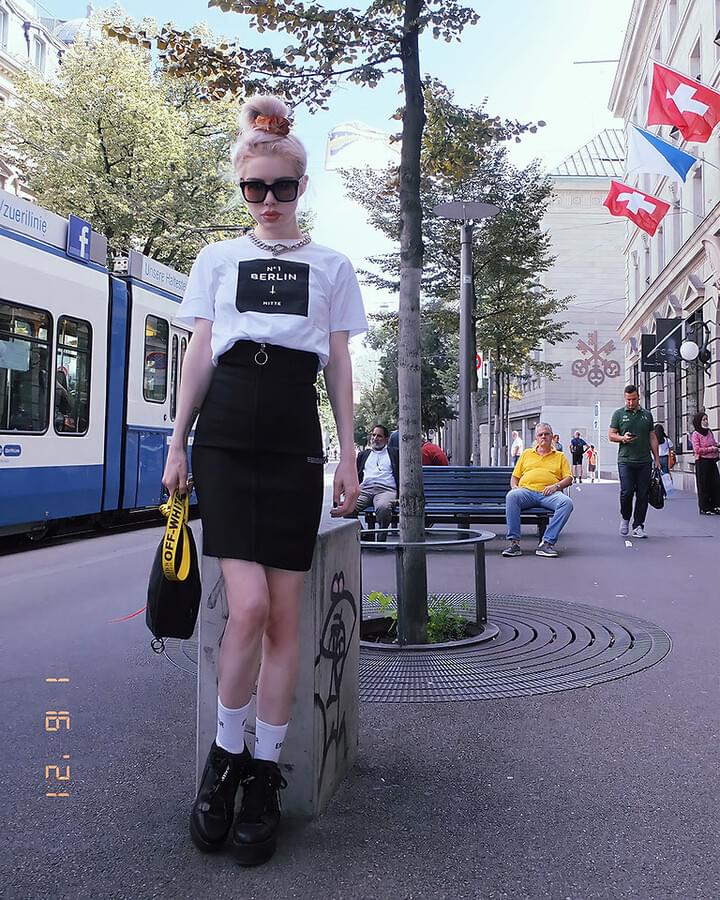 Women with this body type often end up buying oversized garments to compensate for the broader top half. However, this doesn't have to happen!
Stylists recommend keeping tops and jackets simple and streamlined. You want to avoid shoulder embellishments or details that will draw attention to this area. Aim for a balanced look. That means well-fitted, tailored tops and jackets that aren't skin tight. When shopping for dresses, go for slim-fit dresses that end above the knee. Pencil skirts also work well with loose-fitting tops.
The best jeans for this body type are straight-leg jeans. These highlight your slim legs while defining your waist more. To balance an outfit with jeans, add a looser top or sweater. Avoid two tight pieces on top and bottom as you are missing some waist definition. Everything too tight will feel top-heavy and off-balanced.
Dressing for Pear Shaped Body
A triangle, or pear, body shape is identified by a wider lower hip area. You probably have a narrow top half and wider hips and thighs.
If you have this body shape, you'll want to draw attention to your upper half. This can be done by wearing bright colors or prints on your told half or wearing sweetheart or boat necklines to broaden your shoulders. Wearing darker colors on your bottom half can help to slim your hips down too.
You can add layers to your tops to create more volume on your upper half, but make sure your layering is the right length. Avoid extremely cropped or long shirts. Aim for them to end around your hips. Also, if you are comfortable, a padded bra can help accentuate your bust. Always make sure you get measured and wear a bra that fits well too!
Dressing for Inverted Triangle Body Shape
If you're an inverted triangle body type, you will have a broader top half and less definition between your waist and hips. To balance your figure, you want to draw attention away from your shoulder and chest areas.
You should avoid Bardot or boatneck necklines, as these are for broadening shoulder areas. Halterneck tops, tops with large straps and big shawl collars are also to be avoided too as these draw attention.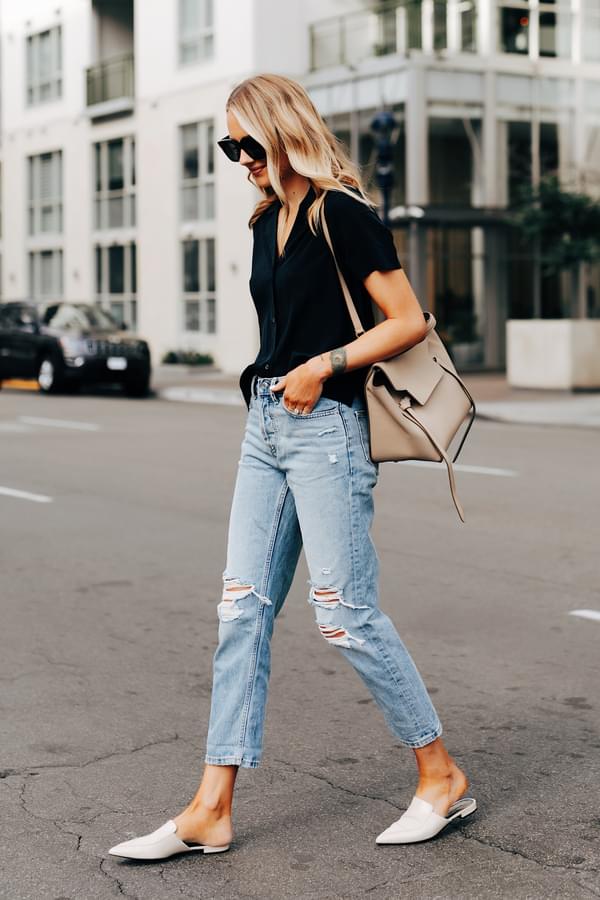 Look for garments that help accentuate your bottom half, a-line skirts and wide-leg trousers are great as they add volume through the fabric. The best pair of jeans for an inverted triangle body type is the boyfriend jeans or mom jeans, as these are baggier on the bottom half.
How to Style Hourglass Figure
If your shoulders and hips are equal and your waist is a defined curve, you're an hourglass body shape. With this body type, you want to draw attention to your waist, as this is the slimmest part of your body.
Try to avoid shapeless or baggy clothing as these can overwhelm your frame and make you look lumpy. Hourglass bodies have naturally larger busts, so if you want to dress modestly or minimize your chest, go for the scoop neck or boatneck tops. Avoid high neck tops like turtlenecks as these can draw attention to your chest.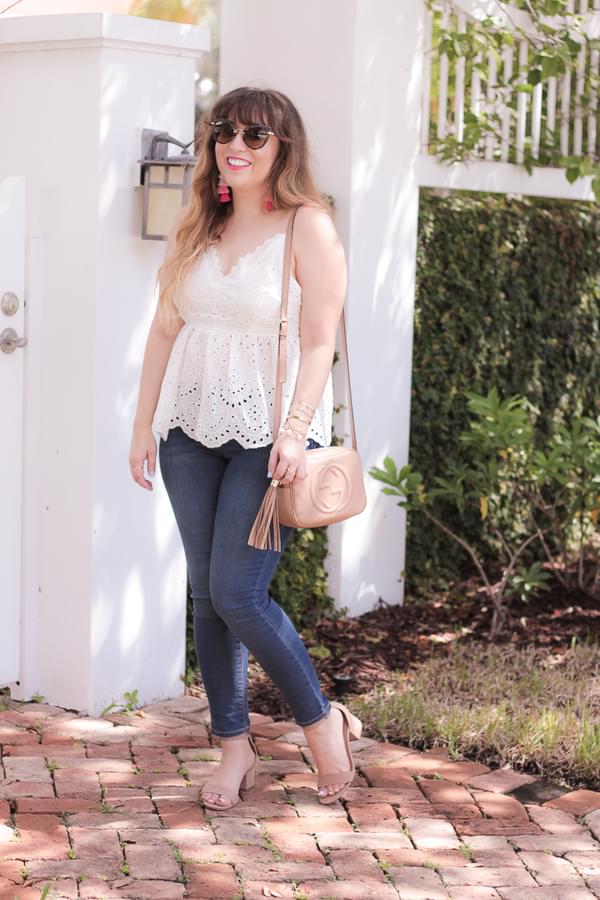 When looking for pants and jeans, go for garments with angled pockets instead of inseam pockets, as these will not tug on your hips as much and won't create any unflattering lines. Choose the types of jeans that visually make you look slimmer.
Since this body type is curvier, mini dresses and skirts are great ways to show off your legs when paired with trainers. Peplum tops or empire waist dresses can be good options, too, as they highlight your bust.
How to Dress Up for Rectangle Body Shape
Rectangle body types usually wear the same size tops and bottoms but don't have a defined waistline. This body type is sometimes called 'athletic' too. If this is your body type, you'll want to create an illusion of a defined waistline to balance your body out.
To create a waistline, go for belts and high-waisted trousers that will cinch you and draw attention. Belted jackets are another great way to get this definition. Avoid silhouettes that are very straight and vertical. Instead, go for soft fabrics that can be belted.
Rectangle body types have a great shape for any pair of pants. You can rock loose or wear form-fitting pants! Form-fitting pants can be helpful in highlighting your curves and accentuating your waistline. Mid-rise jeans can help draw attention to your waist too.
Proportions Are Key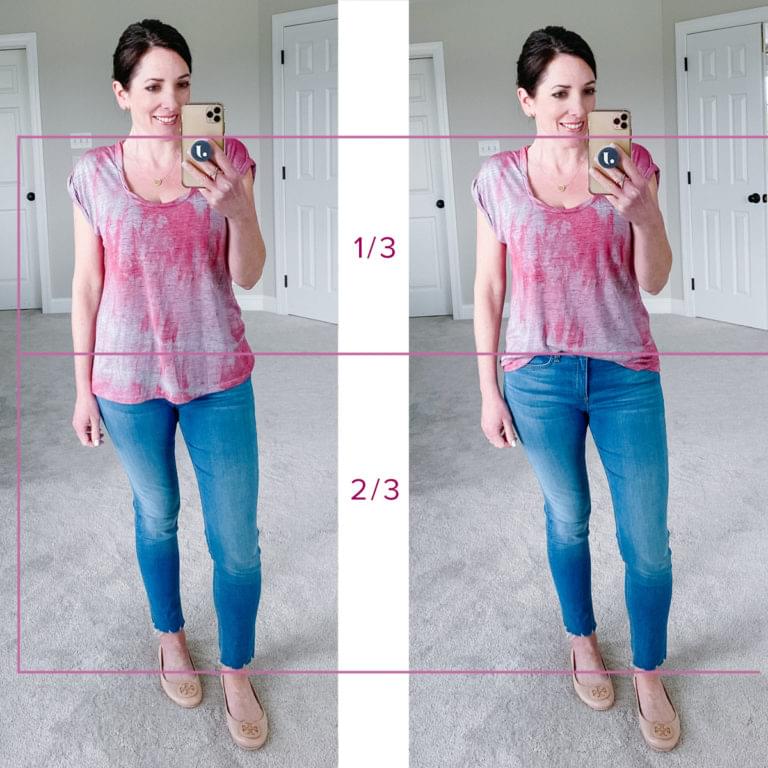 Knowing your body shape and what general clothes to go for is helpful, but knowing the proportions of a body will help you dress even better.
The rule of thirds is essential to the body. This is the most visually flattering for the human eye, and stylists use this constantly. When dressing, you should have two thirds covered by one piece, and one third either uncovered or in a separate garment.
As you explore combinations and become comfortable with your own style, you can tweak this ratio and experiment. But, if you're new to this formula, play around with the rule of thirds first! Hitting this ratio gives a flattering look every time.
Final Tips
Finally, here are some universal tips that you should keep in mind when trying to decide on your garderobe.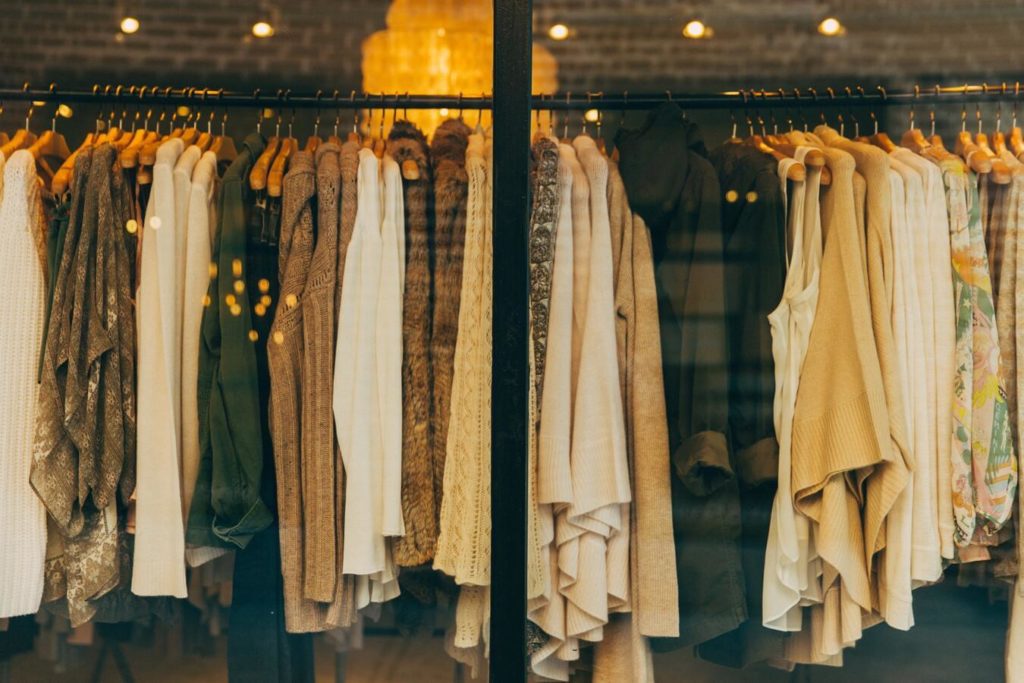 If something doesn't fit, don't keep it!
This may seem simple, but when something looks odd, there's no point in hanging on to it. Many of us say, "Oh when I lose weight…", but often it's not about weight, and simply it's not made for our body type.
Buy some basics that suit your body
This is another simple tip, but once you've worked out your body measurements, go shopping and buy some pants, a top or two, and a dress that fits you well. You can build multiple looks around these pieces so that you'll always have something to wear.
Don't give up searching for YOUR items
Shopping can be frustrating, especially when you don't know what suits you, but give this process time and take it slow. When you do find your style, it'll become fun and worth all the trial and error, trust me!
Related articles
Get Style Advice to Your Inbox
We will send an email from time to time. Not too often. You will get style advice and outfit examples handpicked from bloggers, icons, and style influencers. All for your outfit inspiration.