Fashion is all about rehashing the styles of years gone by. Of course, you don't want to look like you're stuck in a bygone era, but it's always fun to recreate a vintage, timeless look with a modern twist.
And let's face it, there's something special about throwing on your mother's (or even your grandmother's) vintage clothing and making it your own. Plus, you're almost always guaranteed to stand out in vintage outfits in a sea of identical mass produced clothing.
So, get ready to rummage through your mom's closet and grab a friend to go thrift shopping, because we've got some fabulous vintage inspired outfit ideas for you!
1) Channel the 70s
The 70s were all about comfort fashion! We love this menswear inspired jumpsuit with a tan coat and printed heels. Of course, it's not the 70s without a floppy hat. So chic!
2) The 50s are where it's at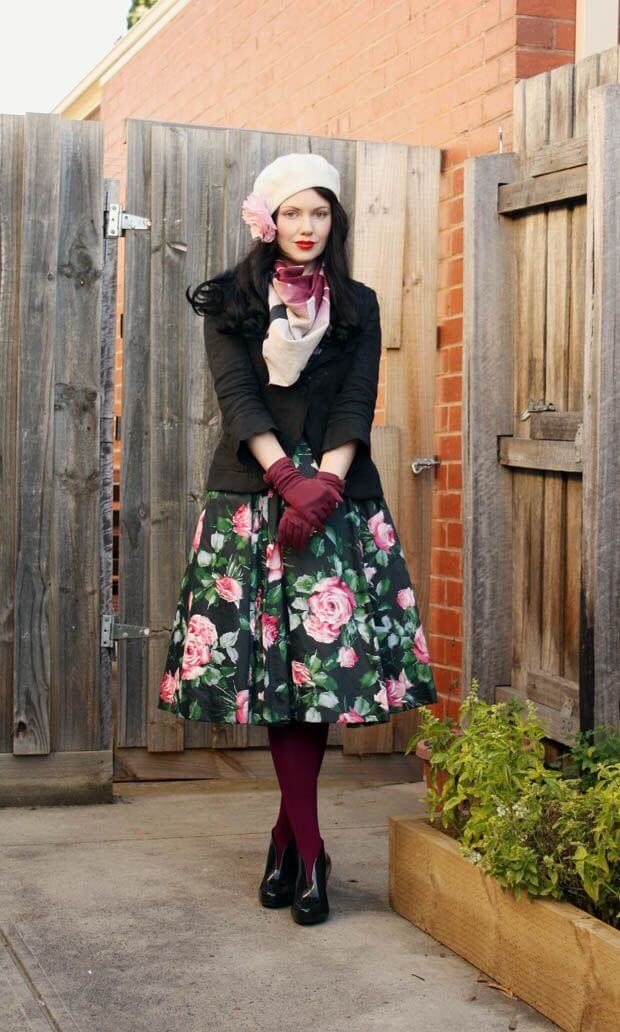 The 50s were all about ultra-feminine styles and glamourous looks. Throw on a flared floral skirt, with a short black jacket, a scarf, and a beret. Don't forget statement red lips to complete your 50s-inspired look.
3) Preppy and Fabulous
There's just something about a gingham print skirt that screams the 60s. And when it comes to gingham, just remember- the brighter it is, the better! Pair your statement skirt with a neutral, collared sweater and chunky jewelry.
4) Boyfriend Jeans
Nothing says vintage like an adorable polka dotted top. Pair yours with boyfriend jeans to balance out the feminine top and a tan coat to keep you warm. Blunt bangs will take this look to the next level.
5) Colorful and Bright
This vintage inspired winter outfit is all about making a statement. We love the floral printed skirt with the bright red boots and gloves. The red umbrella is perfect for a dreary winter day. The outfit comes together like a dream, doesn't it?!
6) Bohemian Rhapsody
This bohemian ensemble is reminiscent of the carefree 70s. Pair a feminine dress or skirt with an orange trench coat. Add a printed scarf, some colorful beads, and top it off with a fun headband!
7) Wide Legged Pants
Wide-legged jeans aren't always flattering but can look cute when worn right. Pair yours with a basic turtleneck and a faux fur jacket for the perfect ensemble for running errands while still looking fab!
8) Keep it classy
Sometimes all a girl needs are a long black coat and some red lipstick. This look perfectly embodies all that we love about classic vintage fashion!
9) The Roaring 20s
We don't know about you, but we absolutely love 20s inspired fashion. It's easy to recreate, and you simply can't go wrong with it. Wear a midi skirt with a cute top, add a long coat, and don't forget the 20s-style hat to complete your flapper girl look.
10) The sweet 60s
The 60s were an iconic decade fashion-wise! We love the luxurious swing coat that is bound to keep you warm. The high heeled boots had a sexy touch to the look. And of course, it can't be the 60s without big, glorious, hair.
11) Acid Wash Jeans
Whether you love them or hate them, you can't deny that acid wash jeans certainly make a statement. Keep your look simple by pairing it with a black tee, a badass black leather jacket, and black boots. Add a faux fur collar for added warmth, and you're ready to set the town on fire!
12) Mod it up
Thigh high boots are not only sexy but are also an absolute blessing when it's cold outside. Pair yours with a cute 60s style short dress, throw on a beanie and your mod look is complete!
13) Vintage Jacket
If you don't want to go all out vintage, just add one vintage element to your look, like this statement coat. Keep the rest of your look neutral so that you don't go overboard. Last but not least, finish your look with a confident smile.
14) Cape Coat
Cape coats add a vintage touch to your look without having to try too hard. Keep it monochromatic with a grey cape coat and black pants. Top it off with a grey fedora, and you're ready to embody a 1960s French girl.
15) Seeing Red
Now isn't this such a fancy looking vintage inspired outfit? The black and white striped skirt looks gorgeous with that bright red coat. The faux fur collar and the fascinator add a touch of vintage sophistication that is perfect for winter!
16) Pastel Beauty
A pastel blue midi dress like this one will instantly transport you back in time. It's feminine and sweet in the Amelie Poulain kind of way, and as you know, the French do it best when it comes to fashion.
17) High Waisted Pants
We love how many fun elements there are to this outfit starting from the high waisted pants, to the brown suede shirt to the part fur- part fringe jacket. What a fun winter look!
18) The 90s
The 90s were about functionality and comfort. Relive those golden years by putting on your favorite denim overalls with a basic sweatshirt and white sneakers.
19) A Touch of Glamour
The best part about this look is how simple yet glamourous it is. All you need is a nude or beige colored midi skirt, a basic black top, and your favorite pair of nude high heels. For the glamour quotient, all you need to do is add a statement jacket.
20) Voluminous
What's life without a little drama, especially when it comes to fashion? We are in awe of this almost Victorian inspired big black dress that is bound to make you the center of attention no matter where you go.