Being a mid-season, between too hot summer and extremely cold winter, fall is, together with spring, the other mid-season- a great opportunity to explore a wide range of different clothing. It's the perfect time for mixing and matching, you can still use some pieces from warmer temperatures, together with new items for the colder season.
Quick Navigation
Fall Fashion Through History
In the first decades of the 20th century, in between the two World Wars, women from aristocracy chose to change completely the way they used to dress due to a new freedom and a new way of life, focused on enjoying every moment after the terrible times of war.
That's why, during the "Roaring Twenties" fall time, women from aristocracy started to wear expensive and big fur coats, a long string of pearl which danced along with them while they stayed out late in clubs, smoking and moving to charleston rhythms, and short fringed dresses.
To cover the new short hairstyles, they used 'slouch' hats during the autumn time and wore black smokey eye makeup and red lipstick. The 'Mary Jane' shoes were perfect for dancing, with a low and solid heel which made them comfortable and free in their moves.
With the II World War coming, style lost its renewed glam and went back to more plain and simple outfits. The boyish figure was no longer fashionable, and feminine curves were emphasized by long evening gowns (for who could afford those) and fur, slouch hats and low wide heels were always a staple for fall.
Winter 1947, after the war, provided women with a major surprise: Dior's new look will become an iconic tailleur Bar tailored on women curves, with a tiny waist and rounded hips and shoulders. After years of sober dressing, women were ready to embrace a new era.
The fifties saw a rise in popularity of fashion from the USA; shopping malls were spreading around, and navy inspired dresses, along with high waisted denim and checked shirts, were among the most popular outfits. Young generations started to follow a rebellious style, made of leather jackets from bikers and shearling coats 'Grease' style.
The sixties saw the innovation of Mary Quant's mini skirt, a revolutionary idea which brought women to wear very short skirts with black collant and high boots; another staple was tweed along with flannel, for very long coats and matching twinsets.
Young 'Mods' wore polished and refined Beatles-inspired outfits, with long robe coats and trench coats for fall, and clean cut tailored suits.
The seventies were back with fur and leather, along with warm colors such as orany-clay tones and bright red and yellows. Suede was also a very popular material for coats and jackets, and many different prints and patterns were mixed and used.
Regarding youth culture, punk was for sure a very important movement, which would have then inspired lots of innovation and styles in future times. Boots such as Dr.Martens, today seen everywhere, both on the streets and during fashion weeks, started their fashion journey from rebellious English punks.
The eighties were the heart of power dressing: extremely wide shoulders, narrow waist, dark and heavy flannels with luxury details in rich materials, such as silk. Goth and dark movements were becoming very popular among teenagers and provided fashion with again black leather and long coats with metallic inserts.
During 1990 there was a lot of different styles and items to choose from. The fashion movement was beginning to lose the unity which an outfit had had in the past decades. From fur and statement squared jacket from high-end brands, to flannel tartan shirts and velvety jackets from 'grunge' style, to high-waisted 'mom' jeans with shirts and sneakers, this decade has an incredibly wide range of trends to choose from when it comes to fall style.
A very important movement, together with grunge, was the hip hop one. Parka and puffer coats, Timberland style boots and sporty sneakers were starting to become popular in the streets and in the media, providing young people with new fall trends.
What Colors Are Trendy This Fall
If you want to talk about colors, look no further than Pantone. Well-known and iconic brand, Pantone Color institute is simply the best to discover the new trends regarding colors. Its seasonal reports about fashion are the perfect way to discover and analyze which ones will be the colors of the next season.
The top ten created from Pantone starts with two different blue colors:
Riverside, a darker, cool and strong blue, and
Airy blue, light and very similar to Serenity, which is, together with Rose Quartz, one of the two colors of the entire 2016 year.
[one_half_first]
[/one_half_first][one_half_last]
[/one_half_last]
Up next is Sharkskin, which, as you will probably have guessed from the name, is a neutral but still edgy gray color. It goes perfectly with all the colors in the palette, just like Warm Taupe, an earthy color that goes beyond time and is always a staple. Another neutral and earthy color is Potter's Clay, orangey, solid and sophisticated.
[one_half_first]
[/one_half_first][one_half_last]
[/one_half_last]
The first pop of color comes with Aurora Red; after all, it wouldn't be fall with a pinch of deep, warm red.
Vibrant colors go on with Lush Meadow, and Spicy Mustard, the first bright and nature-inspired but yet sophisticated and elegant, and the second unusual and exotic.
[one_third_first]
[/one_third_first][two_third_last]
[/two_third_last]
[one_half_first]
[/one_half_first][one_half_last]
[/one_half_last]
Then there's Dusty Cedar, which is again recalling the color of the year Rose Quartz, but perfectly suits fall time, being dustier and warmer.
[one_third_first]
[/one_third_first][two_third_last]
[/two_third_last]
Last but not least, unexpected and extremely vibrant Bodacious, an elegant, audacious and rich kind of purple that is able to instantly dress up even the smallest detail.
Materials And Prints In Autumn
Velvet and Floral prints
Velvet is for sure the main character in this fall 2016. From the seventies in coats and jackets, from the nineties in bombers and streetwear, and from runway shoes to sneakers' details, velvet is ubiquitous.
It can be found in shoes (as we saw with the Steve Madden ankle boots) and dresses, printed or plain, in accessories such as chokers, and it is declined at 360 degrees in the whole fashion world.
The absolute must have for this 2016 is, for sure, the velvet bomber jacket. You can find a velvet bomber jacket for almost every occasion: the burgundy one, paired with a total black outfit for an elegant touch to a special night, the pink one, paired with fresh denim and a white t-shirt to wear on a daily basis, and the most beautiful, embellished ones, with floral and oriental inspired prints such as the one from Bershka.
[one_fourth_2_first]
[/one_fourth_2_first][one_fourth_2]
[/one_fourth_2][one_half_last]
[/one_half_last]
Tweed and checks
Tweed is a "rough, woolen fabric, of a soft, open, flexible texture, resembling cheviot or homespun, but more closely woven". Being so heavy, it is perfect for fall and winter time, and it has always been used to create twin sets, coats, pants and jackets.
This fall, pair tweed with checks patterns to be extremely stylish and up to date, as you can see from Chanel fall and Pre-Fall collection: tweed coats and outfits, hats included, all covered in checks patterns to give a touch of color and movement to the whole outfit, whether it's bon ton, such as in the Fall collection, or a bit more rock and roll, as in the Pre-Fall one.
Coat: An Essential Element In Autumn
If we talk about current fall fashion trends, coats are certainly a staple in every fall wardrobe, and this year we have a lot of different cool options: the must have items are a robe, puffer, shearling and fur coats.
Robe coats
Robe coats are everywhere. From MaxMara and Valentino to Mango and Zara, ankle length robe coats are a must-have for this 2016 fall season.
[one_third_first]
[/one_third_first][two_third_last]
[/two_third_last]
This trend is not new but is for sure going to last even in the next season. They can easily adapt to every situation, from sporty daytime outfits pair them with a total black jumpsuit and white sneakers, such as Kendall Jenner in her AYR Camel The Robe Coat and black jumpsuit.
Puffer coats
Puffer coats are getting bigger and bigger: this trend started some years ago, and it's now exploding, along with the coats sizes!
In fact, oversize, both in length and width, are becoming a must have. The puffer coat trend might be very helpful for who is living in harsh climates: in fact, they are perfect for both autumn and winter time; they not only keep you warm, but also help you in dealing with wind and rain; plus, they are super comfy!
Puffer coats are now seen both on the runaways, such as the long antique pink floral Alexander McQueen coat, with fur details, or the bright red oversize from Balenciaga show, and also on the streets, as we can see from the super stylish total pink look seen caught during the FWs.
[two_third_first]
[/two_third_first][one_third_last]
[/one_third_last]
Low-cost brands have now an extremely wide range of puffer coats to choose from: pick this white one from Zara and pair it with dark pants with bright red details to be super trendy!
Fur coats
Fur is going oversize, too: in lengths, such as the pink Gucci one, or in shoulders, like the audacious blue fur coat from Yves Saint Laurent. Sleeves are becoming longer, and colors are getting brighter, acting as a contrast with fall and winter time.
[one_half_first]
[/one_half_first][one_half_last]
[/one_half_last]
But not only short-haired fur coats are super popular, long-haired ones are also becoming a must have during this season.
See this wonderful black and white striped long-haired faux fur coat from Asos, pair it with a total black with leather details to build a super elegant outfit with a touch of rock style, for a very special evening.
Shearling coats
Ranch-inspired shearling coats are perfect if you like to add a vintage touch to your fall look.
Soft and warm, shearling coats can be mixed in a huge variety of different styles, from elegant looks is paired with heels and skinny pants, or for a totally casual everyday style, with denim jeans and Dr.Martens-style boots.
Another great item to pair with shearling coats are flared pants; a wide leg cut directly from the seventies could go perfectly with a camel shearling coat with white fur, and you will instantly look up to date, with almost no effort.
[one_half_first]
[/one_half_first][one_half_last]
[/one_half_last]
Trending Shoes For This Fall
Knee high / thigh high boots
Leather or suede, super high or right above the knee, these boots are super sexy and glamorous and perfect to pair with a short dress and trench coats. As seen on the runway, take a look at Balmain's knee high pink suede boot, or go for a cheaper option with these black boots from Lulu's.
[one_third_first]
[/one_third_first][two_third_last]
[/two_third_last]
Platform shoes from 1970 and 1990
The nineties and seventies mix and match in this season shoe trends, and Ziggy Stardust style platforms go along with Spice Girls' inspired ones, for an explosive statement piece of clothing.
Materials, colors, and lengths can be completely different, such as these Marc Jacobs velvety dust pink high boots, or the ankle platform in blue vinyl from Balenciaga.
[two_third_first]
[/two_third_first][one_third_last]
[/one_third_last]
Shoes with fur details
Fur is everywhere, not only in coats and dress but also in shoes. From fringes, like Alexander McQueen's beige stilettos, or pon pon like Dolce&Gabbana colorful Italy inspired heels, or half covered in short fur such as Ferragamo ones, fur provides a peculiar detail that can turn a summer/spring shoe into a staple for fall and winter.
Fur is great both in neutral and light colors such as beige and antique pink, but also in bright colors, with metallic textures and colorful details.
[one_half_first]
[/one_half_first][one_half_last]
[/one_half_last]
But the most extravagant and original garment for this fall is surely the furry slipper from Miu MIiu, in super bright neon colors such as pink and turquoise, embellished with pearl details.
Menswear-inspired shoes
After oxford and derby shoes, this season the boyish look goes over the top with flat shoes directly inspired by menswear.
Filled with feminine details such as glittery textile in the beautiful Delpozo collection, or with metallic textures in Narciso Rodriguez one, the great thing about this kind of shoes is that they can be worn perfectly during daytime, to spice up an everyday look, for example, office clothes, but they can also be great for evening and nights out, paired with an elegant dress and a long coat.
[one_half_first]
[/one_half_first][one_half_last]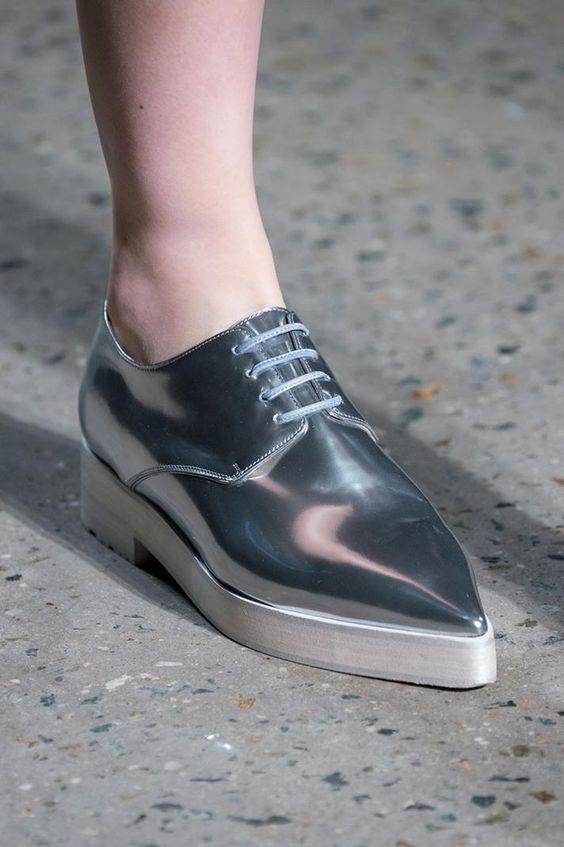 [/one_half_last]
Ankle boots
Ankle boots are absolutely a must have for this fall 2016: whether they're made of suede, or velvet, or leather, they're low cut or just right above the ankle, they're the newly popular 'sock' boot shape or just regular ankle boots, everyone will find the perfect shoe to match their style.
Being such a versatile piece of clothing, these garments are hard to label and classify as a specific trend; just explore and get inspired by fashion shows and street style to find the ones that suit you the most.
[one_third_first]
[/one_third_first][two_third_last]
[/two_third_last]
Ankle boots are extremely easy to pair since you have such a wide range of choice: they can also be super versatile in terms of the season.
Just look at this picture from Gigi Hadid: she's wearing them in an outfit for warmer climates, but just add a blazer or a long cardigan, and they will be perfect for fall too.
Stylish Autumn Accessories
Vintage style handbags
Small and structured, in leather, or vintage style, made with velvet, medium sized handbags, both with big golden details: these handbags from Dolce & Gabbana are extremely beautiful and well-refined, perfect for fall evenings in every detail.
[video_page_section type="youtube" position="default" image="/wp-content/uploads/2016/11/dolce-and-gabbana-women-accessories.jpg" btn="light" heading="" subheading="" cta="" video_width="1080″ hide_related="true" hide_logo="false" hide_controls="false" hide_title="false" hide_fullscreen="false"]https://www.youtube.com/watch?v=bsX30jHUlR0[/video_page_section]
But going for the cheaper option will not be difficult, just look at our picks:
This bright red bag from Zara has a very refined structure, and those golden details provide an extravagant and original touch perfect for spicing every outfit up.
Velvety black bucket bag, always with big golden bee details, with a long golden chain, reminds of the velvet dark one in D&G Fall Winter accessories collections: find it on Zara too.
Statement chokers
As shown by Elle, statement chokers are definitely the thing this fall. The choker trend started to come back from the nineties along with the whole nineties revival look and is now exploding more and more.
From the black 'tattoo' chokers and the extremely thin ones, this season it's time for big and bold ones, with large golden and metallic inserts, as you can see from Lanvin's fashion show and Loewe's golden chain.
[one_third_first]
[/one_third_first][two_third_last]
[/two_third_last]
If gold and stones are too much for you, you could go for this Boohoo necklace, always extra wide, but in plain black velvet. Perfect for both days and nights outfit.
Stylish earrings for autumn
Asymmetrical earrings
Asymmetrical earrings are definitely a new original trend that has been spotted a lot in various shows from the Fall / Winter fashion weeks.
From different lengths but same style earrings such as Alexander Wang and Sonia Rykiel, to the extreme single earring such as in Roberto Cavalli and Stella McCartney's shows, this trend is not for everyone: you need to pair and balance the outfit perfectly, and carefully plan every detail, to avoid the 'I forgot an earring' look!
[one_half_first]
[/one_half_first][one_half_last]
[/one_half_last]
Duster earrings
Big and eye-catching, duster earrings can be so long that they reach shoulders and can be just accessories, or the 'main characters' of a whole outfit.
Narciso Rodriguez ones, simple and light, give a bright glance to the black and white outfit, communicating simplicity and elegance; while Martin Margiela, at the opposite, chooses a big structured design which immediately draws all the attention upon itself, with bold colors and solid materials.
[one_half_first]
[/one_half_first][one_half_last]
[/one_half_last]