Sweaters, originally born as sportswear garments perfect for running, going to the gym and working out, are nowadays one of the most fashionable and versatile items you can have in your wardrobe.
Sweaters have been trendy for decades, but today we can see them not only in streetwear and alternative fashion styles but also on the catwalks, thanks to unique brands such as Vetements.
We lined up some of the coolest outfits with sweaters to rock this cold season.
1) Total black with golden details and graphic sweatshirt
Being so versatile, it's not difficult to "dress up" a sweatshirt: you just need to add a pair of pumps and a nice skirt. But how to find the perfect mixture between colors and textiles? Here you will find some inspiration: a sporty black graphic sweater with "Haters" in golden on the front is paired with a leather pencil skirt, golden heels, and leathery bag with golden details. Simple, yet trendy and stylish.
2) Graphic "eye" sweater with embellished miniskirt
This look demonstrates how a sweatshirt with an unusual design can be dressed up by pairing it with an embroidered miniskirt, by mixing and matching different surfaces and different styles. The white nuances are different, patterns and prints are completely opposite, but the result is so classy and elegant, perfect both for daytime and special events.
If you fear being cold, we recommend a long trench coat in neutral colors to go with this look.
3) Kenzo sweatshirt with lapis blue miniskirt
This look might seem too much of a summer-spring outfit, but if you add a pair of tights and a furry coat it would be just perfect for winter: Kenzo sweaters provide the outfit of a luxury touch which basically builds the look on itself, and the miniskirt gives color together with the geometrical black and white socks.
4) Longuette skirt with caramel sweater
Basic yet stylish, this look is perfect for winter daytime, with this warm caramel sweater and this long dark blue pencil stretch skirt. The golden buttons are carefully styled with the bag chain and the watch details, and black heels are perfect to dress up the whole outfit. If you feel like daring a bit more, try matching some fancy ankle socks with the sandals!
5) A boost of colors
This look in completely different from the others: dare to wear extremely colorful nuances to brighten up winter times and look perfect and on trend. This bright lemon yellow turtleneck sweater is heavy and perfect for winter weather, and it is paired with both skirt and accessories in one of the trendiest colors of 2016: rose gold. Shoes and bag show a metallic finish, while the skirt has an amazing structure, carefully designed and created and with a mid-length perfect for every age.
6) Basic dark grey sweater with white jeans
This look is the essence of the "model off duty" style: simple yet classy, comfortable yet stylish and on trend. This super basic dark grey sweater is paired with white knee cropped jeans and vintage pink flat shoes. A small bucket bag, also in vintage pink, finishes off the outfit. Perfect for winter with a long beige coat.
7) Total black for day
Total black is a classical outfit that never goes out of trend: this daytime option features a heavy knitted black sweater with skinny black pants and biker-style boots in suede. A big leather bag is perfect to finish off this look for winter work days.
8) Black and blue
9) Sporty Orange Nuance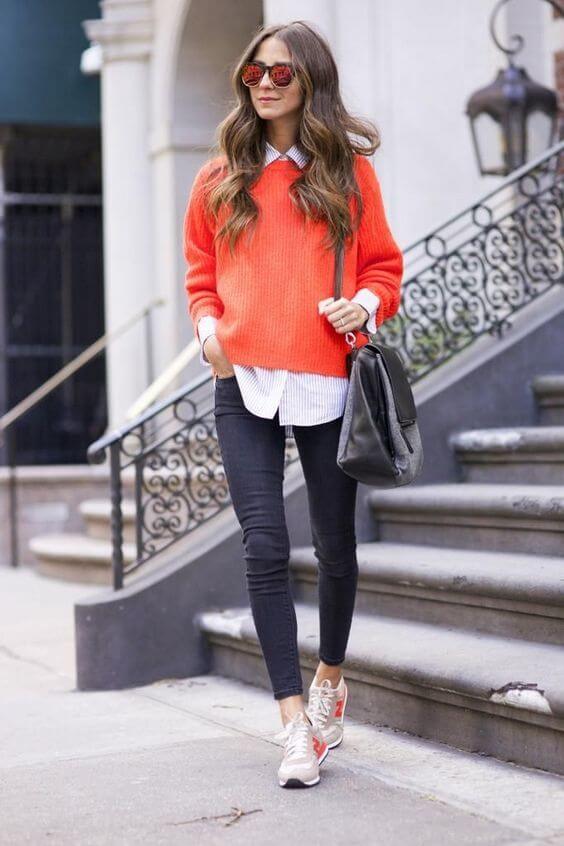 This look can be replicated with every sweater in bright and deep colors: this orange is perfectly paired with sneakers' details, and the shirt underneath gives a classy touch perfect for work or daily occasions.
10) Basic grey with boho allure
This outfit is extremely simple, you just need a neutral basic sweater, better if oversize, black skinny pants, and white sneakers: but the choice of accessories is careful and gives this look a boho touch which makes it perfect for when you want to look stylish without putting too much effort!
11) Let's add some colors
12) "Menswear style" basic look
A woman is wearing grey pants with a beige sweater
Everybody owns sweaters in basic tones and neutral nuances: and this look, inspired by menswear cuts and textiles, is a very interesting source of inspiration. Grey pants and sneakers along with the light brown bag are really basic and provide this look with class and style perfect for work and office days.
13) Burgundy and gold
For those of you who are not afraid to dare, this look is perfect for winter nights: a metallic gold sweater paired with a short fringed burgundy skirt and a burgundy clutch; gold accessories finish off everything, making this look a bling of light for special events.
14) Glamorous silvery tones
Winter time is full of parties and holidays, and if you want to be the center of attention, look no further: this look is just perfect to shine through every night event you could possibly be invited to!
The garments are pretty simple, and oversize sweater and palazzo pants: but colors and textiles makes them simply unique. Both shiny and silvery in different ways, the sweater a bit more matte and glittery, while the pants look just as if they were made of silver leaves. Unforgettable total silver!
15) Silvery romantic
This look is one of the simplest to put together: you just need an oversize sweater and a maxi skirt. But here the colors and textiles are everything: the skirt is flowy, light, pale pink and gives an instant elegant and romantic touch to the outfit, and it is made more glam by pairing it with this metallic silver oversize sweater. This outfit could be perfect both for days and nights, and it is also extremely comfortable to wear throughout the day. Pair it with a faux fur coat if you go through a very tough winter!
16) Macro sequins with metallic effect
This is one of those outfit where one garment can easily make the difference: this sweater is completely covered in grey macro sequins, making it beyond shiny and giving a metallic effect unique and perfect for every look. You can wear it together with very casual items such as cropped jeans and sneakers, or pair it with a total black to be classier and elegant.
17) Pink elegance
18) Light and smart
This outfit looks light, smart and elegant due to matched colors and light patterns.
19) Gray tunic sweater
Compared to the previous prints, this one looks more classy and elegant. In fact, this sweater does not share a "common" sweater shape but has a tunic one instead, which makes it unique and perfect for various outfits.
20) Floral Gucci with gold
An explosion of colors, with red and white floral print and typical Gucci colors on borders, plus a metallic golden maxi skirt: this excessive look results in being just perfect for those who want to dare and do not fear being the center of attention. As for more eccentric looks, this one is perfect for parties and special events.
21) Dark petrol ombre sweater
This sweater has the print that has been literally everywhere this year: ombre print. Perfect for winter grey days, this ombre goes from dark petrol to very light grey, and is perfect in a total black outfit for lazy days where you want to be stylish without almost no effort!
22) Light camel sweater with cut-out shoulders
This cozy outfit features a heavy knitted sweater with turtleneck and cut-out shoulders in some light camel nuances and white pants. Finished off with a matching hat and a brown watch, this look would be perfect for a day out, and it involves thigh-high suede boots in dark brown. These kinds of boots are a huge trend for this winter and are perfectly paired in this outfit.
23) The "choker" sweater
Chokers have been a huge trend lately, and therefore it was a small step from necklaces to choker sweaters! This cool piece of clothing can be found on IndieXO, and it features not only the chokers structure but also zipped elbows, for a super cool grungy look. Pair it with distressed denim jeans and basic sneakers to complete the stylish look.
24) "Cut-out arms" sweater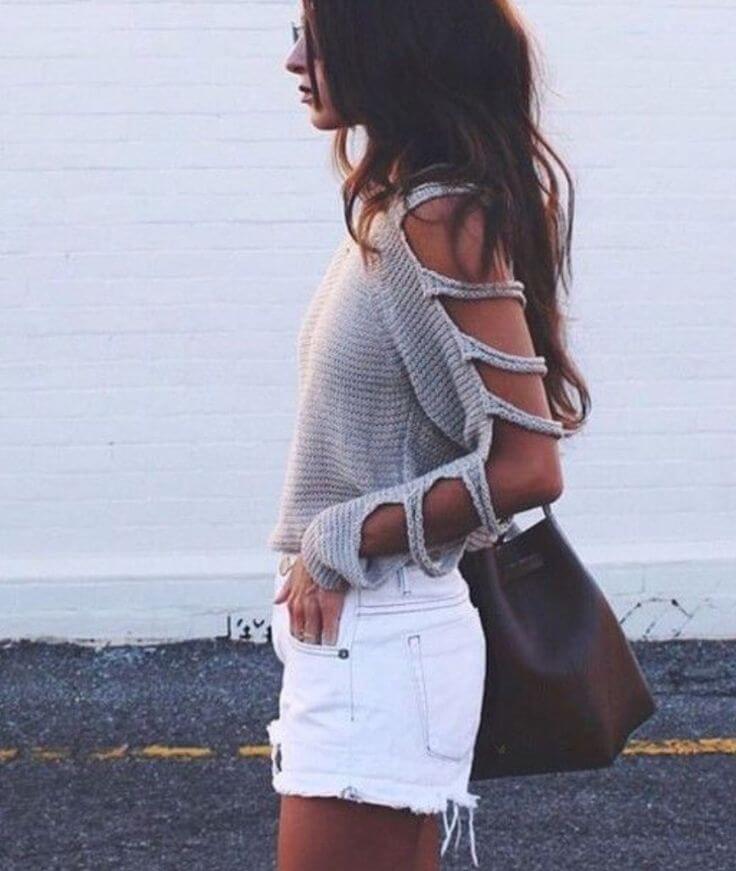 This sweater has most of the arm-part completely cut: it might result grungy, but the knitted material makes it look really cozy and warm for winter. It can be paired with skinny jeans in dark shades and sneaker, with a furry jacket on top, to result in a stylish and trendy outfit perfect for everyday style.
25) Oversize green fringed sweater with cut out shoulders
Here we have another "tunic" sweater, in deep green, with fringes and cut out shoulders: almost everything in this sweater has been or still is a trend, which makes it a perfect piece of clothing for this winter. It is extremely versatile since it could be paired with cropped pants, or with tights and a skirt for a perfect evening outfit.