We know what you're thinking, "Wearing jeans when it's freezing outside? Are you crazy?!" No, of course not. We just really think jeans are the perfect pants for every season (when worn right). Obviously, the first thought that comes to mind is, is this going to keep me warm enough? Well, there are a few ways to ensure that it does.
Firstly, there are jeans that are meant to be worn specifically during winter. You can choose thicker than usual jeans, flannel lined jeans or even denim with wool, that are all perfect for frosty temperatures.
Secondly, you can always layer like there's no tomorrow. Wear some jeggings under your actual jeans or a pair of thermals.
Thirdly, a nice pair of over-the-knee boots or Uggs will keep your legs warm.
And lastly, while we love white denims, dark wash jeans are probably a better winter choice considering they're more likely to absorb heat. All we're saying is give jeans a chance. They will not disappoint! We promise.
1) Black and Blue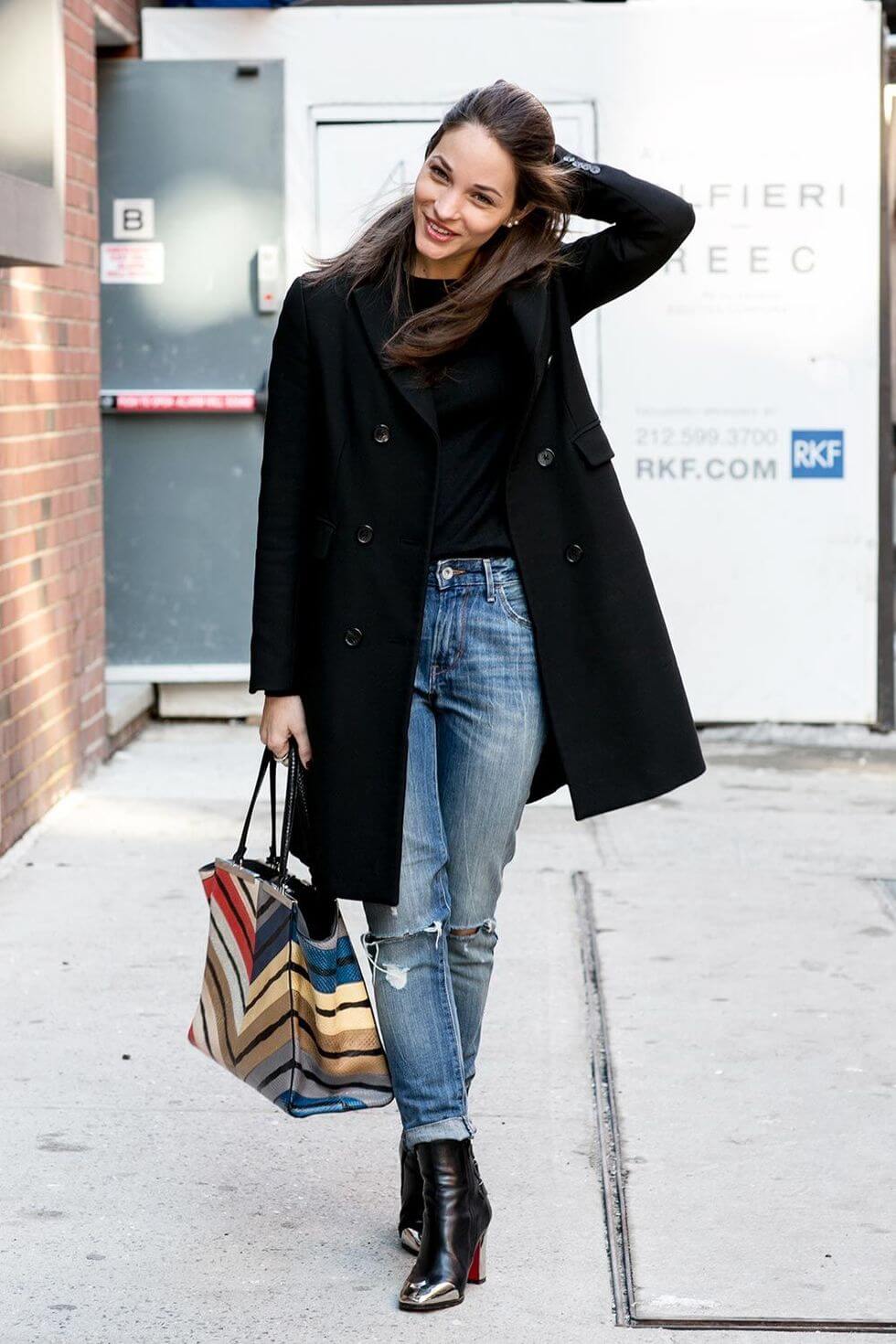 The 90s are still very much in vogue and that means high-waisted jeans are here to stay. Wear your jeans with a classic black coat and keep your feet warm with sexy ankle length boots. Finish your look with an abstract printed tote and you're ready to slay winter!
2) Stay Warm
Layers are an absolute savior when it comes to cold weather. Keep your outfit neutral yet classy by pairing your blue jeans with an off-white sweater, a nude jacket and of course a faux fur scarf.
3) Say yes to statement jackets
Another great way to wear jeans in the winter is by throwing on a statement jacket over your denims. This almost all-black look is perfect for girls who aren't big on color. We also love the casual yet chic sock bun that adds a great finishing touch to the look.
4) A blanket coat is a winter must-have
So, blanket coats may not always look great but they're so insanely comfortable and warm! Also, because of their length, they help keep your legs warm to an extent. And most importantly, they look great with jeans!
5) Floppy hat, stripes and flared jeans
A striped tee with jeans is one of our favorite go-to looks for summer. Alter it for winter by adding an oxblood coat and a floppy hat. So chic!
6) All white is beautiful
Gone are the days when wearing white after Labor Day was frowned upon. White jeans in winter are actually considered fashionable now and we couldn't be happier. Opt for an all-white look with a warm nude jacket if you're a fan of classy looks à la Audrey Hepburn.
7) White and Brown
If an all-white look is not your cup of tea, add a nice brown jacket over your jeans. It adds a lovely touch of color without overpowering your entire look. We approve!
8) Pastel Blue
While you may not think pastel blue works with light blue jeans, it actually is a beautiful combination, especially when paired with a ruffled top. If you're a fan of feminine styles, look no further!
9) Thigh High Boots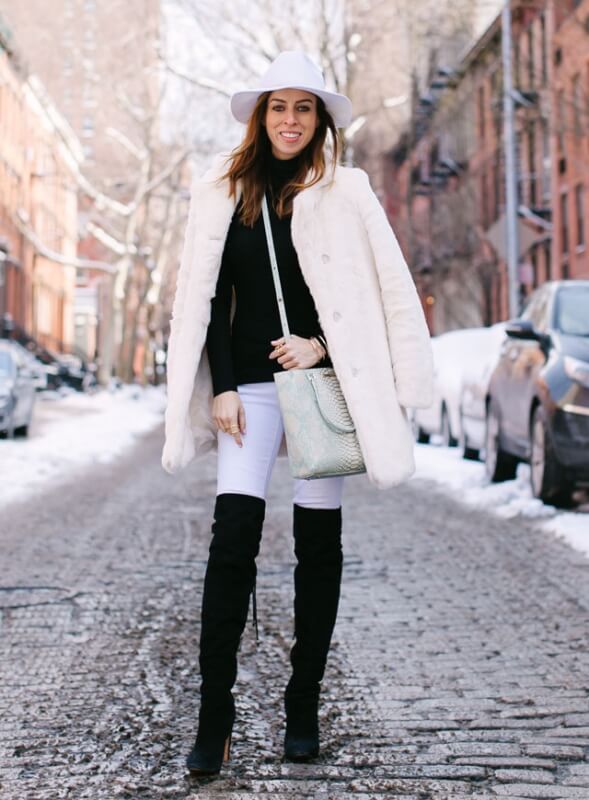 Thigh high boots are incredibly sexy and look amazing when worn with denims. Of course, they get brownie points for also keeping your legs warm and toasty. Paired with a chic coat and a hat, this look is perfect for any fashion aficionado.
10) Cozy in Layers
When it comes to winter fashion, there's just one way to go: layers. We love how the "striped tee and jeans "look gets a chic winter update with a tan jacket and scarf. Of course, beanies are always adorable!
11) Lady in Red
Are you the kind of woman who believes in making a statement no matter when and where you are? Then, you're going to love this delicious combination of oversized boyfriend jeans, a printed top, and of course, the cherry on the cake, a bright red coat!
12) Luxe it up
Faux fur is luxurious, fabulous and of course cruelty free. Colorful and printed faux furs add a fun touch to any outfit, especially jeans and a top with a winter coat.
13) Printed Shoes and Jeans
When you think about it, white and grey are as safe as can be. Add an element of fun to your look by throwing on a tan coat and leopard print heels. Can you say Meow!
14) Sweatshirt and Jeans
If you live somewhere where winters aren't intense, just throw on a comfy sweatshirt with your jeans. Don't forget your white sneakers. They're having a huge comeback moment right now. This look is perfect for girls who believe in comfort fashion.
15) Fashionably Slouchy
When it's cold outside, the last thing you want to do is end up wearing something that is not a 100% comfortable. Well, just pair your black jeans with a tan slouchy sweater and we guarantee all day comfort.
16) Pop of Color
Whether it's summer or winter, a pop of color is always a good idea. We love the bright blue beanie and the neon yellow shoes that break the monotony of the all-blue outfit. Isn't this just perfect for a dreary winter day?
17) Blush Away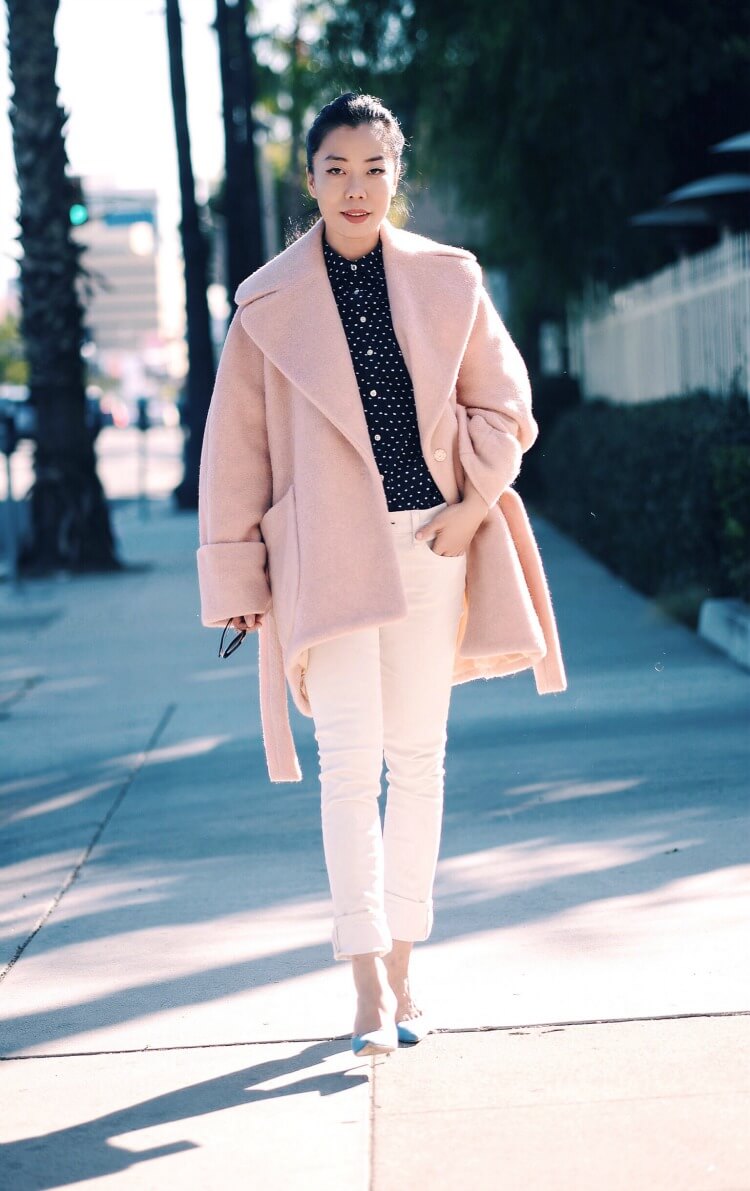 There's just something extremely soothing about blush pink, don't you think? And it complements white jeans beautifully! Wear it with a black top to add an eye-catching contrast and you're good to go!
18) Flared is the way to go
We never thought flared jeans would see the light of day again, but here are they are! They look great with a knee length jacket, especially a beautiful oxblood coat like this one.
19) Chunky Monkey
Chunky sweaters are to winter what Minnie Mouse is to Mickey. They belong together! Pick a bright colored sweater to go with your jeans and finish the look with a cute beanie.
20) Colored Jeans
While we associate colored jeans with summer, they can look amazing in winter too. Pick a rich berry colored pair of jeans like this one, and wear it with a nude top, and a classic scarf. If it's colder, just add a nice jacket to complete your look.