Blush is the new black. Although not a general rule, it sure is widely applicable when spring is behind the corner (or right here?). You might feel the best way possible inside your comfort zone – read: wearing opulent dark colors and heavy textures, but it is spring!
It may seem too frivolous and girly at first, but blush as a color can look rather sophisticated and posh. So, our dear gothic slash military ladies, do not worry, you certainly won't look like a cute little butterfly in the woods. A style advice is simple – all you need is a balance. Moderation and balance.
Since blush is essentially just a color, we can incorporate it in many kinds of outfits, from badass military to the subtle and delicate ones. The options are endless, and it is up to you, in the end, to decide where you want to be on the scale ranging from edgy mix n' match chic to the cute little girl.
1) Ruffle it up!
The most awesome follow up of this kind of dress are surely some statement sunglasses. And statement here means an eye-catching glass frame!
Whether it is for going out or a stroll with a bike (as pictured), this thing never seems to fail with prettiness!
2) The blush material
The blush on cotton is amazing, but do you know what's even more breathtaking? Blush on satin and suede. And what is even more amazing? Those two materials worn at the same time, of course.
That is an example of the ultimate girlish and intricate style. HINT: follow up with a lovely tulle pastel dress, and let the pastels reign spring!
3) The rose dentelle
No more frills guys. This blush outfit is some serious femme fatale chic going on. The slip on lingerie dress is so perfectly blended with this color, as no other color suits that dress more.
What's more, if you are sick of the classic beige trench coat, wear it in blush (naturally)! It still won't be too much in your face, but it would be more romantic than the classic one!
4) Lace does it!
These high waisted shorts are so versatile that you can wear them in almost any combination possible. Starting from the sportiest outfits and going to the subtle ones, these blush shorts certainly do the trick.
The lace blouse makes the perfect counterpart for a dressy stroll feeling. For a more romantic and neutral appeal, add nude or blush accessories.
5) The sleek and chic appeal
Like we said, blush is not necessarily all about fluffy materials and ruffles. This blogger proves the opposite with rocking blush on a sharp blazer! What's more, the leather shorts add the extra badass touch to the ensemble.
TIP: go for a Marsala toned purse to break the ice among the nudes.
6) Casual rose dentelle
Dominate the streets with this kind of mix n' match ripped denim outfit. Blush is less of a statement here, but the outfit certainly wouldn't be the same without the blouse.
Keep the accessories neat and sleek to achieve that nude, chic look.
7) The essence of glam chic
The high waisted pieces always add up to the whole sophisticated essence, and that is what these pink ones do. The clean-lined blouse is the perfect match for it.
Ancient goddess like jewelry can do the trick for the follow up of the outfit, while the embellished messenger bag is bound to catch looks!
8) The fairytale dream
The romantic, medieval touch blush introduces to outfits is not always collateral damage. If you want to embrace your femininity, opt for this kind of magic combination.
The silhouette is super flattering, and the bows add to the girly feeling. You would feel like you went out of a time machine! TIP: wear some cute loafers instead of heels for the countryside effect.
9) The girly raven
Don't' want to pair blush with more nudes? That is fine because you could embrace its lightness with some black and make a perfect contrast.
The sophisticated holistic vibe is achieved with a beautiful blush statement messenger bag, and with the blush flowing feathers for adding the ethereal spirit.
10) The print game
A plain old blush blouse does not need to be paired with other pastels and nudes (although this bag looks pretty darn good!). Go for statement trousers and some minimal strap sandals for an urban look.
TIP: all kinds of prints could do well with pastels, but if you like to stick to your comfort zone it would be wise to stick to the black and white ones.
11) The sexy appeal
The blush body conscious top is styled so sultry in this outfit! The ripped black shorts add up to the sexy feeling, while the leopard belt adds the fashion feline touch.
For evoking that extra Coachella vibe, pair it with some black ankle boots!
12) Blush up the transitional weather
Vintage is always in the game, and this jacket screams vintage suede. Suede always brings beige and nude to your mind, but blush can make suede work out in a soft and subtle manner.
TIP: if the weather is still harsh on you (and your outfit) opt for a chunky turtleneck underneath for coziness. A good pair of jeans helps to achieve casualty if needed.
13) Subtleness overload
Although it may seem a bit risqué, this jumpsuit is the essence of summer on a cruise. The cut is really flattering, and it surely shows the best assets.
Keep in mind that the impact would not be made in deep colors, as they are not appropriate for romantic summer evenings.
14) Revealing extravaganza
Tweed jackets are always reigning the transition period, but mostly they are perceived as black. Blush tweed jacket can look even more sophisticated actually.
Make the outfit urban with some hot pants, as this jacket can look too much ladylike sometimes. Loafers with a hip detail are a plus!
15) Nude biker queen
This outfit is all about the blend of being boyish and girlish. While nearly all of the pieces are from the boyfriend's closet, they do have a feminine vibe.
Choose carefully when it comes to boots, as the ankle ones with a great texture to them tend to look the best with these jeans!
16) Animalize your look
Leopard prints do not just go with black and red (like many have supposed). They add the kitten feel to a demure exterior of blush, nudes and pastels.
For cozying things up, a chunky turtleneck is excellent for those purposes. But, do not forget the blush outerwear.
17) Blush slash navy
This embroidered blush blouse is the way to get the monotony of darker pieces toned down in the spring (who wants an all-dark outfit then?). Pair with subtle jewelry for accessories, but keep it minimal.
What's more, pleated skirts are also a big trend now, so take advantage of that!
18) Delicate bombshell
Body conscious fashion proves to be the most flattering option in blush. Add up delicate lace, and rest assured that everybody would perceive you as being ultra-feminine.
Break the ice with the yellow clutch! Yes, everything is toned down speaking palette-wise, but it does not have to be monotonous.
19) Now this is called graphic
This is the perfect blend of smart casual and fashion forward (because those two can mix very well, apparently). The barely blush vest is the best dupe for a blazer when the weather gets warmer.
The focus is on the clean and sleek lines, so make sure you accessorize with quality, sharp handbag. Also, Palazzo pants are way much better than skinny ones in this outfit.
20) Athleisure gone elegant
High waisted pants of this kind are an all-timer and a keeper since they are flattering for most figures out there. Show that toned midriff and bare it with a slightly flounced crop top!
Ah, and now to break the monotony. Opt for a wine-hued clutch and comfy oxford shoes, and you are ready to go!
21) Channel the vintage muse
Although the accent is on the rose coat, the blush followings are the rest of this outfit. If you are really sick of the avant-garde tomboy influence, opt for this kind of fashion.
This look is worth of Kate Middleton, or any other modern princess, in general. The pinky hues make such a timeless and elegant combo, while the pom poms on the sandals add the girlish touch.
22) Layer it all up!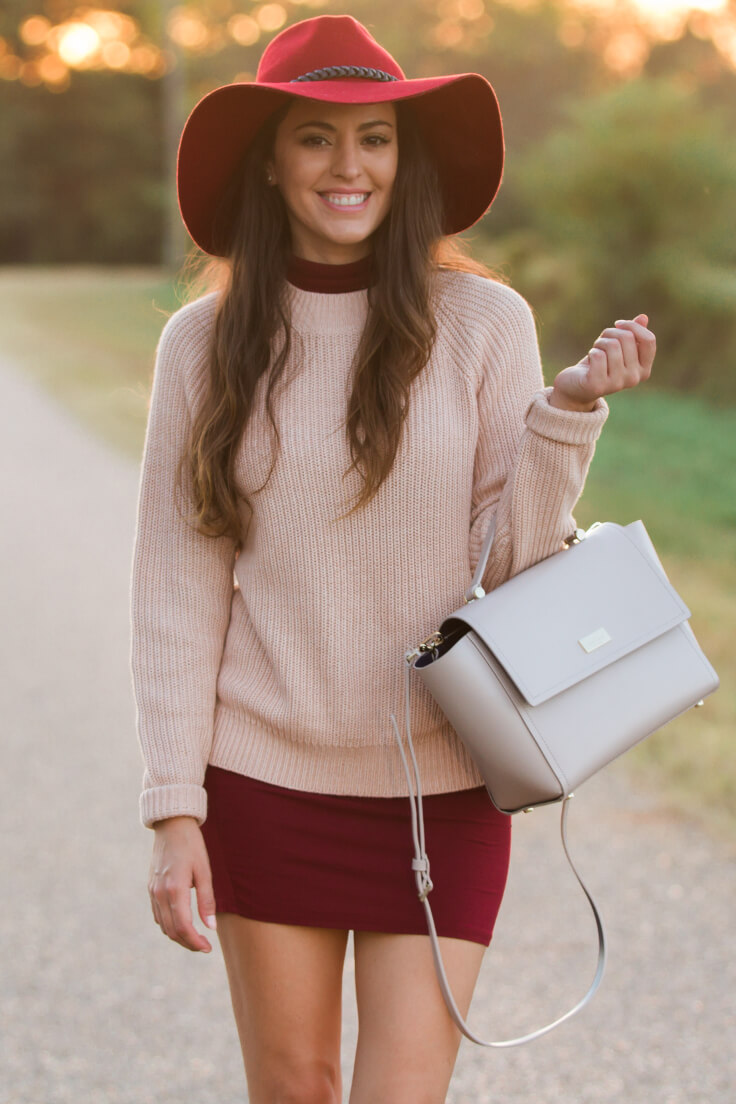 Emphasize the depth of the burgundy with the contrasted chunky knit blush sweater. Not only will you feel warmer during the tricky transitional period, but you will look up to date with fashion too.
Make the whole ensemble even trendier with a wide brim wine hat and sleek city bag.
23) Sometimes it is all in the tiny details
If we talk about shoes, we always strive to find the perfect essentials. That is why blush sandals may be the perfect choice for summer fashion.
They are super easy to pair with any color you want to name. Being super blendable, another emphasis point in your look will sure stand out uninterrupted.
24) Jane Birkin is envious now!
The straw power is immense here, and it is powerful enough to bring you to the countryside if you stare too much at the hat and the bag.
The trendy (but still very sophisticated detail) is the striped working blouse that is not incorporated in a business manner like always. Quite the contrary, everything is so lovely and soft in this look.
25) The kid next door
Sweaters do not have to be plain to make you cozy (well, in general, that would be enough). Spice sweaters up with a not-so-expected graphic print on a blush canvas.
The options are limitless; the print could be a dog, a cat, a car, a burger (mmm, burgers)… But make things a little bit grown up with a metallic clutch and killer shoes.
26) Laser cut detailing
Hello, romantic souls! Take advantage of the subtle detailing to make your outfit stand out in a demure way.
What's more, all sorts of delicate accessories go well and blend well with the ethereal feeling of the look. Just be creative!
27) The lady from candy land
So posh and chic! Get ready for roaming the streets in this delicate ruffled ensemble!
The proper accessories would be a similarly toned blush bag that evokes that spring feeling from its material. This is truly artisan worthy!
28) The countryside vibes
Medieval inspired basic blush shirt is the most romantic partner available for the 50s lady skirt. Pack your favorite jam, butter, and bread, and head outdoors with friends!
Straw accessories are the things that also bring the fresh feeling here, and the perfect items to incorporate it are a hat (to keep you out the harmful sun rays, but still don't forget SPF) and a handbag.
29) A demure, Chanel inspired outfit
The blush cardigan with a sophisticated bow tie is the way to channel Chanel, the eponymous French couture house. What's more, you can do this look without the hefty price tag.
Blush cardigans are everywhere, and all you need to do is to find a bow tie appliqué and a feminine A-line skirt.
30) What a single item is capable of
Maybe someone would think that these crisp white trousers look sloppy all the time, but that is not the case if you pair things wisely.
A scarf is a signature item common to the stylish Parisian women, so why not take a cue from them and wear one in blush?