If there's one season every year that gets fashionistas the world over brimming with excitement, it has to be the fall.
Moving on from the lightweight, flimsy fabrics of summer, fall brings with it a whole new set of colors, textures and silhouettes. Chunky knits, layered neutrals and versatile cover-alls take center stage, all perfectly focused around the most versatile of all wardrobe essentials – jeans!
We've rounded up the season's hottest trends with outfit ideas to get your fall fashion fix.
When Skies are Gray: wearing dark colored jeans
Fall officially signals the start of the colder wintry months, and there couldn't be a better time to stock up on essential cold-weather items that will comfortably see you through the next few blistery months.
1) Basic beauty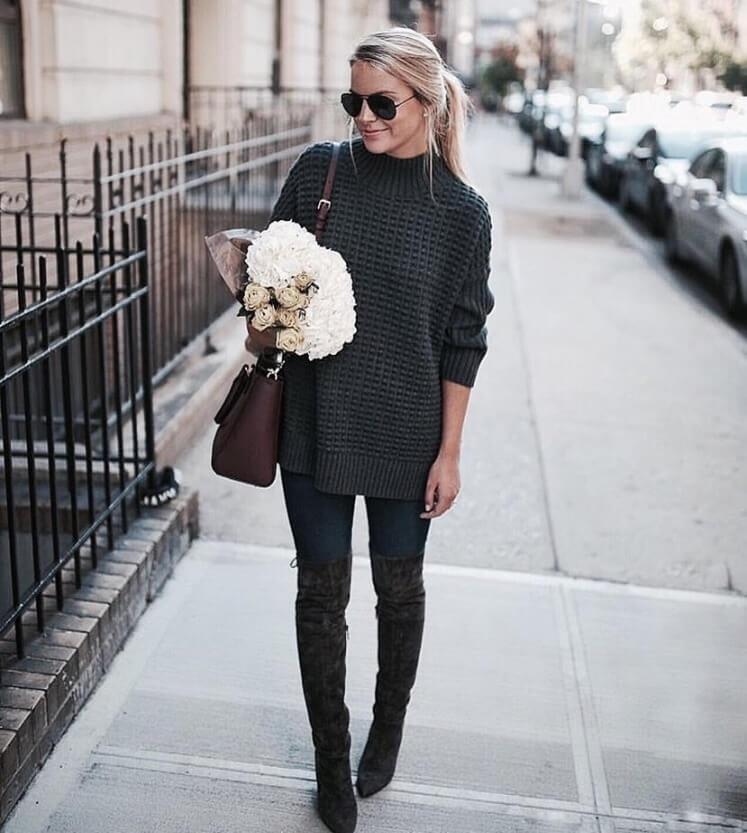 We recommend getting hold of the basics, like skinny jeans in dark denim much like this one – perfectly accessorized with any footwear of your choice, from over-the-knee boots to flats and sneakers.
To cover up against the elements, you can't go wrong with a cable knit woolen sweater in the season's fashionable dark gray shade.
2) Nipped and Tucked
A true sense of fashion is all about styling – the little tweaks that you make to your clothing is what makes an outfit unique to your body and your personality.
This ensemble, for example, comes alive with a simple tucking in of a turtleneck sweater into the waistband of fitted high-waisted jeans from Topshop. Ripped detailing right on the knees adds a fashionable edge which is then all pulled together in classic pointy Manolo Blahnik stiletto heels and a chic chignon. Stunning!
Layered Neutrals
3) Black Canvas
The onset of cooler fall weather means you can finally bring those darker denims out of storage for an edgier twist to your layered look. Let black be your canvas as you play around with colors and fabrics in your favorite neutral shades.
This pair of skinny black jeans by Joe's Jeans acts as the perfect backdrop to soft, flowy fabrics like a loose strappy top and longer draped pocket shrug cardigan. Thicker strapped sandals and a matching oversized shopper, both by Sole Society, complete the look.
4) City Uniform
Look at the fashion choices of any modern street style star – male or female – and you're sure to find one color combination in high rotation: black, white and khaki. Maybe it's a throwback to a simpler time, but the simplicity of layering these three basic shades equates to a style template that's urban, chic and ultra-cool.
Here we see slim black skinny jeans cuffed at the ankles and paired with a soft white vest and zip-detailed military-style jacket. Black leather ankle boots with buckle detail complete this modern ensemble.
5) Keep It Light
The most important part about dressing in the fall is knowing how to layer your clothing wisely. Too many thick layers and you could end up looking like the Michelin Man – never a good look. The aim is to double up on thin, lightweight fabrics that will keep your body warm without adding any bulk or weight to your frame.
We love this simple look based simply on skinny jeans and a thin vest. From there, you build your outfit with a button-down shirt worn open or closed, and finish off with a longer-length cardigan – perfect!
Ripped and Ready
6) 90s Cool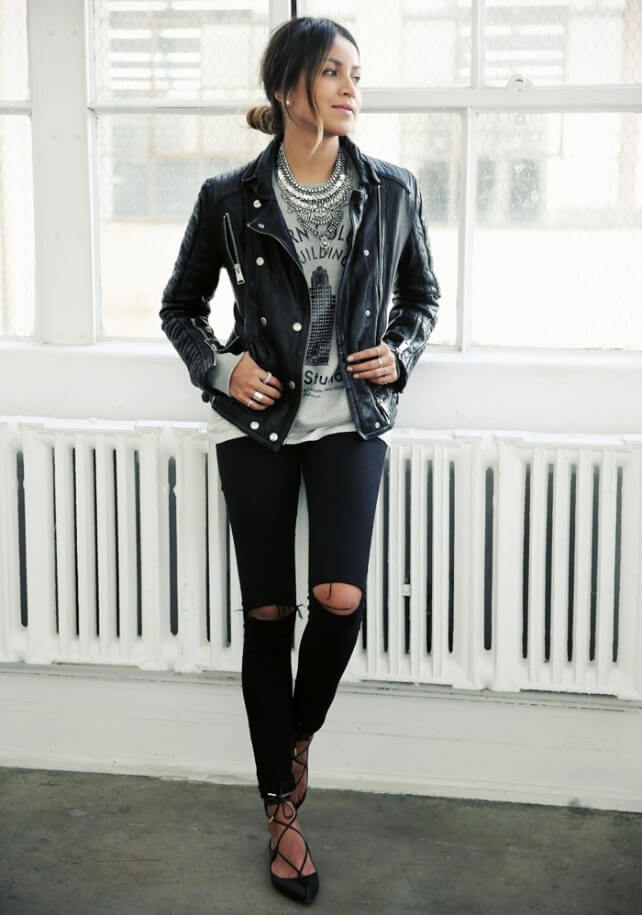 If you're a child of the 90s (or maybe just love the style of that era), you'll appreciate the trademark fashion essential that defined the decade: ripped jeans. Only today's aesthetic is a lot more pulled together – think more Kate Moss, less Courtney Love.
This look pairs black moto skinny jeans by Topshop with an easy-fit printed T-shirt from Acne Studios and an edgy moto leather jacket by Anine Bing. Adding a touch of femininity to the look are cute Aquazzura Christy lace-up sandals in black.
7) Comfy Chic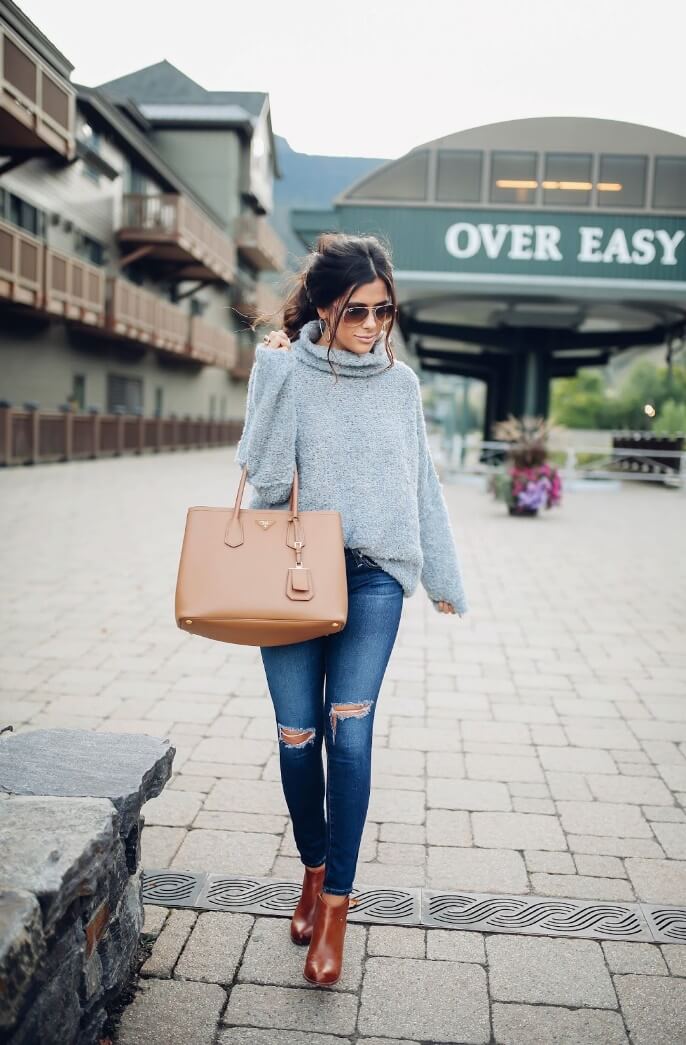 Fall weather equals the start of chilly mornings, often leading into blisteringly cold nights. For those sub-temperature moments, nothing is cozier than snuggling up in lush, oversized fabrics to get you through your day.
This gray turtleneck sweater from Free People perfectly drapes around the body – the perfect contrast to fitted skinny jeans ripped slightly just above the knees. Polishing off the elegant look, tan-colored booties add a bit of height and understated glamour.
Casual Sporty
8) Bomb Dia
Brunch with the girls? Shopping over the weekend? You can't go wrong with a wear-anywhere bomber jacket – no wonder it's the must-have style item of the season.
Choose between different fabrics and textures, like this slinky satin number from Topshop which goes perfectly when worn simply with a pair of skinny jeans from AG. To really up the cool factor, give your look a sporty edge by throwing on a pair of black and white Nike Juvenate sneakers as seen here, along with a baseball cap for good measure.
9) Luxe Living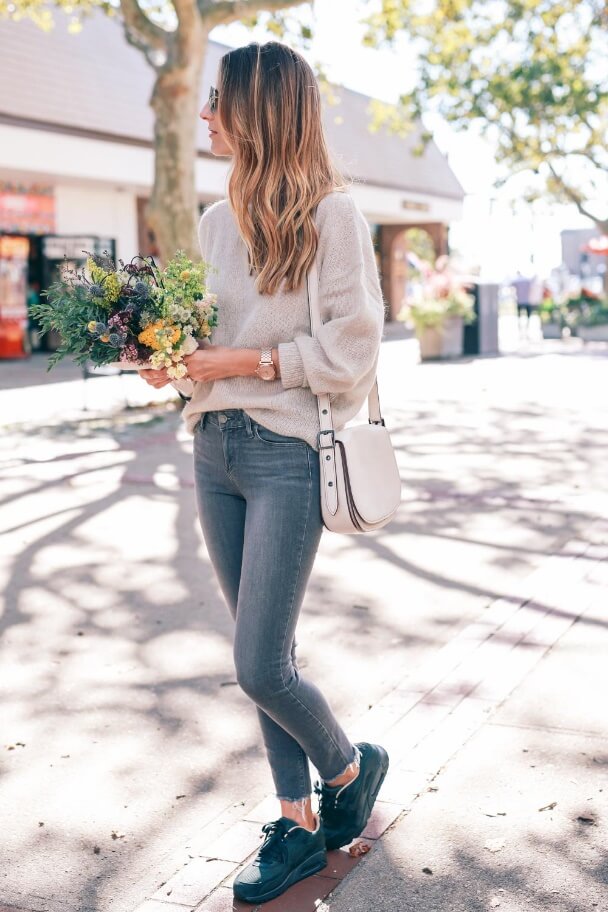 One of the best parts of fall weather is the gradual transition from cool, airy fabrics to lush, luxurious textures.
Take this knitted mohair sweater from Isabel Marant Étoile – lightweight and airy yet snug and decadent at the same time. Pair this fall essential item with your favorite pair of skinny jeans in a stone-washed distressed color much like this one. The finishing touch is a pair or your most beloved sneakers – these NikeLab Air Max 90 Pinnacle trainers come in luxurious green suede – divine!
Denim on Denim
10) Figure-hugging Denim
There was a time that top-to-toe denim was a huge fashion no-no. But times have changed and these days, the allover jeans ensemble is a definite do.
Take this look: skinny black denim jeans paired with a button-down chambray shirt is sleek, elegant and effortlessly sexy. Remember though that when covering up from head to toe, the shape is all important. Pay attention to accentuating your curves to give a feminine silhouette and avoid looking frumpy. Open-toed lace-up booties add a hint of skin that's playful and coy.
11) Keep It Casual
For those days that call for a little off-duty fun, you can't go wrong with trusty denim jeans and your favorite pair of trainers. Combining blue denim with classic white is a great way to add an elegant touch to a casual ensemble like this one – slim-fitting cuffed blue denim jeans, a white top trimmed with eyelet detailing and a fitted denim jacket. The final touch? White Adidas shell-toe Superstar sneakers, of course.
12) Dark Days
When styling an all-denim look, it's fun to play with different colors, textures and washes of denim – like this outfit, for example. This acid-washed button-up bomber jacket from Noisy May blends perfectly with the darker blue tones of a navy blue T-shirt and Cali-Demi bootcut jeans from Madewell. Lace-up strappy sandals from Loeffler Randall add just the right amount of skin to this sleek urban look.
Sending Out Flares
13) It's a Boy/Girl Thing
So, what if we're no longer living in the 1970s. The everlasting legacy of bell-bottomed jeans will never go out of style. And if you happen to have a curvy pear-shaped body, this look is absolutely made for you.
These flared black denim ripped jeans from Asos retain that carefree 70s effect, contrasted against the structured feel of a double-breasted gray blazer from Tommy Hilfiger. The result is a comfortable, slightly androgynous daytime look, perfect for in-between fall weather.
14) Style Star
We know her as an actress and a supermodel but in this look, Milla Jovovich is a bona fide fashion darling. Snapped here attending the Haute Couture Fall 2016 shows at Paris Fashion Week, Milla's look channels pure 70s glamour in a high-waisted front pocket flared denim jeans. Styled together with a lace detailed button-down black shirt and beige sling bag, she looks every bit the effortless style star that she is.
Longer Length Coats
15) Linger Longer
Who doesn't love a good coat? They're functional, versatile and, best of all, they cover a whole load of body imperfections. Whatever your preference – whether it's a heavy duty woolen coat or a lightweight trench number, there's a coverall coat to suit your fancy.
This season, along with all the usual perennial favorites, another style has entered the fray – the 70s longer length coat. This camel-colored suede trench coat comes courtesy of Reformation and is especially striking when worn simply over blue denim jeans and a plain white T-shirt. Polishing off the look are classic white slip-on loafers – perfect for a day of idle city strolling.
16) Denim and Heels
Sometimes as simple as blue jeans and black heels is just enough to look simple and stylish.
17) Longer Luxury
White denim will always be the standout choice for ladylike dressing. This look features the latest frayed denim hem; with these Paige Verdugo jeans having gained quite the cult celebrity following – from Olivia Palermo to Pippa Middleton. Add to it a simple white top and a blush-colored coat from Zara and the overall effect is feminine, classic and timeless. A dressy stiletto heel finishes off the look with an air of sophistication.
Military Influence
18) Green Supreme
Denim lovers truly are in for a treat this season, and not just because of the variety of cuts and styles available in practically every color. This fall, we find a surplus of cool accessories and styling options seemingly made especially to be worn with denim.
Satin bomber jackets are a big trend right now. We love this jacket on fashion blogger Josefin Ekström. With quirky color detailing around the sleeve, it adds a great pop of personality to this neutral-inspired look. Round off the ensemble with black leather ankle booties and matching tote bag for a modern edgy street look.
19) Dainty meets Urban
You can't go wrong this season with a pair of fitted skinny jeans strategically ripped and distressed on the knees. The ways to style them are truly endless.
Take this unexpected combination – an elegant soft white blouse is given an urban edge by adding a longer-length open vest in fall's hottest color: khaki green. To further soften the overall effect, dainty strappy heels by Stuart Weitzman retain that feminine effect, topped with a beige tote bag by Céline.
20) Draped Drama
Here the blazer in olive green is the item which adds real charm to this outfit.
White Alright
21) Easy Living
When your day calls for maximum comfort with a stylish twist, you can't go wrong with shades of soft denim in the prettiest pastel hues. Here fitted white skinny jeans from Mango accentuate a soft gray Gap T-shirt and an easy stonewashed denim jacket also from Mango. Completing the color palette are dark beige ankle booties from Zara and a gray carry-all tote bag – low-key and just right for easy fall days.
22) An elegance at its core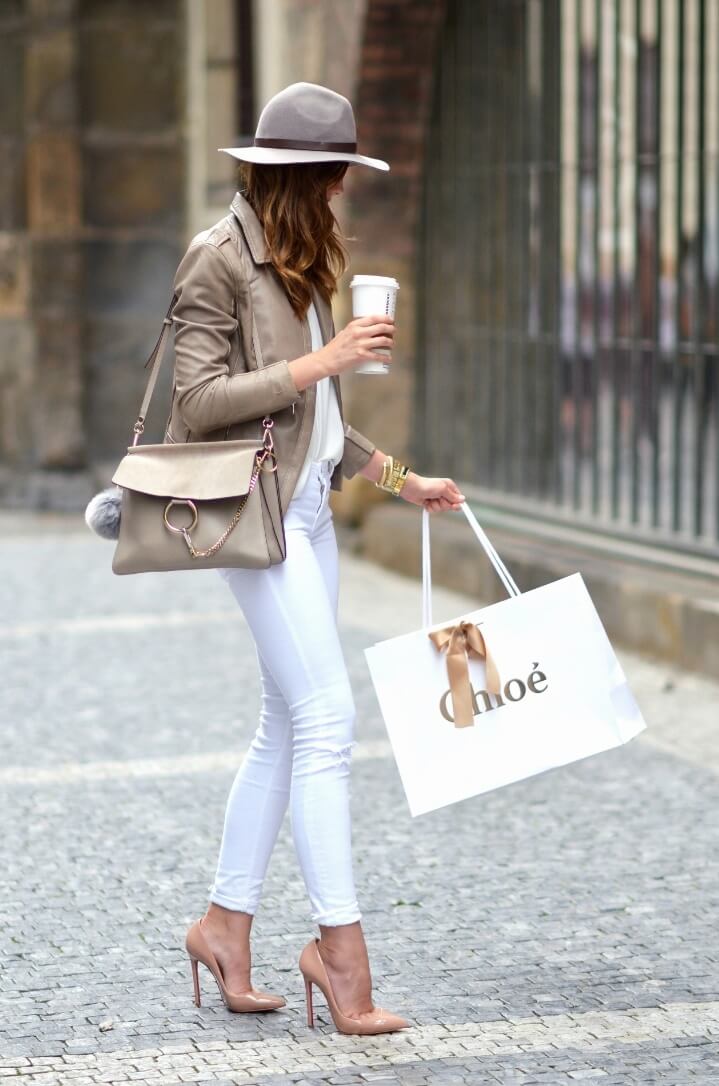 There's something classically elegant in seeing pure white on a cold, cloudy day. This outfit channels the beauty of dressing up this standout color with accessories in a similarly neutral shade like dusty beige. Her fitted skinny jeans are cuffed at the ankle, drawing the eye down to slinky pointy stilettos in the soft nude. A trendy soft boho hat rounds off the fashionable feminine ensemble beautifully.
Menswear Inspired
23) Boho in the Fall
The word "boho" usually conjures up images of carefree beach style and easy summer living. But just because the weather is cooling down, that doesn't mean your fashion sense needs to follow suit.
Boho is still a big trend, and that means wide-brimmed boho hats, cookie cutter sunglasses and fringed cross body bags. Complete the retro look by throwing on a structured men's blazer over slim-fitting cuffed skinny jeans, all in varying shades of navy blue, gray and olive green. Boho magic!
24) It's a Man's World
Spotted on the streets of Milan during Fashion Week, Sarah Harris was every bit the style icon we know her to be. And as the Fashion Features Director of British Vogue, she knows a thing or two about style.
Her outfit, of course, was right on trend, pairing fitted blue denim jeans with a white turtleneck and collared shirt combo. A black tailored men's blazer polished off the look, complete with her beloved black mules. Her trademark gray hair was pulled off her face into a high ponytail for a street style look that is pure elegance.
25) The Beauty of Black
Ask any stylist in the fashion industry what their staple go-to outfit is. The answer: black, white and gray. Why? These colors not only match seamlessly with just about every other color out there but, when worn together, they create a polished, sophisticated look that is timeless and elegant.
This outfit combines an oversized menswear blazer with a gray chunky knit turtleneck sweater and slim ankle grazer jeans. Whether working in an office all day or hurrying around town, this monochrome ensemble works in any scenario.
For Colder Days
26) Bigger is Better
Don't let cloudy skies get you down. A bit of chilly weather is the perfect occasion to play with thicker fabrics and rich textures during the fall. Basic blue skinny jeans get an overhaul when paired with black suede over-the-knee boots and a knitted beige vest.
But it's the oversized wrap-style jumper from One Teaspoon that really steals the show. This outfit perfectly makes use of shapes and dimensions to create a slimming female silhouette – form-fitting around the hips and thighs, while large and oversized up top. The effect is classic, luxurious and bangs on trend.
27) Rainy Day Parade
For those fall days that call for a little more covering up (and protection from the rain), you can't go wrong with an all-purpose anorak.
But unlike the frumpy parka styles of old, this season's choices are tailored, lightweight and ultra-stylish – like this pale gray anorak from Everlane. Paired with black skinny jeans ripped at the knee, a plaid button-down shirt and chunky leather boots from Acne, your rainy day outfit is sorted. Throw on a pair of mirror aviator sunglasses and you're good to go.
28) Knee-high Knockout
If there's one trend that we see returning every fall/winter season, it's the stylish over-the-knee boot. Chic, modern and beautifully sophisticated, they're equally fashionable when worn with quirky day dresses or fitted corduroy skirts.
Our favorite look though has to be this one, styled simply with skintight skinny jeans from Topshop and a sleek scallop-hemmed Valentino coat. This outfit further incorporates another big trend for fall – burgundy. The rich autumnal shade brings dimension and color to the overall ensemble in a chunky knitted turtleneck and classic Givenchy bowler bag.