As the weather changes from fall to winter, the drop-in temperature can be quite extreme. Luckily, though, your fashion choices needn't be. The best thing about dressing for winter is that all it takes is a few key pieces to upgrade your wardrobe from fall fashion to winter style.
Fall is known as an in-between season. With temperatures no longer hot but not exactly cold either, your clothing choices thus far have probably fallen halfway between bright and airy, and warm and cozy. Now with the onset of chilly weather in full swing, this is the time to indulge fully in warm, decadent fabrics and luxurious layers particularly when you need to unwind and relax.
From chunky woolen knits and oversized sweaters to casual Converse sneakers and duffel coats, we've compiled a mix of the best casual winter outfits to see you effortlessly through the chilly season ahead.
Coat Couture – How To Wear Coat In Winter
1) Wrapped Up in Plaid
The best part about dressing in winter has to be the decadent layers we get to indulge in. Here we have basic black leggings paired with a white cotton T-shirt casually knotted at the waist. A navy and white plaid scarf keeps the neck covered while a long wrap-style coat stylishly adds warmth and sophistication to this laidback look. Rounding off the casual street style is a pair of black Nike sneakers.
2) Shearling Chic
A shearling coat has to be the most stylish addition to the winter wardrobe. Luxurious, chic and comfortable, it's the easiest way to sass up a simple outfit of jeans and a T-shirt. To really accentuate the rich tone of the leather, pair your cuffed blue jeans with suede ankle boots in a matching caramel brown.
3) Trench Town
The classic trench coat is a definite must-have when the weather gets chilly; not only for its style and elegance but also for its versatility in co-coordinating with just about any other piece of clothing.
Here we see a great lesson in layering your winter clothing. We find a button-down denim chambray shirt worn underneath a plain white long-sleeved sweater. Down below, basic black skinny jeans are tucked into short black leather boots. A casually worn beige-colored trench coat and a black leather tote bag seamlelly tie it all together.
How To Look Stylish With Brown Boots
4) Relaxed in Olive
Long, loose layered clothing has an elegant, laissez-faire vibe to it and this oversized thin woolen sweater is a perfect example. Think style icons like Jane Birkin and Sienna Miller on the streets of Paris and London.
In trendy olive green, the effect is shabby chic when worn with classic white jeans and edgy over-the knee dark brown suede boots. To keep that bohemian feel, wear your hair down and slightly curled along with fine gold jewelry.
5) Reddy for Winter
The color red will always be trendy in colder weather. Like a ray of sunshine on a cold, dreary day, bright colors add warmth and dimension to an otherwise neutral ensemble.
In this outfit, the stand-out item is a boxy red sling handbag, with the color cleverly picked up in a pashmina wrap scarf. The rest of the outfit is kept to basic neutral colors – black leggings, a long white cotton T-shirt, and knee-high camel-colored leather boots.
6) Layers of Simplicity
If you're stuck on what to wear this winter, remember that basic items paired together will always be a winner.
This outfit is made up of skinny blue ripped jeans worn simply with a white cotton T-shirt. It only takes a small style tweak like tucking the T-shirt's edge into the waistband of your jeans to create a modern, trendy twist. Cover up with a long cardigan in olive green plus suede ankle boots and your favorite Louis Vuitton handbag for easy, laidback winter style.
7) Shaggy Chic
Remember those shaggy, tassel-trimmed boots from a few seasons ago? Well, they're back in style. Comfortable, versatile and still as trendy as ever, they're the perfect accompaniment to basic blue distressed skinny jeans. Pair them with a cozy woolen sweater and a plaid patterned scarf plus a carry-all light brown leather handbag. Easy, casual and bang on-trend.
Sneakers In Winter? Why not.
8) Converse Clique
This look is all about clean lines and form-fitting structure. Best of all, though, it's casual, comfortable and effortlessly laidback.
Get the look by pulling on your favorite slim-fitting jeans and a long, loose-fitting cotton T-shirt. A large gray snood scarf adds volume to the upper half while a fitted black leather jacket keeps that shapely feminine silhouette. Completing the informal, relaxed effect is a pair of laced-up Converse sneakers and a large black sling handbag.
9) Dark 'n Lovely
All-black clothing will always be trendy, regardless of the season. In winter, though, the effect is more dramatic.
Add in an unexpected twist of your own by opting for sporty black and white sneakers. This pair of Adidas Superstar trainers gives a casual, athletic vibe to the whole outfit. Black skinny jeans are paired with a long olive green turtle-neck sweater, black moto leather jacket and a long black scarf for a modern, laidback feel.
10) Patent Leather 'n Stripes
If you thought those trusty leather leggings were only meant for formal occasions, think again. This outfit shows us how to wear them casually with the help of a few choice wardrobe items. A striped Breton-style top is edgy and chic, paired perfectly with a knee-length dark gray coat. For a sporty touch, Nike Juvenate sneakers add an athletic, streetwise effect.
11) Laced-Up Living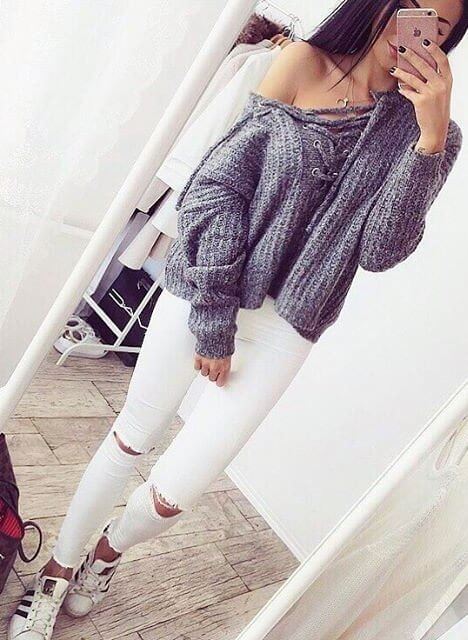 For a day of casual lounging about at home, keep things light and airy in an easy gray woolen sweater with lace-up detailing in the front. White skinny jeans ripped at the knee are fun and casual, making the ideal accompaniment to classic Adidas Superstar sneakers.
Wellies for Winter
12) Layered in Black and Gray
Wellington boots might already be your quintessential winter item if you live in a cold, rainy climate. There's no need they can't be fun and trendy too. Jazz them up by wearing them with black leggings paired with a white shirt layered underneath a trendy cowl-neck hoodie and fitted puffer waistcoat. A large leather carry-all tote bag finishes off the cold weather ensemble stylishly.
13) A Bright Pop of Red
Instead of the usual black winter boots, why not switch up your winter wardrobe by investing in a pair of brightly colored Wellies? You'll be sure never to catch someone wearing the same outfit as you.
This pair of red rubber boots is fun and whimsical when worn with basic black leggings, a long gray woolen sweater, and a black duffel coat. For extra warmth and a touch of glamour, a large gray pashmina wrap scarf ties it all together.
14) Doc Martin Diva
This outfit of separate black pieces perfectly combines chic and elegant with casual and laidback. A little black shift dress is worn with spotted sheer black stockings. But it's the unexpected pairing of gray socks and funky black leather Doc Martin boots that really makes this outfit a winner. A black knee-length coat stylishly covers it all up.
Shades of Green
15) Tucked and Trim
A style tweak we've been seeing pop up all over this season has been the casual tucking in of T-shirts into the front of jeans.
This outfit takes it one step further – tucking a woolen sweater into the waistband of high-waisted jeans. This look is great for showing off a trim tummy area and adding a sexy shape to rounder hips. A pair of beige ankle boots and a camel-colored matte leather carry-all tote handbag accessorize the outfit beautifully.
16) Elegant in Emerald
Hopefully, this winter season has some days with calmer temperatures too. When the weather lightens up a bit, pull out those easy pointy mules for a day of casual strolling through the city.
They're casual yet elegant when paired with dark blue skinny jeans and a gray cotton sweater. Round off the entire look with an oversized sweater in gorgeous emerald green and a black leather handbag draped casually across your body.
17) Parka Perfect
When the weather calls for several layers of clothing, don't forget to create balance and shape to your outfit by playing with proportions properly.
The lower half of the body should be kept slim and shapely, as seen here with skintight black leggings. All the bulk is added up top with a gray knit sweater worn underneath a black woolen scarf and fur-trimmed olive green parka. Black leather ankle boots round it all off, accessorized beautifully with a large Louis Vuitton handbag.
18) Cut-Out Queen
A beautiful shade of olive green creates an autumnal feel to this layered look using pretty cut-out suede peep-toe shoes. They're worn with distressed blue skinny jeans cuffed at the ankles and a longer-length black top. Polishing off the casual ensemble is an elegant long beige wrap jacket with fine black piping.
How To Wear Fur Stylishly
19) Faux Fur Fashion
Make the most of the freezing cold weather and indulge in the best of the season's most decadent fabrics. Our favorite? Faux fur in beautiful ombre colors.
This long sleeveless pullover vest in varying shades of mauve faux fur fits perfectly with a black long-sleeved top and skintight dark blue skinny jeans. Patterned socks cheekily peek out of dark brown leather ankle boots, matching a deep burgundy-colored leather sling handbag.
20) Fluffy Phenomenon

Part casual, part glamorous, this outfit combines the best of both worlds into one snug winter ensemble. A loose-fitting white turtleneck sweater is voluminous on top leading into form-fitting black skinny jeans and sleek black leather heeled ankle boots. The real star of the outfit though has to be a long luxurious gray faux fur jacket paired edgily with a white woolen beanie, black aviator sunglasses, and black leather handbag.
21) Patented for Style
Leather leggings are a perennial style favorite regardless of the weather and this winter, they're hotter than ever. Styled up or down, they always manage to add sass and a bit of edge to any outfit.
This combination is the perfect blend of glamour and modern street style. Patent leather lace-up booties are stylish and elegant along with a long gray turtleneck sweater and an eye-catching hooded faux fur sleeveless jacket. A fur-topped black beanie and black leather handbag complete the look.
Cold Season Is Best For Oversized Items
22) Turtleneck Triumph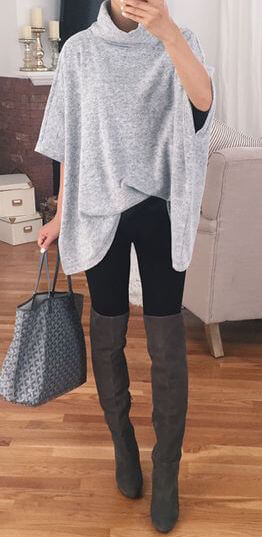 Some days call for a little casual drama here and there, and this outfit fulfils that quota perfectly. Basic black leggings form the basis for an elegantly draped gray turtleneck poncho-style sweater. Adding to the modern edge of this ensemble are over-the-knee dark gray heeled boots and a patterned gray carry-all handbag. Equally suited for a day of casual shopping or a laidback lunch date with the girls, this ensemble is the perfect choice.
23) Blanket Style
Cloudy skies are the perfect excuse to wrap up in the coziest fabrics you can find. This oversized plaid woolen sweater is akin to being wrapping up in a blanket. Pair it with ripped skinny jeans in sexy dark denim and suede ankle boots in suede fabric. This winter ensemble is great for those lazy days spent lounging around with friends when comfort is a must.
24) Woolly Wonder
You will never go wrong with a trusty pair of black leather boots come winter time. They're the perfect way to round off just about any cold-weather ensemble. This pairing makes use of only two neutral colors yet still works like a charm. Skinny black pants form the backdrop for a fitted gray cotton sweater covered by a roomy cable knit poncho-style jersey featuring a broad cowl neck. The result is svelte, sexy and chic yet still laidback and casual.
25) Black Magic
The one color that forms the basis of every fashionista's closet is undoubtedly black. Slimming and flattering on just about every skin tone, this neutral color hides a multitude of figure flaws like no other shade. A great way to add dimension to an all-black ensemble is to play around with interesting shapes and fabrics.
Here we see a body-skimming sweater dress worn underneath an oversized cardigan in dark charcoal. Round off the look stylishly with a pair of trendy black leather ankle boots and a clutch black handbag in slinky suede for good measure.