Stripes never really go out of fashion but this year they are coming back big time. Shirts, dresses, skirts, pants-stripes everywhere. Clothes with stripes are known by visually shaping your figure. From horizontal to vertical or both, stripes can shape very skinny figures and flatter fuller body figures, so right choice of stripes will do the trick for every shape and make you look stunning everywhere.
It is a common belief that horizontal stripes make you look wider and vertical stripes make you look thinner. Is that true? Well, it appears that this kind of thinking is actually very wrong as stripes are an optical illusion, when put in square, that shows that horizontal stripes make you look thinner and taller and the vertical stripes make you look wider and smaller.
But personally, I believe that it all depends on width and color of the stripes. So girls, the best thing to do when you don't know which common belief to choose, is to try on a longer vertical and horizontal shirt or dress, take a picture of both and make the final verdict yourself. This is the best way to make the right choice of stripes for your figure and enjoy the visual effect on your body. So ladies, here you can read about 22 gorgeous stripe looks for this spring.
Shirts and sweaters
1. Black and white combination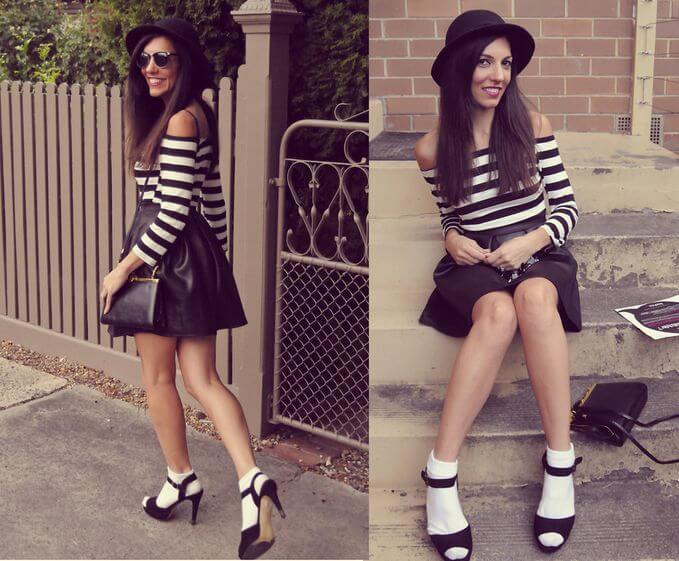 This is a great look for black and white combination lovers. It is perfect for girls that tend to look chic, but especially for girls with a fuller tummy as the skirt will quickly shift the attention to your legs and the shirt will show your gorgeous arms. The hat is a perfect idea to round up your look and keep you safe from sunlight.
2. Colorful touch
This is a gorgeous look for the ones that love to wear some colors and it is a perfect look for those who don't have time to change during the day. You can go for a walk in town with friends or have a girls' night out straight from work or school. This striped shirt really makes this look more interesting than a normal one color shirt does. The pink shoes add some color to the outfit and they look classy for every occasion.
3. A look for the office
This look is perfect for a meeting or for work where you have to look serious. Serious looks can quickly be boring, so if you want to look chic but elegant and professional, this is the right choice. The black and white combination with pants and crisscross striped shirt is far from boring and it is perfect if you have to look classy in two minutes. You can choose black denim or simple black leggings, whatever makes you feel more comfortable, put on a striped shirt like this and you are ready to go.
4. Stripy and elegant
This is another outfit, similar to the previous one, you can wear to look elegant, professional and very classy. A colorful, orange or red handbag or a small purse would go with it perfectly and round up the look.
5. Cool and casual
This is a casual everyday look for colder, cloudy and rainy days when you can shine in a simple striped sweater, that makes the colorful pants look even more dramatic. You can choose from many different colors of your pants (blue, green or orange), which will make a cloudy day feel brighter.
6. Shining bright stripes
This outfit is perfect for ladies with a bit tanned skin, because the golden striped shirt and white pants, that go very good with it, will illuminate your face and make your eyes shine. Here we have a beautiful example of how you can combine stripes and dots and look fabulous. This look is very interesting on its own, but if you add a black or navy blue blazer to it, you can definitely wear it to work.
7. Something eye-catching
I think that it is better to have black or navy blue and white striped piece of clothing, but this outfit blew my mind. This red and black striped sweater is simply gorgeous and it makes people notice you on the street immediately. You can wear it with a skirt like this, or black denim, jeans, white pants, denim shorts and black tights or simple black leggings. It is very eye-catching and comfortable to wear for any occasion where you want to shine.
Pants, dresses, skirts and tights
8. Striped pants for your social event
This is also a very classy outfit to wear to work or social events. The vertical stripes on this pants will make your legs look longer, so you can also choose flats over heels. You can also pick colorful shoes or handbag for this outfit to add some color to it. On the other hand, you can even decide to wear a colorful shirt instead of a black one (green, red, blue, pink) and make your elegant look more noticeable.
9. Sexy stripes for a night out
This look is for bold ladies, who want to be in the center of the attention. If you put on some red heels this look is perfect for a ladies' night out. You can also add a colorful blazer to it or a big wool scarf in any color to keep you warm.
10. Cozy and elegant
This dress looks amazing on ladies with black hair and brunettes. You can choose to wear a dark trench coat with it or a longer cardigan and you are ready to go to dinner or a cocktail party.
11&12. Two outfits made for picnics
These two outfits are made for picnics on warm sunny days. You can add colorful shoes and accessories or a leather jacket instead of the denim jacket. Try a trench coat or a brown leather jacket to further stylize the first look.
13. Add some colors
An orange blazer goes with similar dress as in previous pictures. It makes somewhat special effect on dresses with stripes, so the outfit looks very chic.
14. Light and comfortable
This is an outfit that caught my eye in a second. It looks so light and comfortable to wear that I could walk around in it all day long. Of course, it is appropriate for a bit warmer days, but even if that is not the case, we can still wear it on colder days. We simply add black tights to this outfit, to make stripes on our pants more noticeable and maybe add a colorful scarf (look at the colors of the background), to fell warm and look gorgeous. This outfit gives you free hands to choose warm colors for jewelry and frost yourself a little, depends on the occasion.
Blazers and cardigans
15&16. Two striped blazers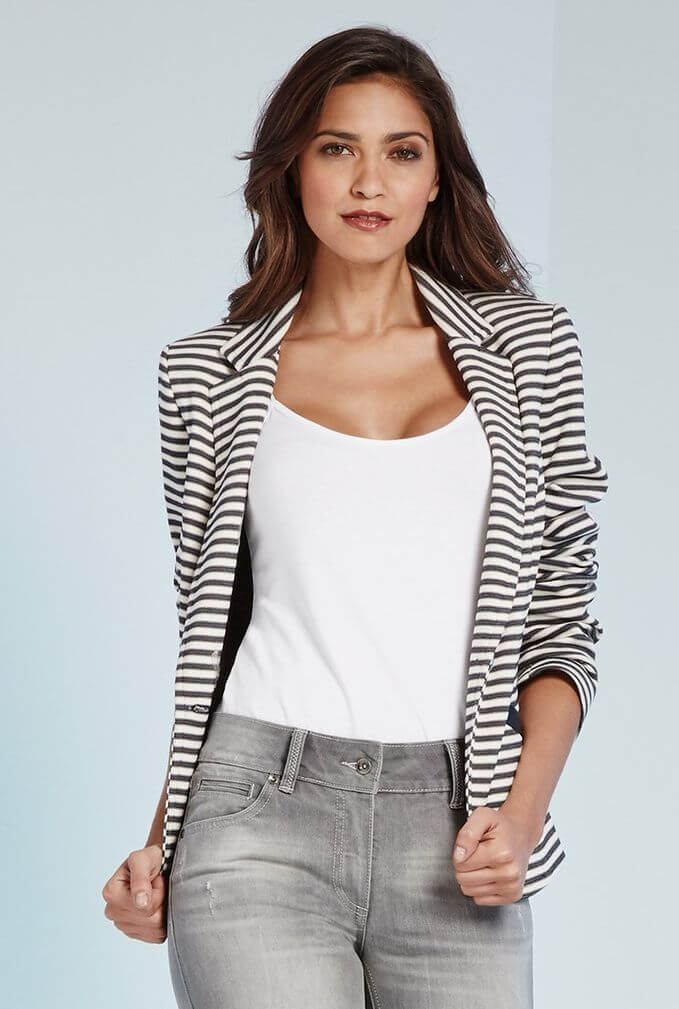 The amazing thing about the striped blazer, with vertical or horizontal stripes, is that you can wear it with all sorts of colors and outfits and it helps you make your colorful clothes look even more dramatic. It is also perfect for professional looks and comes in handy if you love black color, but don't know what to wear with your black outfit. It is especially needed in the spring because it can get a bit chilly outside really quick. It goes as well with warm colors as with cool colors. The fact is, your outfit could never look boring with it.
17. Chic and comfortable at the same time
Striped cardigans are perfect for occasions where you don't need to look professional and elegant, but you still want to look chic. To stand out and be noticed when you go for a simple walk in the park? Why not? I like this cardigan especially because of the brown elbow patches that make this cardigan look super classy. If you don't own a cardigan with patches or you can't find it in a shop, please do check online and make the patches yourself.
Accessories
In case you don't like striped clothes or for some reason think that stripes don't look good on you, you can always choose accessories with stripes instead. You can choose from handbags and shoes to scarfs, hats for sunny days and umbrellas for rainy ones.
18. Striped handbag
19. White-blue striped shoes
20. Scarf
21. Gorgeous striped sunhat
22. A stylish umbrella
My personal opinion is that the best colors of striped clothes are the simple black and white or navy blue and white, because you can combine them with any color you want. May that be a shirt, pants or a skirt, a dress or a blazer, if it has black and white or navy blue and white colored stripes, it is enough if you have only one of these pieces in your closet and combine it with other colorful clothes. But still, sometimes we can dare to put on colorful striped clothes instead of playing it safe.
There are many many ways you can wear stripes and they come in handy no matter what look you are going for. Ladies remember, stripes make your clothes look more dramatic and the colors just pop out, so add some striped clothes to your wardrobe and every time you want to shine just put them on and your mission will be accomplished.