Trendy looks, summer colors and most wanted prints of a summer season are here. Create yours the best outfits with dresses and skirts, but don't forget about shorts. This outfit detail is a must have for every fashion girl this summer. We picked various outfit looks for you, from elegant and girly to extravagant and sexy.
The looks are selected from chicisimo.com. Enjoy them all!
There is nothing better for summer look than a yellow piece of wardrobe. Look at this girl, she is perfectly combined geometric yellow skirt with neutral colored shirt and blazer. To finish your look wear comfortable but stylish ballet flats and take your favorite clutch in neutral color shade.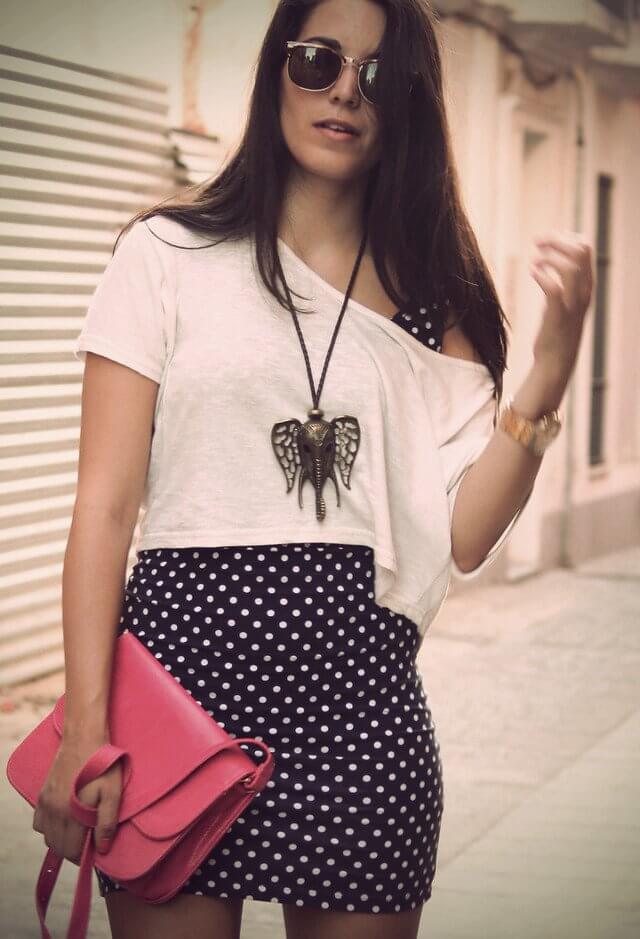 Looking for something fresh, stylish and girly? Look at this outfit picture. Girl combined polka dot dress with white T-shirt. To highlight full outfit, she picked statement necklace with elephant and bright pink bag. Try pink ballet flats for this outfit, but for more romantic look wear the heels.
Looking for a girly outfit for summer days? Take an example from this girl. She knows how to combined bright color with geometric print. But this is not enough, to create stylish outfit your must have are accessories and a bright bag. With this look you can wear heel or flats, all depends on your day mood.
Pop colors always draw attention, but you need carefully combined them into one outfit. For looking not like a traffic light, read some articles about coloring. Or you can easily copy the outfit from this picture. Blue and yellow perfectly match with each other. If you want, you can add a few accessories for a more romantic look.
Floral print always looks good at spring and summer. For spring we choose more bright floral prints, but for summer look we suggest you more neutral colors like white. To draw attention wear it with bright heels and bag. You can take an example from the girl on the picture above.
This look is perfectly suited for parties or night walks at the city. It is bright, stylish and fresh! To highlight your total outfit, add metallic details like big clutch and heels. This look doesn't need any accessories, but you can wear statement glasses. They add a little bit of mystery, sometimes every girl needs it.
Bright stripes with your favorite denim always look winning for every girl. It looks simple but very stylish. You don't even need to add accessories accept glasses. They are must have for everyone on sunny summer days. Outfit goes very well with sneakers which makes it a perfect fit for a comfortable travel outfit. Or, as in this case, opt for high heels and a stylish bag to finish your total look.
Yellow is definitely the most popular color for this summer season. Combined denim skirt with a bright yellow shirt. You also can boldly wear the bag in the yellow color. Add a statement necklace like the girl at the picture below.
Every stylish girl needs to know how to combined different prints. If you never did it, you need to start right now. Take an example from the look below. Girl takes two different print, geometric and animal. But she picked up them in one color palette. Add any pop color you want to highlight the outfit.
Another one great example of the floral outfit. Like we say, the best mix for this print is a white color. You can wear it to the office, park walk or girls night out. Just add or remove some accessories, all depends on occasion you are wear it. Perfect shoes for this look is a high heels or sandals. And don't forget about glasses.
Do you want to create a sexy look? Start with statement red outfit piece. For example, take this girl and her look. She is so confident in her red dress and high heels with chains. She doesn't need any accessorize to prove her style. Wear this outfit with a leather jacket, for more drama you can add a red lipstick.
Are you a fan of Parisian style? We picked up an elegant and girly outfit for summer days for you. The statement outfit piece here is pink shorts which look like a skirt. For Parisian scent add simple white T-Shirt with a stripped blazer. French girls are known for their simplicity, so you can wear white ballet flats with this outfit. But if you want to add a little bit of sexy scent – wear high heels but in a neutral color.
Sometimes vintage is one of the greatest choices you are ever done. So we suggest you to try this one at rainy summer days. Bright colors make your day great, despite the bad weather. Try red polka dot midi skirt with a bright blue blouse. If you want more vintage in your total outfit, add red heels with statement stripped bandage.
Look at this picture. This is truly feminine look for every girl. Wear flower print pants with beige blouse or shirt. As the statement piece of the look is the trousers, wear a neutral color bag and shoes with it. You don't need many accessories, just add a bright color lipstick on your lips.
Do you love cowboy boots? And do you know that you can wear them in cold summer days? Forget about jeans, mixed them with light floral dress and you will create beautiful and feminine girly look for cold days. You can add brown leather bag to highlight boots in your outfit. Looks simple, but sometimes simple is the best choice for our daytime look.
Denim skirts are back. Like in 90s wear them with a statement belt. These two pieces are the main accents in your look. Just add basic white T-shirt and the same color blazer, to keep yourself warm. High heels are necessary here, look at the girl at the picture, and you understand why!
Mint color works great for the spring and summer seasons. If you want to look much fresher, just add one mint wardrobe piece. My favorite is a maxi skirt. It looks so elegant and stylish with a white blouse. If you have a big passion for fashion, a great choice is to add an animal printed bag. It highlights your unique style. Best shoes are flats, they perfectly suit with maxi skirts and dresses.
Have a summer trip to Europe? We find the perfect outfit for you! Try porcelain printed blouse, it looks marvelous and feels like this is a piece of art on you. To add a stylish scent wear it with denim shorts and white blazer. Don't forget about comfortable flats, this is the best shoe type for trips.
Do you love pink looks? If yes, we suggest you to pay attention at this beautiful girly outfit. Fashion blogger combined black tank shirt with flowers print pants. For more bright look she decided to wear a pink blazer with a pink little bag. All outfit pieces work great together so you don't need any accessories here to highlight you look.
This is the best look for summer nights. You don't need bright colors for drawing attention to yourself. Pick up silk pants with artistic print, this is the statement piece of your look. And combined it with basics like white shirt and black leather jacket. If you still want to add a bright color, the best you can do is a bright lipstick.
If you don't know what to dress for a daytime date, you can take inspiration from this outfit picture. It's simple but very elegant at the same time. Wear deep blue dress with open back. It creates a very romantic look. Of course, the best shoes are heels. But take it in beige or brown color. Add one significant accessory like a gold bracelet, and you are totally ready for your meeting.