Converse sneakers have stood the test of time and rightfully so. They are incredibly cute, too comfy for words, and super versatile! There's no doubt that everyone should have this classic in their wardrobe.
If you're wondering how to style them, here are a couple of awesome ideas.
Pair your high tops with ankle length high-waisted jeans and a pretty top.
Add a sporty touch to your look by combining a midi dress with your trusty converse shoes.
A t-shirt, mini skirt, and converse – it does not get simpler than this!
Recreate this comfortable yet chic look in 3 easy steps. All you need is a tee, a maxi skirt, and a pair of converse!
Who says you can't wear sneakers with a suit?
Make mom jeans cool again by aping this look.
How adorable is this look with converse sneakers? Perfect for both day and night!
To look like a true fashionista, pair your converse with a statement skirt like this one.
Pink converse? Why not? Red and pink is a trending combination that we can't get enough of!
If you're a fan of effortless looks, try this ensemble. Converse sneakers suit perfectly here.
Add a pop of color to your favorite LWD with pink Converse shoes.
We love this simple but edgy look. A jacket like that can definitely take your look from drab to fab!
Add a cardigan and Converse shoes to your t-shirt and jeans look for a cozy outfit that's perfect for this time of the year!
If you want to make heads turn, try pairing a chunky knit sweater with vinyl pants.
It doesn't get more classic than a plaid shirt paired with well-fitted jeans. This is a perfect casual yet stylish look!
If you're the kind of girl who believes in minimal effort with maximum style, give this look a try.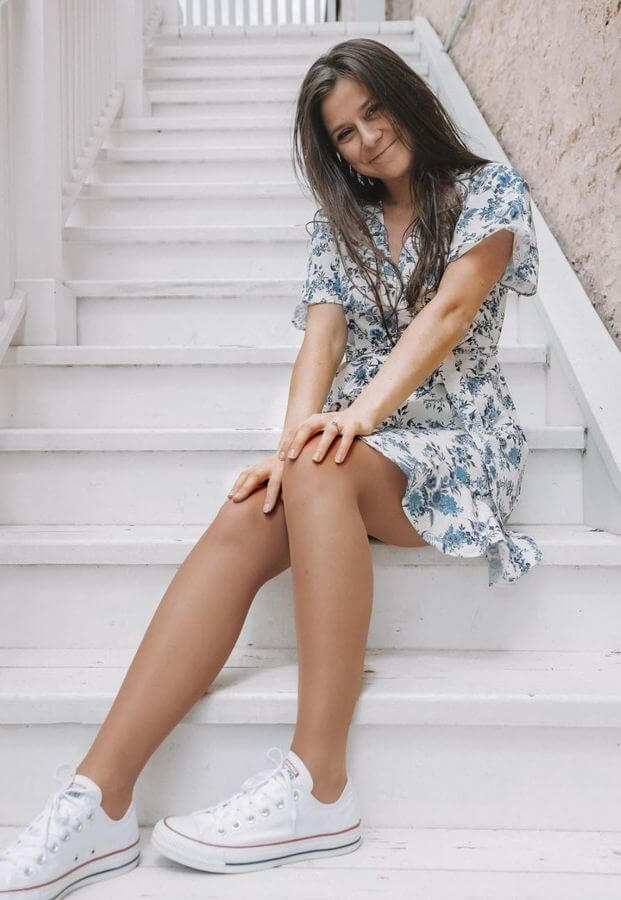 Look super cute this spring by pairing a flirty short dress with comfy white Converse shoes.
Looks at the pink converse sneakers?! Don't be afraid to mix different styles to create a one-of-a-kind look.
Trench coats add a touch of elegance to almost any outfit! A brave and stylish combination with sneakers.
For a model-off-duty inspired look, pair a plain black crop top with a mini and top it off with a pair of Converse.
A mini skirt is a great way to show off those high tops!
For the ultimate sporty look, give this outfit with Converse a whirl!
You probably wouldn't think of pairing sneakers with a button down shirt and trousers but as you can see it looks super chic!
Jeans plus sneakers! It does not get simpler or more classic than this!
Woman in maxi dress and Converse sneakers! We love the spring vibes that this look exudes!
A hoodie and ripped jeans will complement your converse perfectly!
![(/media/2018/05/woman-with-converse-sneakers-27.jpg "Instagram/@catseyesvintage")
This playful look with pink Converse is perfect for girls who like to have fun with fashion.
Now this is how you break the fashion rules in style with orange Converse!
You can't go wrong with a classic white button down and ripped jeans. Add a fun colored pair of Converse shoes to complete the look.
This floral midi skirt with a sweater is giving us spring goals!
Get your quirky on with this fun look!
Jeans and Converse – a never ending classics. Sometimes a simple outfit is the best outfit!
A Little White Dress looks adorable with a pair of white converse shoes. Add a denim jacket to take the look to the next level.
If regular Converse shoes are too boring for you, try going the flashy way with a pair of gold!
When in doubt, choose denim on denim.
This look is giving us life! Fishnet stockings add an edgy touch to practically any ensemble.
Menswear-inspired fashion is very sexy when done right.
Say yes to a bright jumper with jeans look complete with your trusty converse sneakers.
Add a chic jacket to a simple dress to elevate your look!
There's nothing like a pair of gold converse shoes to add a glamorous touch to an otherwise simple outfit. We approve!