Winter is beautiful, but let's admit something here. There is no better feeling than switching from your snow boots to some light ballet flats. Early spring outfits are layered, with a jacket or a coat on. While it is still warm during the day and cold during the night, you have to plan your outfits right. And that is where we jump in.
We have prepared some of the best spring outfits you see trending on Instagram. Let's get inspired together.
Oversized turtleneck will make you feel comfy, but not too warm. However, you need to be careful with the early spring – a jacket is obligatory. Jeans and sneakers are a perfect combo for everyday strolls.
If you decide to wear a pleated skirt, then make sure you have a jacket thrown over your shoulders. You never know with early spring – the rain can come or some unexpected wind.
Cashmere sweaters should be in your closet until summer comes. They are utterly stylish and great for keeping you warm. Style your sweater with a pleated skirt and patterned ballet flats for perfect early spring outfit experience.
One of the easiest yet very effective ways to look great can be achieved with a floral top and skinny pair of jeans. This combination is great for dates, informal everyday meetings, and as work outfit as well.
If there is anything you should prepare in advance for early spring, that is baby blue top and a pair of white jeans. They simply shout spring when you wear them!
You thought that time of thigh-high boots is over? No, it isn't over. Celebrities still love them, so why don't you try them in combination with your short dress? Don't forget a suede jacket and matching belt.
Ruffle sleeves and off-the-shoulder sweater are a great way to invoke the spring. You can wear this lovely white sweater with ripped jeans and a comfy pair of flats.
Suede jacket is a statement piece for early spring. Whether you plan to wear it with a dress or a simple tee-and-jeans combination, the jacket will keep you both stylish and warm.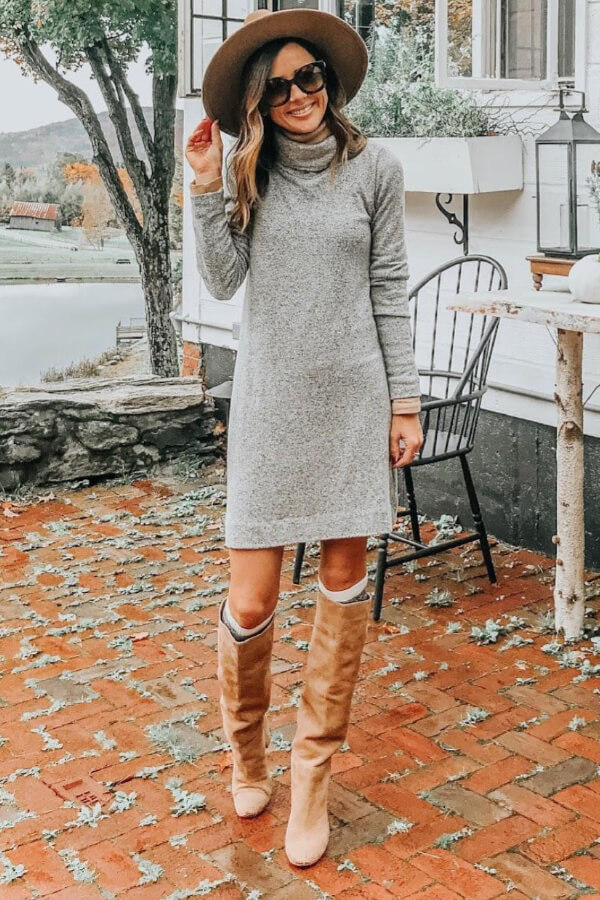 Layered items will provide you with warmth and coziness all day long. Make sure to wear a light turtleneck under your sweater dress, for an extra dose of comfort. The fedora will give that super feminine finish to the outfit.
Brown shades are one of the ultimate trends for fall. Instagram is on fire with all-brown-everything looks, so you should give it a try. Match your poncho with brown leather loafers.
If you are into prints, then you won't be afraid to mix them for early spring outfits. A classy white turtleneck with stripes and an animal printed blazer are two items that will catch all attention while you are in streets.
Soft pink and grey are two complementary colors that give fantastic results. Grey cardigan is great for those warm early spring days to spend outside. Peep-toe heels are a great accessory that complements the whole outfit.
Believe it or not, corduroy is back, and its comeback was very dramatic. Corduroy skirt is a perfect item to wear with a classy white blouse for an all day long stroll and coffee breaks.
Black and white combinations are great for both workwear and casual. You will look utterly chic in ripped white jeans and tee with the addition of black details – blazer and stilettos.
A trench coat is a statement item that you need to have as part of your spring capsule wardrobe. It mixes perfectly with the light and cozy sweaters for early spring combinations.
Brown cable knit sweater is something that you can wear during the winter and in early spring. If you want to draw more attention, pair your jeans with white boots.
A light pink coat is all that you need in spring. Pastels are still trendy, so don't hesitate to choose precisely this shade of pink.
Cozy knits are a great item to style if you don't want to wear a jacket. In early spring these kinds of turtlenecks will keep you warm and stylish, along with you cut jeans and white sneakers.
Early spring is the right time for you to try wearing a slouchy cozy or oversized sweater and mini skirt. That is the only time when you won't feel very hot in it.
Hunter boots are a great item to have for early spring weather. Unexpected rain shouldn't ruin your outfits! The mini plaid dress matches perfectly with them. British vibes on!
This color combination is perfect for all those lazy days you plan to spend outside the house. It is a great outfit for all the girls who love to make balances between long and short items.
Sweater-skirt combination is one of our favorites. It is perfect for spring weather. While you won't feel any cold, you won't be too warm either. Patterned skirts are a huge trend for spring and summer.
Superstar sneakers are pairable with any dress. However, they look the coolest with knit dresses, such as this grey one. Drape a leather jacket over your shoulders, and you are ready to rock!
Light pastel skirt and crochet sweater are two items you need to rock this look. It is excellent for all cool girls seeking for a comfortable yet chic spring outfit.
When we see wide-cut jeans, the first thing coming to our minds is the hippie style. Yes, this lovely vibe is back, stronger than ever and all cool girls love it. Style your jeans with tee and suede jacket for a great spring outfit combination.
Combining strong and feminine fashion items is always challenging and attractive. Lace top and navy-blue military-styled blazer are two perfectly combined items. With skinny jeans and black flats, you will be ready for long days outside.
1: 1
2: Part 2
3: Part 3