Early summer is a wonderful time! The sun is shining bright, temperatures aren't scorching just yet, the evenings are cool, and you can finally strut around in your summer best.
Here are some of our favorite outfit ideas for you!
An ombre sweater top with a denim mini is perfect for early summer. Add hot pink heels and you're all set to make heads turn!
Combining a feminine bejeweled maxi skirt with an edgy moto jacket is super chic!
Wear a striped shirt with your trusty denim for a classic look that you can't go wrong with.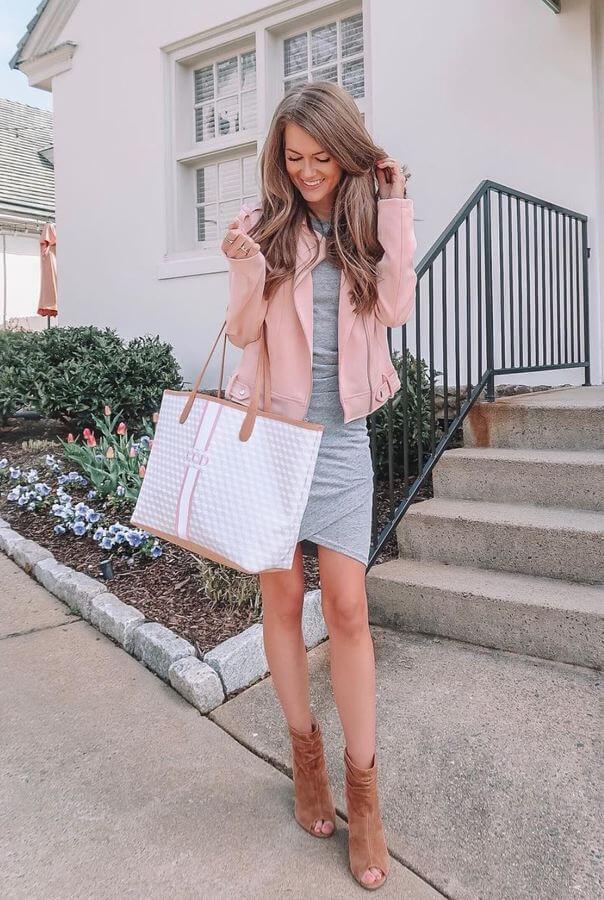 We love this bodycon dress with suede open-toe booties and that light pink jacket. So cute!
Print on print may seem intimidating, but all you really have to do is have fun with it!
A black crop top with a black skirt is perfect for when you want to look effortlessly stylish. Add a pop of color with a red light coat.
Midi skirts are all the rage this year! Pair your polka-dotted one with a nude top for a romantic look.
If you're a sporty girl, you simply cannot go wrong with a white tank top, black skinny jeans, a short denim jacket, and sneakers!
Athleisure is still very much in trend! The best part is that it's so insanely comfortable!
Give your suit a casual touch by pairing it with white sneakers. We love this powder blue number!
Regular jeans are passé. Say yes to two-tone jeans inspired by Kendall Jenner and Gigi Hadid!
These denim culottes with a casual tee sure look comfy!
A short suit will definitely make you look like a fashionista this summer! Pair it with sneakers for that casual out and about look.
Fashion is all about having fun and we're so on board with this feather skirt!
It's time to bring out your white jeans! We love this combination of white ankle jeans with a sweater top.
White dresses are a summer staple! Wear yours with fun shoes to look like a street style expert.
It's not yet time to say goodbye to your turtleneck tops. This look is ideal for those chilly evenings you may experience during early summer.
A sheer top with a midi skirt is simply fabulous!
Wear an oversized sweatshirt with your favorite black leggings for an easy, breezy look.
We love the boho look of this dress with the intricate details and the bell sleeves. Wear a belt, a black jacket, and a cap to add a modern touch.
A cropped sweater with "mom" jeans and espadrilles scream summer!
Throw on a bright colored denim jacket on an otherwise sober look to add an element of fun!
A flowy wrap-around top with voluminous sleeves captures the essence of summer beautifully. Add a unique handbag or clutch to really pull your look together.
Go for a casual-cute look with a suede mini, a long sleeve top and a wide-brimmed hat.
Layers are not only cute but also extremely practical, especially when the weather is unpredictable.
A black jumpsuit is super sexy but what makes this look is that yellow statement jacket.
There's no time like summer to have fun with neons!
If you're all about the casual-comfy lifestyle, this look is perfect for you!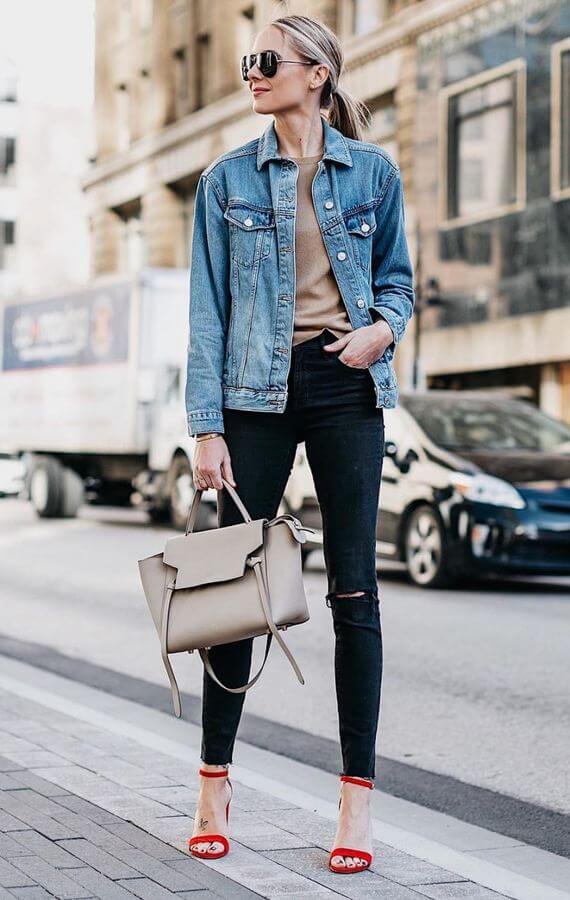 When in doubt just throw on a t-shirt with your favorite jeans and top it off with a denim jacket.
A t-shirt dress is a summer must-have! Dress them up with some boots and a jacket.
Say yes to fun floral prints like this one.
Boring bottoms are drab. Try something fun yet not over-the-top like these checkered pants.
Pair an oversized denim jacket (this is where your boyfriend will come in handy) with a t-shirt dress and some chunky sneakers.
A white t-shirt with patent pants may seem like a regular look, but you can take it to the next level by throwing on an animal print blazer. Rawr!
Fringe skirts will make you the center of attention!
White and baby pink are the new white and blue!
Of course, summer is incomplete without a cute sundress. We love the print on this one!
Maxi dresses were made for summer. Choose one with thigh-high slits to look extra glam!
Tangerine is a deliciously perfect color for summer! Pair your one-shoulder tangerine top with loose printed pants and high heels.
It does not get any more comfortable than a shirt dress this season!
Sheer tops are so in vogue right now! Pair yours with distressed jeans, high heels, and a leather jacket.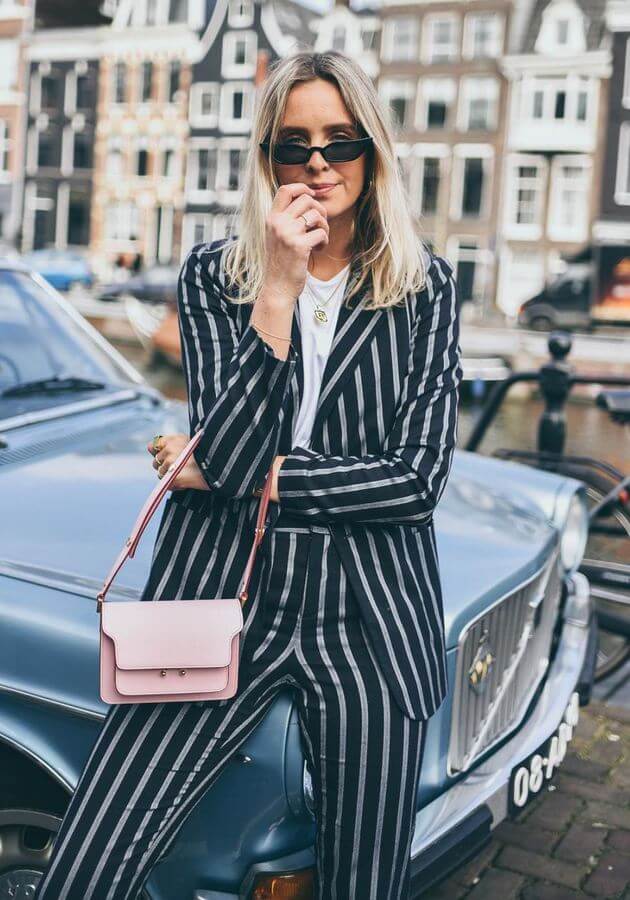 A striped suit will easily transition from day to night.
A duster jacket will instantly transform a casual tank and shorts look. Throw on a pair of heels for good measure.
This look is not for the faint of heart but it sure is fun! We love the neon top with the animal print and those hot pink shoes!
White on white will keep you cool on a warm summer day. Add a salmon-colored blazer to break the monotony.
If you like monochromatic looks, try black dungarees with a grey sweater top.
Hot pink and bright red are THE color combination of the year!
Your summer wardrobe is incomplete without a pair of versatile printed pants. Don't be afraid to experiment with unusual color combinations!
This monochromatic look complete with a houndstooth jacket is all kinds of #goals!
Keep it light with a t-shirt and khaki pants paired with bright red ankle boots for that added pizzazz.
Pair a white boho top with a fitted white skirt for a unique silhouette.
Now, this is fiercely fashionable!
Denim on denim look is super cute and comfy. Complete the ensemble with white sneakers.
Since it's early summer, you can still wear a knitted skirt with a neutral top, and of course, knee-high boots are always a good idea!
Lavender is a must-have color this season. Wear a lavender crop top with matching trousers and add a light pink jacket to keep it all in the pastel family.
How hot is this trench dress?! Ideal for early summer.
A boxy striped crop sweater with high-waisted jeans and boots is adorable and comfy!
Embrace bold prints this summer.
A white tee with a short white denim skirt is as cute as it gets! Add a beret to channel your inner French fashionista.
Make a statement with a bold animal print maxi dress with bold red ankle boots!
It's all about the layered sleeves this year. Wear yours with a fitted mini and ankle boots!
Keep it simple with a pretty cami top and distressed jeans.
No matter what your outfit is, you simply cannot skip the fanny pack this summer. Yep, they're making a comeback and how!
A loose cropped sweater top with really well-fitted jeans will accentuate all your curves.
Looking for an easy go-to look? Simply throw on a pretty polka-dotted top with your trusty skinny jeans.
Have a hoot and a half this summer with eclectic printed pants!
This gorgeous teal suit paired with a simple tee is giving us life!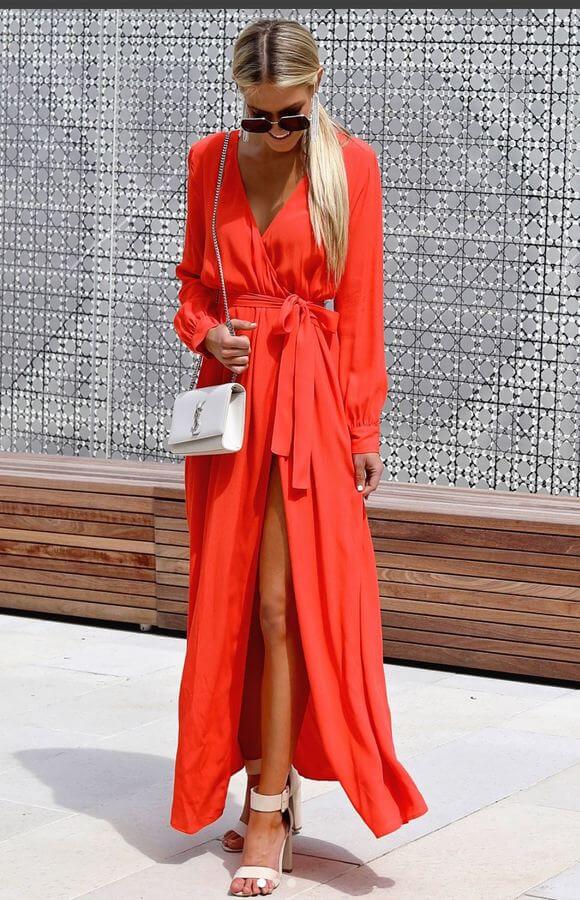 Embrace the epitome of easy, breezy fashion by throwing on a wrap-around maxi dress with a thigh-high slit.
Boyfriend jeans always ooze a sense of effortlessness that cannot be compared! Pair yours with a fitted striped blazer to balance the look.
A cute printed dress will save you the hassle of decision making when it comes to summer fashion.
This is the best time to bring out your bright colored dresses!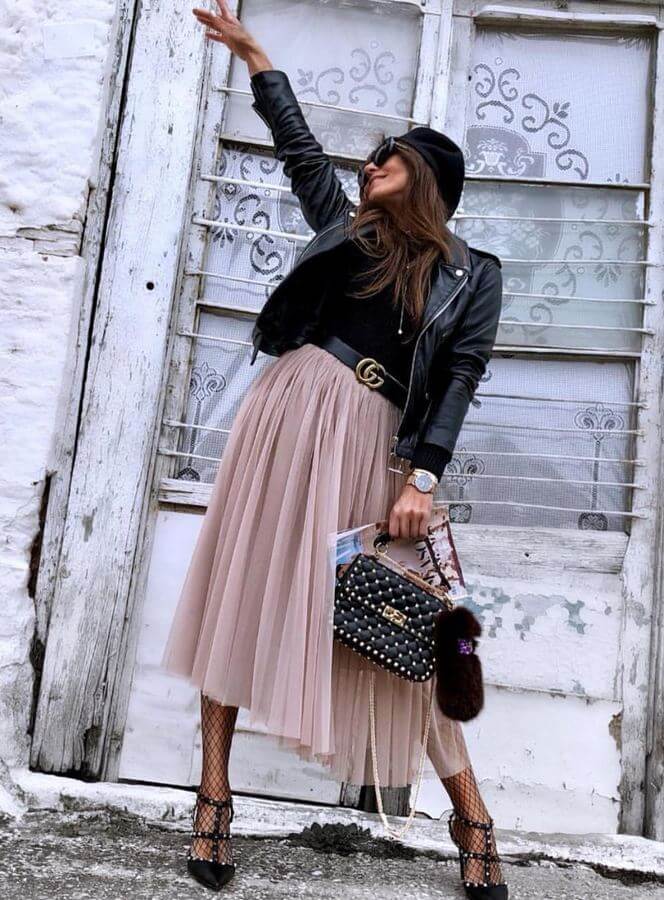 Tulle is no longer just for kids! Wear your midi tulle skirt with a simple tee and throw on a leather jacket to complete the look.
No matter what the season, bodycon dresses are always a hit! Wear yours with a trusty duster jacket to look super hot!
A polka-dotted dress with knee-high boots looks cute and well put together. If the weather is nippy, simply throw on a light sweater in a mustard yellow color.
Off-shoulder tops are still very much in trend (Yay!) Wear yours with a statement polka dotted skirt.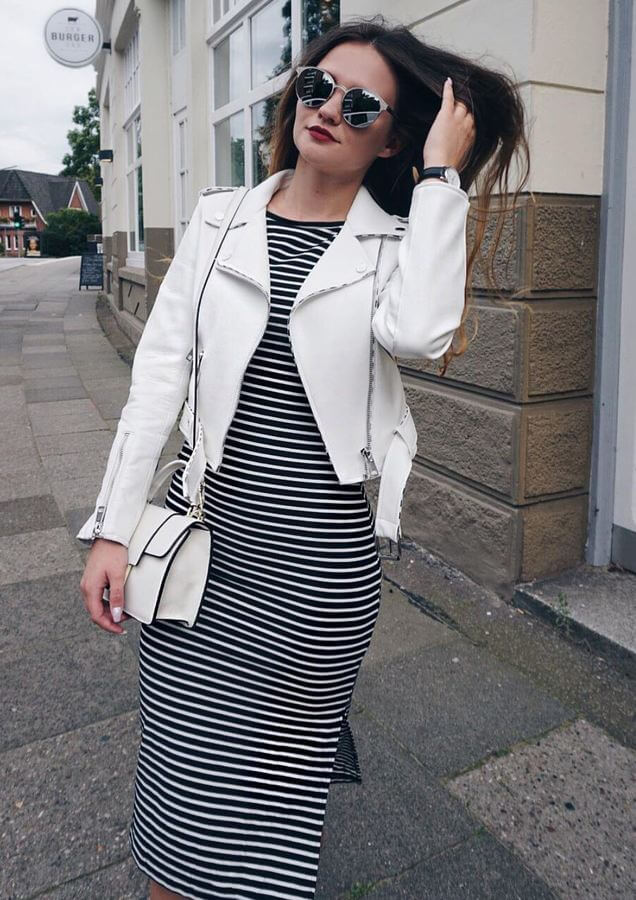 A striped bodycon midi is comfy-chic! Break the stripes with a neutral jacket.
Shorts are of course quintessentially summer! Pair your white shorts with a simple striped top.
Now that's how you do summer layers!
Pair a pretty lace skirt with a plain white tee and add a denim jacket to complete it all. This one is perfect for a brunch date!
It's not summer until you bring out your playsuits! We love this flattering off-shoulder style.
Which look will you be sporting this summer?