Where do we look when we need some fashion inspiration? Yep, everyone's favorite social media guilty pleasure: Instagram! From everyday outfit posts to high fashion glossy photoshoots, Instagram has every type of style star you can think of.
RELATED: 9 Simple Christmas Outfit Ideas from Lookbook
And so, to get us inspired this chilly winter season, we've rounded up the best casual street style looks from Instagram's trendiest influencers.
Candy Cute
A cute beanie in candy cane pink tops off this sweet street style look. Contrast the pink and white palette with edgy black suede boots and you're good to go.
Hipster Magic
To look like a true hipster girl, opt for mesh tops and ripped jeans this winter. Add your unique spin with a stylish wide-brimmed hat and a matching suede jacket.
Starry-Eyed Surprise
Graphic print sweaters are all the rage this season. Get in on the trend by choosing a star-embossed design along with skinny jeans and cute pom pom sneakers.
Glamour Girl
Here is a look you'll see on everyone from Bella Hadid to Kim Kardashian. Go full-on glamorous with over-the-knee suede boots over skintight denim jeans and an oversized sweater.
A Splash of Red
A palette of edgy monochrome colors gets a sexy twist with a pair of red satin stiletto heels.
Stripes of Style
Denim on denim is on every fashionista's agenda this winter. Break the color with horizontal stripes for a nautical effect.
Cardigan Chic
A long cardigan in a soft blush shade is the ideal way to add some texture and warmth to an everyday outfit of jeans and a camisole.
Mustard Mystique
Find a signature item this winter and wear it with pride. It doesn't get any more avant-garde than an ankle-length coat in decadent mustard yellow.
Boyfriend Buzz
Your trusty boyfriend jeans will be getting ample airtime this cold-weather season. Simply pair them with a cheeky statement sweater and pink platform sneakers.
Stilettos on the Street
Nothing says edgy street style like ripped denim jeans and an oversized sweater. Give it a glamorous edge with shiny stilettos and a cool poor boy cap.
Cropped 'n Cute
Yes, you can still rock that cropped top over the winter season. Make sure you pair it with a long puffer coat and high-waisted harem pants plus military-style pointy boots.
Trench town
Casual winter dressing needn't be complicated. Just throw on your high-waisted jeans, a ribbed woolen sweater, and your favorite camel trench coat.
Fur and Bow Ties
This look is all about the details – cheeky bow ties on powder blue flats, a double-C Chanel T-shirt and plush winter white faux fur.
Neutral Notions
Your camel trench coat will fast become your winter go-to staple item, seen here with black skinny jeans and lace-up black boots.
Checked for Style
One more for your investment list: this black-and-white check wrap coat – perfect over just about every winter street style ensemble.
Snow Bunny
Days in the snow deserve the most luxurious style items. Make sure you opt for lush woolen knits and the must-have faux fur-trimmed duffel coat.
Red Alert
Make every day a red letter day – in a bright red puffer jacket, of course. Top it off with a matching red bobble beanie and suede boots.
High-waisted Cool
Ripped jeans can be classy too. Boyfriend jeans get a chic upgrade with stiletto heels and a fitted black blazer.
Urban Athleisure
Those leather-trimmed gym leggings make the perfect edgy add-on to a leather moto jacket and Nike trainers.
Hip Hop Darling
This one is for all the modern-day fly girls out there – body-hugging black basics all wrapped in a textured woolen fringed cardigan.
All Gray Glam
Layers of decadent woolen separates are guaranteed to provide all the warmth and coziness needed this winter season.
After Hours Appeal
Whether you're headed to the gym or the shopping mall, here is a casual winter street style look for all occasions.
A Slip of Silk
There's nothing like delicate silk to keep you cozy during the cold months. Wear it with dark, edgy items for an unexpected, urban effect.
Stonewashed Style
When days are gray and gloomy, let the overcast effect carry into your wardrobe. An outfit of stonewashed gray items is edgy and understatedly cool.
Stylish Street Wear
A pair of black opaque tights is your ladylike must-have come wintertime. When worn with a textured skirt and an oversized sweater, the effect is feminine yet ultra-edgy.
Camo Cool
We know you've got a pair of camo pants from last season, right? Give them a much-needed update with nude heels and a brown leather jacket.
Velvet Dream
Velvet has emerged as an unlikely style hit over the past few months. Wear it from head to toe paired with shiny black leather.
Welly Day
Come rain or shine, your boots will never let you down. Take them out to play along with all-black basics and a faux fur vest.
All White Chic
For the girly girls out there, there is brilliant winter white to make a classy statement in the chilly temperatures. Over-the-knee suede boots give it that must-have cool factor.
Sleeve Belle
That bell sleeve blouse you splurged on last season? Guess what – it's still on trend! Make it part of your winter street style wardrobe like all the cool Instagram stars.
Dusty Pink Dame
For a look that blurs the lines between feminine and edgy, mix winter layers of soft baby pink wool with ripped black denim.
Peek-a-boo Red
Forget basic black trainers – this season, red is where it's at! Style your brightest sneakers with classic blue denim and leather for a pop of fun.
Comfy Cat
This look will carry you from home to the gym and all the way throughout your entire day. Accessorize the outfit as much or as little as you like.
Oversized 'n Cool
An oversized sweater remains an urban street style staple. Wear it with leather leggings and over-the-knee boots for extra sex appeal.
Ripped Just Right
Whoever knew that ripped jeans could be so chic? Get your most distressed pair and style it with a bell-sleeved woolen sweater plus strappy stiletto heels.
Sexy Street Style
There's a good reason that black is every fashionista's standard wardrobe color palette – it's undeniably chic and oh so trendy. Layer a long cardigan over it, and you're all set to go.
Wrapped in Red
All it takes is a bright red scarf to create a one-of-a-kind elegant outfit. Wrap yourself in the brightest layers you can find, over neutral basic items.
Punk Rock Princess
Fishnets, rock 'n roll tee and black leather – all the essentials needed for devil-may-care winter street style.
Fringe Effects
Your inner bohemian deserves a shot at trendy street style too. Wrap up in a fringed cardigan over blue denim and suede boots for snowy boho chic.
Olive Green Grunge
The olive green trend rages on; this time in a roomy wrap jacket in slick, shiny leather. Make a street style look of it with skinny black jeans and pointed high-heel boots.
Patent Leather 'n Stars
Let the stars come out to play in a cheeky puffer jacket adorned with stars. Worn with patent leather and snow boots, it doesn't get any cozier.
Beige Benefits
A soft wrap coat provides the comfort of a cardigan with the warmth of a coat – perfect for chilly winter days on the icy city streets.
French Affair
Indulge your inner French fashionista in a beret, mini skirt and turtleneck sweater. Très magnifique!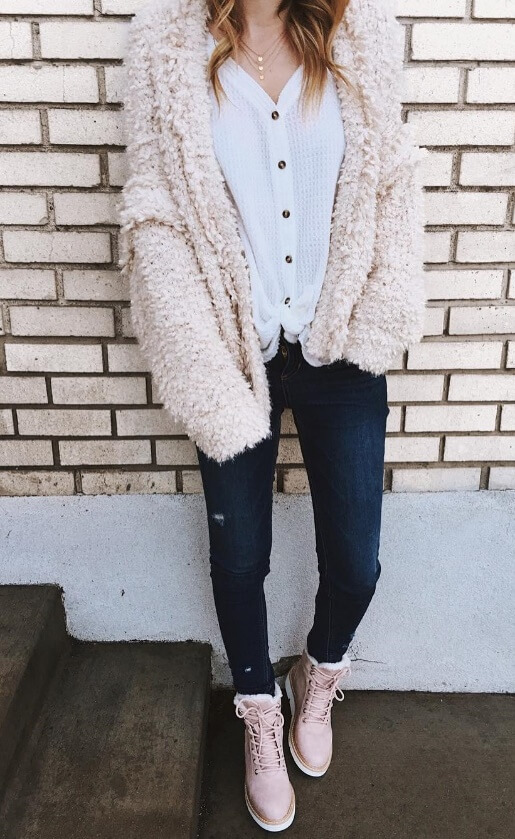 Pale Pink Prowess
Those pale essentials will come into good use underneath a baby pink faux fur coat. Denim jeans and matching pink Timberland boots wrap up the girly street style ensemble.
Off-the-Shoulder Styling
Take the off-the-shoulder trend up a style notch by matching it with skintight leather leggings and gray suede boots.
Drawstring Detailing
Don't underestimate small details when it comes to pulling a look together. A beautiful drawstring belt in this outfit beautifully ties soft baby pink with harsh jet black.
Head-turning Delight
Ravishing red makes another appearance… and with good reason: it's the street style star's secret weapon this winter season!
Beanie Babe
Have a favorite beanie that you just can't do without? Build an outfit around it like this Instagram star!
Pizzazz
Rich berry and plum shades symbolize the warmth and comfort of the winter season. Infuse this flattering color into your winter street style this year.
Pinstriped Allure
Prefer to keep things serious and businesslike? Normcore is the latest buzzword in fashion circles, starting with pinstriped basics like this long winter coat.
Gray Grunge
Charcoal gray is the modern street style at its coolest. Stock up on this color with ripped jeans and a wrap winter coat to match your most-worn style staples.
Camel Couture
In the same vein of everyday neutrals making a comeback, basic beige is an Instagram favorite. Wear it from top to toe with a white turtleneck to break the color.
Tones of Blue
Keep the winter blues at bay by embracing it into your street style wardrobe. A simple woolen sweater and boots are all you need for a snug winter look.
Primary Color Craze
The fascination with red continues, this time contrasted against another primary color: denim blue.
Suede Sophisticate
Make sure you invest in a neutral winter coat this season. May we recommend gorgeous brown suede – the perfect match for skinny jeans and Doc Marten boots.
Pale Pink Meets Denim
Harsh ripped denim is softened beautifully with pale pink brushed faux fur – the ladylike Instagrammer's top pick.
Layers of Light
Be a ray of sunshine this winter in the brightest whites you can find. Then top it off with trendy brown suede and you have all the makings of a social media ingénue.
She Wore Green Velvet
Move over blue velvet, green is where it's at. Match your decadent blazer directly with blue denim and suede boots for the superb cozy style.
Top-to-Toe Stripes
All types of stripes are in this season – from the finest pinstripes to chunky horizontal stripes. Wear them with basic denim and snow boots for an easy everyday look.
Beauty
Pom poms are the cutest trend to hit Instagram this year, especially when paired with beautiful berry shades of wool.
Leopard Luxe
If you haven't got leopard print in your wardrobe yet, consider this your cue. It only takes basic black and sneakers to create a head-turning street style outfit.
Leather Living
When some extra glamour is called for, bring out your glossiest leather items and style them all together. We're talking stiletto heels, leather jacket and designer leather handbag.
Neutrally Trendy
A beige wrap coat is quickly becoming a winter investment piece; one that's guaranteed to make waves for many seasons to come.
Gym Time Glam
To the gym and beyond – this is athleisure done just right. A modern denim jacket adds a cool street style element to an otherwise sporty look.
Over-the-Knee Chic
A sweet little polka dot dress may not seem like the edgy street style. But add on a leather coat and thigh-high boots and you've created something edgy, urban and gorgeous.
Travel Cozy
Whether you're about to board an airplane or simply running some errands, winter street style is all about cozy fabrics and wrapped-up woolen layers.
Rock 'n Roll Gets Comfy
Possibly the easiest of all street style ensembles, we simply adore the combination of ripped skinny jeans, leather jacket and trainers.
Elegance Style
For the chicest of Instagram stars, it's a case of all white with highlights of rich camel brown.
Checked Out 'n Trendy
Quirky pinstripe plus black faux fur makes for the unexpectedly cool Instagram style.
Snow Day Uniform
When all else fails, simple toss on an oversized puffer coat plus black basics for the easiest, yet warmest, street style around.