Planning work outfits can be quite a challenge, especially when your company or a workplace has a very distinguished dress code.  You can easily get bored with your usual day to day work clothes, or you might be completely out of ideas what to wear in the upcoming season.
Having in mind the traditional guidelines and rules regarding business attire, there are some basic pieces you have to incorporate into your work clothes.
But that doesn't mean you can't get creative and express yourself through office fashion, on the contrary – you should experiment as much as you're allowed to!
Bring in the patterns and colors, interesting cuts and fabrics, and you'll make a big difference. And if you need some inspiration how to low key channel your inner Miranda Priestly on a regular basis, this article is here to help you out.
Parisian business chic
This cute take on business attire is not the most formal one, but it sure gives you the feeling of the French working girl on the go!
The high neck lace top is the essential for this look, as well as the A-line skirt. Top that with a navy blazer and the shoes of your choice, as you can't miss with either flats, heels or ankle boots.
For the final touch, you can opt for the tiny headband to give you that unique Parisian vibe, and there you have it!
Mix & Match blazer + trousers combo
Looking fierce has never been so easy! Rocking the flare trousers to work on a sunny day has a special charm.
Stripey pants, especially high wasted, always look chic. To balance the whole outfit, pop the dark-colored fitted blazer and the white button-down shirt underneath.
Overall, this look is one of those that get you excited for the work day!
Minimalism strikes back
A combination that's so divine in its elegance. Sophisticated look is always a Yes.
Nothing extravagant here, just black pants and white top, as simple as that. The attitude, though!
For a little shine, you can add a piece of jewel on your ears. Throw over a coat and find your staple flats and you're good to go.
Cheeky details
Again, b&w. But this adorable top with flared sleeves (that you can wear on various occasions) is giving us life! The high waisted pants are the safe choice, but why don't challenge the look with the cute bow in the front?
What this look needs to be complete is the pop of pink, or any pastel colored accessorize!
Houndstooth as a staple
Smart and elegant, pattern and black- we're here for it!
This outfit is perfect for boss ladies who enjoy the color black. But the ever-trendy "houndstooth" patterned jacket (or a coat) is here to give a twist to a monochromatic look.
Roll necks are so classy, tucked in business pants, therefore this outfit represents maturity and professionalism.
Pop of color
This corporate vintage ensemble is what everybody needs in their closet, for the days when you're not into blazers and pencil skirts.
Grey flare pants take us back to 1930s, brown mules are such a statement footwear, but to not look rather boring, combine these with a simple electric top that brings it all together.
Chic and minimalistic, and ready to run the office!
Conquering the world in stilettos
Everything is more fabulous when you're in high heels, and that's a fact. Make the office your runway!
This look features the gorgeous blush business pants that give you the slightly romantic touch. The choice of blouse is optional, as long as it's neutral colored.
Put on your most uncomfortable pumps and a long coat, and there's nothing you can't do!
This dress means business
This classic business dress is one of those pieces of clothing every woman needs to own, as it perfectly suits every body type and gives the sense of pure elegance.
Add neutral heels and matching accessorize to complete the outfit, and the goal is achieved.
Spices of spring
Let's talk about the skirt. We're familiar with the monochromatic stripes, but look at that amazing print! And the cutest pop of color it deserves.
The other honorable mention is the statement necklace, which is a necessary touch in this case. So chic and youthful!
Colorful trifecta
Now, forget the blacks and grays! Start with the classic neutral piece – a blazer, for example, and let your imagination do the rest.
It's funny and playful, and it kills monotony. Bring some color to the office, but be careful, it actually has to make sense!
Own the pastels
Blush, or any pastel color, makes an outfit more feminine, even if it's only business pants and button-down shirt.
It's cute and stylish, but it does the job. You can play with patterns if you'd like, or you can stick with a white with some structure on. Don't forget the statement pumps that are made for this look.
Black on black season
Minimalism at its finest- it appears professional and subtle but leaving the impression of a businesswoman with impeccable taste in clothing.
V-neck dress, or in this case blouse (tucked in the high waisted skirt) complements beautifully with a simple pearl necklace, but any more jewelry could easily spoil the effect of this outfit.
Summer sleek
It might be tricky to dress for work in summer, but with a couple of key pieces, you can survive even the hottest day. Floaty shirts in any colors or patterns are welcome with a simple above-the-knee skirt in white or any bright color.
Since it's summer, get rid of the darks! Embrace the whites, yellows, pastels, but be sure to keep that classy bag in black.
Silky and smooth
It's all about the materials. Floaty, but elegant blouse (that doesn't necessarily have to be buttoned all the way up) goes lovely with the gorgeous silky blazer.
Still, if you want to keep that professional elegance, combine those with a contrasting pencil skirt and a simple pair of heels.
Conservative queen
The knee length skirt made of wool makes this outfit interesting since there it consists of pretty conventional pieces. Same bright colored blouse and shoes need something to stand up to, and this mustardy yellow is the perfect contrast.
Top this look with a tweed jacket and choose if you want to add some accessorize (if it doesn't spoil the loveliness of the collar).
Rockin' the pantsuit
Fitted or loose, your choice. Wear it unapologetically and be a true queen! Show them who's the boss, in this stylish business attire.
But there's a catch – you don't want to seem uninteresting, so be free to opt for a surprising twist in the form of tiny belt in electric color and/or a large tote bag.
Impress the boss
See how easy it is to incorporate that summer dress you love into the work outfit. We get it, it's hot outside, and you don't want your lovely summer dresses to sit in the closet, so here's the look that makes you classy and chic and at the same time not look like you have just come from the beach.
Add a tiny belt to fit it around the waist and throw on the smart casual blazer that's a bit longer, hop in the matching pumps, and voila!
Patterns, patterns, patterns!
There is already a lot going on in this outfit, and it's only one dress. There are more colors than you can imagine on one piece and more patterns.
But the cut of the dress works appropriately. With matching accessories, it can bring a certain amount of livelihood to any workplace.
Smart athleisure
Finally, a way to feel comfortable, but not look slouchy. Combining your favorite joggers and a button-down shirt and black blazer to balance things up, and the results in this edgy outfit will look quite businessy.
Leather loafers could be a nice touch, as well as large statement bag.
Youthful twist
Also, it would be wise to add a bit of hippie touch with a fringe tassel bag like this girl. What's more, she nailed that boho 80s vibe with the flared pants.
No need for extra accessories if you add some color and fringe!
Corporate runway
The perfect nude ensemble is perfectly combatted with a touch of black – just to keep the tough effect of corporate attire. The graphic, edgy vibe is achieved with modern, strappy sandals.
The tailoring is exceptional; slack style pants do a lot better than the classic slim ones, and a slightly longer blazer does better than the essential short one.
Badass boss
Yes, both the blazer and pants staples are borrowed from the boys, but almost always worn in a semi-feminine way. This outfit shows the opposite – the tie and the oversize pants add some vibrant masculinity.
The femininity and fashion – forwardness lie in the fur coat – something that is a year-round staple of the likes of Kate Moss.
Floral inspirations
Business attire is mostly about monochromatic and plain textures with the focus on the cut, but that doesn't have to be the usual way to go.
Disrupt the corporate basics with using vivid florals! Although they are mostly used on tops, this girl nailed it with floral skirt prints.
More leather, please!
Is leather the thing that comes to your mind when we say biker chic or gothic princess? Rethink the term, as it is reinvented in this combo!
Although it would be a little too much if worn with nothing over them (speaking of leather pants and leggings), wearing them with a tunic or a longer coat make the ensemble ultra classy!
Cold and glamorous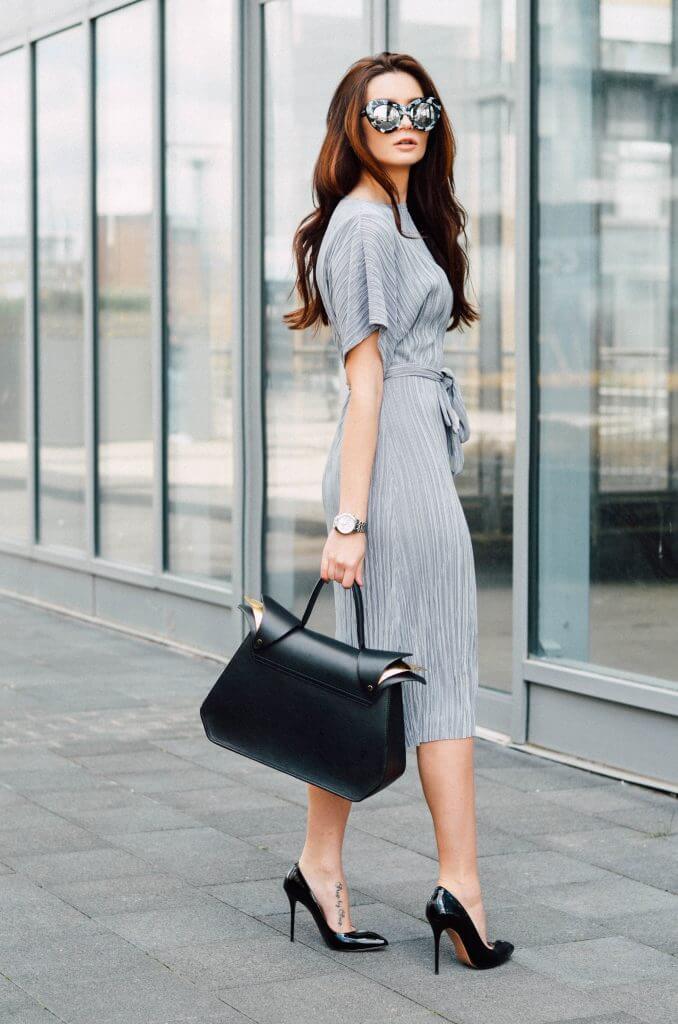 The pleated dress is the example how exuberant and cold (at the same time) a dress can be. Ultimately sophisticated and refined, pleats do great in both a wrap dress version and a clean cut one.
Statement minimalistic accessories are the way to complement this look!
Ballerina vibes
The flats and the oversize boyfriend blazer make the perfect statement… all of that with a Breton striped mariniere blouse for the extra Parisian feel.
The golden buckle on a signature wide waist belt makes the emphasis go on small details, rather than the plain darkness of the outfit.
Clash of the prints
Avoid the rules with this kind of a fashion statement! If you normally like to express yourself through vivid prints, there is no need to suppress the need for them!
They should anyway be kept low-key with a maximum of three prints in one outfit (complimentary chosen). And add a bright color to it!
That fab elegance
The basic dresses all of us have in abundance for work are ideal for belting. Emphasize the narrowest (and most feminine) part of your body with statement belts!
Of course, stilettos are the essential way to reach that fab elegance goal.
Straight from the yacht
Embrace the summer heat with an all-white outfit, since that is the only epitome of coolness and freshness during those days. Just try to keep the textures appropriate business-wise and the cuts less flouncy.
Add a statement bag and shoes, and you're ready to go!
Blush 'n' Jeans
Work outfit that screams "Friday!" – jeans and a blazer are the perfect combo.
Nudes and jeans – we know you love that for casual wear, but it would be cool to rock that during work, right? Although it could prove to be inappropriate for some strict dress codes, we think your HR would give you a go on Friday.
Flared jeans could even be a more refined option.