The Branch that Connects You
A tiny branch with a hole in the end that continues on your friend's hand looks fantastic and so symbolic. That is a tattoo that will keep you connected all the time.
Matching Tiny Trees
Small and minimalistic – this is how we can describe these lovely tattoos. They are sweet, and if you and your friend are fans of nature, it will mean a lot to you.
Wine Lovers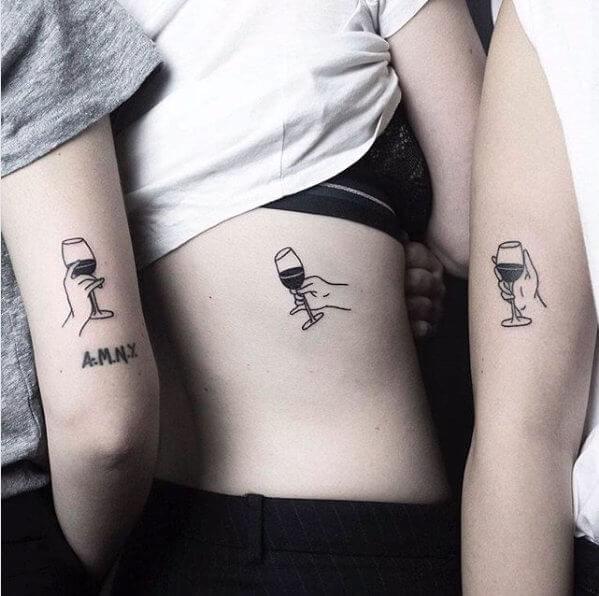 Wine lovers unite! If you like to drink wine with your friends after work or on weekends, then you can always make it into ink.
Disney Lovers
If you and your friend are fans of Beauty and the Beast, then show it to everybody. They not only look beautiful but also matching.
Unicorns
Unicorns look lovely wherever you decide to put them. To match with your best friend, opt for a place that suits both of you.
Colorful Ladybugs
If you are tired of black ink, you can always choose a watercolor one. They not only look realistic but also very beautiful. Match it with your bestie and enjoy showing it off to people.
The Years of Birth
If you have your girl gang and you want everybody to know that you are in it, mark it with matching tattoo. You can opt for an interesting idea, like years of your birth.
To Infinity and Beyond
A small rocket along with the line to the infinity on one leg and beyond on your best friend's leg look beautiful. The tattoo is small but it will be visible to you and your friend.
Sea and Sun Lovers
If you are planning to spend a spring break together with your friend, you should do a matching tattoo as well. The simple sun tattoos will absolutely do the job.
Two Girls Tattoos
Each friend has an illustration of a girl that listen through the can phone. Isn't that cute? If you are friends from childhood, then this is an amazing tattoo for you.
Minimalistic Circle
If you are a fan of minimalistic clothes, then you would like a tattoo like this. Convince your friend into doing the same, so you can match.
Yin Yang Feathers
Instead of creating classic yin yang symbols, opt for something more creative. Two feathers, one in black and other in white for two best friends will be just beautiful enough to show off how to compliment you are.
Two Abstracts for Two Friends
Make a deal with your friend to make matching tattoos that will be known only to you. These look minimalistic and lovely.
Sea Lovers
Summer is around the corner, so it is the right time to start thinking about your new tattoo. This year, make it match with your best friend.
Mickey and Minnie
Some of the most used symbols in the tattoo industry is surely Mickey and Minnie. These Disney symbols will make your tattoo collection youthful and full of happiness.
Vinnie Pooh Tattoo
Another Disney character that is very often found on tattoos is Vinnie Pooh. If you like his story, then you should make a matching tattoo with your friend.
Finger Tattoos
Your fingers are a great and personal place to put a tattoo. If you opt to do it with your friend – even better. The small pounding heart will always remind you of your friend and your lovely relationship.
No Matter Where
This tattoo shows that no matter where you are, your friend will always be there for you. The back side of your ankle can also be a proper place for it.
Pokemon Fans United
While some friends like Disney, others are fans of Pokemon. If you belong to the second group, turn your passion into ink.
Friendship is Like Diamond
Friendship is like a diamond – beautiful and shiny. If your friendship is just like that, make sure to ink small but gorgeous diamond right on your finger.
Beautiful Flowers
Flowers are always a good idea when it comes to tattoos. If you opt for watercolor one, even better. Make sure that the colors of flowers of you and your friend's tattoo are different.
Elephants On Point
Elephants are a lovely symbol for your tattoos. Whether you opt to wear it alone or with your best friend, a shoulder is a great place to put it.
Waves for Summer
Symbol of the sea like waves is the perfect tattoo idea for summer. If you and your bestie plan a getaway together, you should opt for the matching tattoos.
Paper Planes
If your friendship is long-distance, these lovely paper planes will show off how you think about each other. They are perfect for connecting with your friend, even if you do not see each other every day.