Leaves for Spring
This is one of those perfect spring tattoos for you alone or both you and your friend. Let the leaves invoke the spring and get you closer with your best friend.
Small Mandalas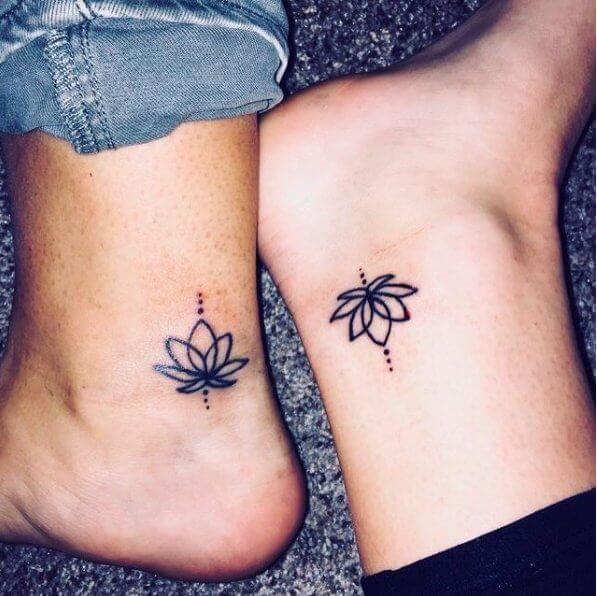 If you are not interested in big eye-catching tattoos, you can always opt for small ink like this. Put it in the back of your wrists and make sure your friend to the same.
Evil Eye
Matching evil eyes never looked cuter! You should find some really nice place to put them, like the wrist of your hand.
Harry Potter Tattoos
Harry Potter fans are never alone. Opt for tiny glasses and the typical thunderbolt – all Harry Potter fans will understand.
Longer than the Sun, Moon, and Star
Let your friendship last more than the sun, moon, and star. If you are a group of three best friends, then there is no better tattoo for you to try.
Peanut or Jelly Butter Club?
If you and your friend are fans of peanut or jelly butter, then show it off with your tattoos. These cute little sandwich tattoos will make you look adorable.
Girl Power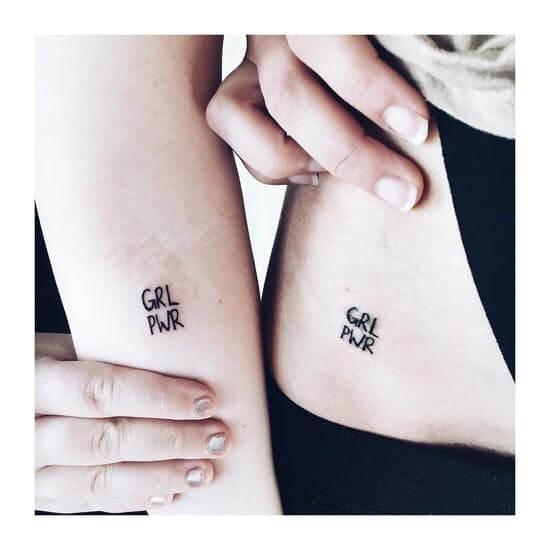 Encourage your friends always. Let this tattoo be a reminder for both you and your best friend that girl power is still there to push you forward.
Tattoos Under the Ribs
There is probably more personal places to put on a tattoo, but the one you should always consider is below your ribs. You can put anything – a personal quote that you share with your best friend will be the right choice.
Sleepy Cats
Sleepy cats on the pile of books will surely make you emotional every time you look at it. It can remind you of your best friend and those college days spent studying in the library.
Delicate Leaves
Let these leaves show off the minimalistic side of both you and your best friend. You can place them wherever you want – we suggest to go with the back side of your arm.
Small and Minimal
Sometimes, friends opt for something that small and minimal that is only visible to them. For instance, these are lovely minimalistic tattoos that will be known only to you but still look gorgeous.
Nature Lovers
For all those who like nature motifs for their tattoos, there is nothing more beautiful than a pine tree. You can make a deal with your bestie if she/he is the nature lover as well, and make it matchy.
Birdie Tattoos
When there are more than two girls in your squad, it might come harder to opt for tattoos that everybody will love. However, you can't go wrong with these birdies. They look absolutely stunning.
Infinity Symbol
These infinity symbols are designed to look like an arrow. They will always remind you of your eternal friendship.
Anime Fans
If you and your friend are anime fans, then there is no better way to show it than with the tattoo. Sailor Moon tattoos will make you and your bestie unique.
Congruence Tattoos
Congruence means harmony and understanding. If you have all these things in the relationship with your best friend, then you should ink it and show it off to the world.
Foodie Lovers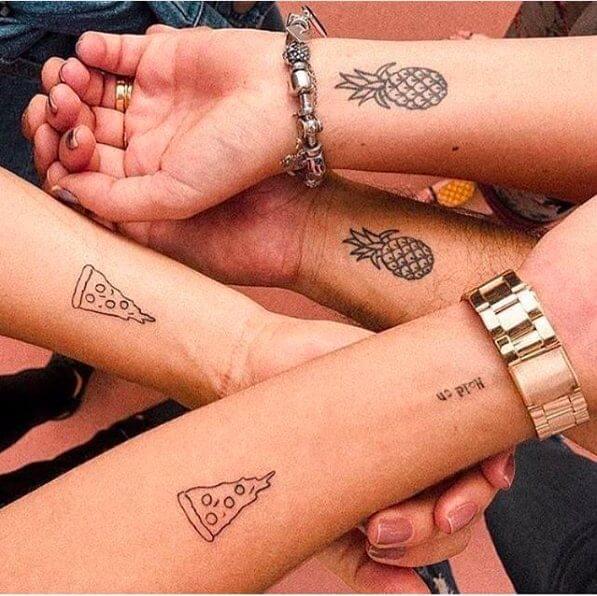 If there is more than three of you in a squad, then you can think about matching, but not the same tattoos. For instance, this is an excellent example of how you can show that you are a foodie lover.
Galaxy Yin Yang
Galaxy can show off how your friend means a world to you. You can also show how you are like yin and yang – the same yet so different.
Different Places
You don't need to put on your tattoos on the same spot. As you can see here, these two besties opted for an unfinished sentence. While the beginning is on the one's hand wrist, it finished at the other's shoulder.
Tiny Turtlenecks
Small geometric turtleneck tattoos are adorable, and they look amazing wherever you decide to put them. You can even opt for different places with your best friend.
We are All Mad Here
This famous line from Alice in Wonderland might be the most used for a tattoo. You can always use it with your best friend if you like Alice in Wonderland.
Two Black Pandas
Do you and your friend like animals? Well, if you do, you can always opt for a pair of matching black panda tattoos.
Anchor Tattoos
If your friend keeps you grounded like an anchor, then you should do matching anchor tattoos. They are small, minimalistic, yet they will mean a world to both of you.