Nature-inspired nail art, vibrant colors, pastel flowers make these spring nail designs an excellent choice for warm months. You simply can't go wrong with these manicures this spring!
1) Earthy boho nails with gold accents
This boho design incorporates an earthy teal, brown, and gold color scheme. The gold floral pattern has been stamped on over a brown base, and the petals have been filled in with a mint green polish.
2) If life gives you lemons, make nail art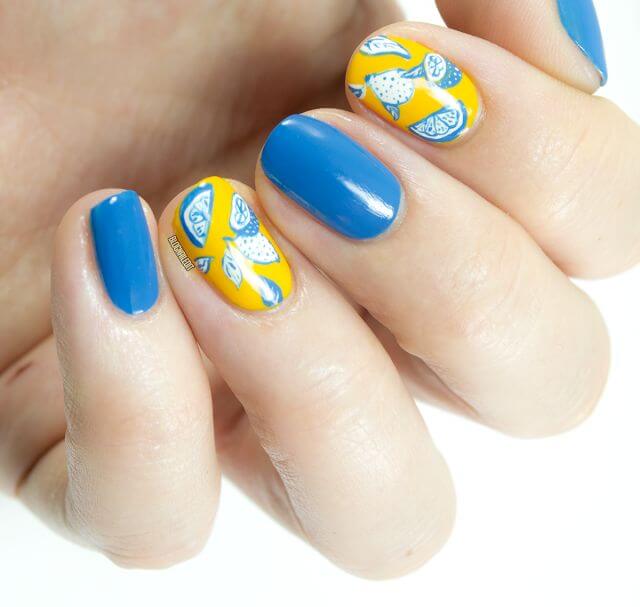 Mustard yellow with cobalt blue is a classic for spring. Alternate an opaque layer of blue with a lemon design on top of the yellow polish for a fun, warm-weather look.
3) Simple & stunning: glitter tears
This nail art is easy enough to DIY at home, and best of all, you only need two polishes! Get this chunky glitter gradient by carefully concentrating silver glitter to the tips of your nails and finish with a clear top coat.
4) Dazzling origami paper star manicure
This manicure looks like you've spent hours on it, but in reality, you can do it at home in under thirty minutes. Get this shimmery polish effect by hole punching or hand cutting out small star shapes into origami paper or cellophane and applying it to an opaque base, then sealing it in with a top coat.
5) Peachy pastels and colorful studs
Nothing says spring more than pastel pinks, blues, and yellows. Incorporate this spring color scheme into your look with trendy geometric shapes like these blue and yellow half-moons over a white matte base. On alternating nails, glue or stamp multi-colored studs over a matte pastel pink base.
6) Magnificent marbled nails
Inspired by a dress of the same color, this French nail blogger has created these marbled white and mint green nails with beautiful arrow details on the middle and ring fingers.
7) Nature-inspired springtime nail art
Create a different story on each nail with this unbelievably cute decorative manicure. Between opaque washes of pastel pink and yellow on the pointer and pinky finger, nail blogger Belén has created the bird and flower patterns on the beige and teal nails respectively using the stamping technique.
8) Neon pink and red dry brush manicure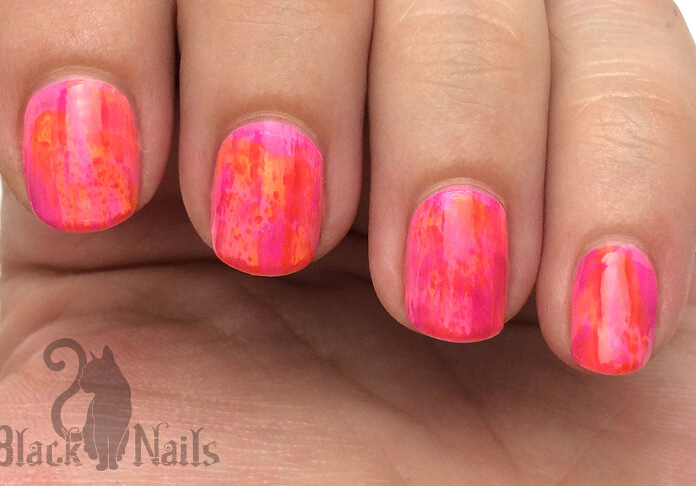 These bright neon nails are sure to brighten up any day. Using a technique called dry brushing, the artist used a base of bright pink and, wiping off all but a thin layer from the brush, painted two or three quick brushstrokes of orange polish on each nail.
9) Intricate Art Deco nails
Inspired by the symmetrical, triangular designs of the Art Deco period, London nail artist Emma Zentner has created this one-of-a-kind orange, white, and black nail art that will have your friends oohing and ahhing over your nails.
10) Vibrant floral nail art
Prevent things from looking too busy by creating your floral design over a clear base coat. Using bright pinks, oranges, yellows, and blues, these hand-painted floral designs stand out in a crowd.
11) Muted matte florals
Nail artist sister duo Donne and Ginny Geer of Hey Nice Nails have come up with this ingenious take on the matte nail art trend. On two accent nails, they've created bold, geometric and floral designs with pastel pink, green, and purple over a clear nail polish base.
12) Easy fluorescent nail art
This is a design even beginners can tackle. Using the opposite end of a paint brush, emulate what blogger Samantha has done, dotting pink, blue, and yellow in the shape of a flower over a vibrant mint green base.
13) Captivating mandala tie-dye nails
Ask your manicurist to give you a design similar to these brilliant multicolored nails featuring a purple and blue gradient with white, hand-painted mandala designs on top.
14) Aquatic wave-inspired nails
Prepare to hit the beach with some wave-inspired nail art. This artist has incorporated white, red, pink, purple, and light blue layers in her wave design, but you could use any of your favorite colors.
15) Beach-ready navy and teal striped nail art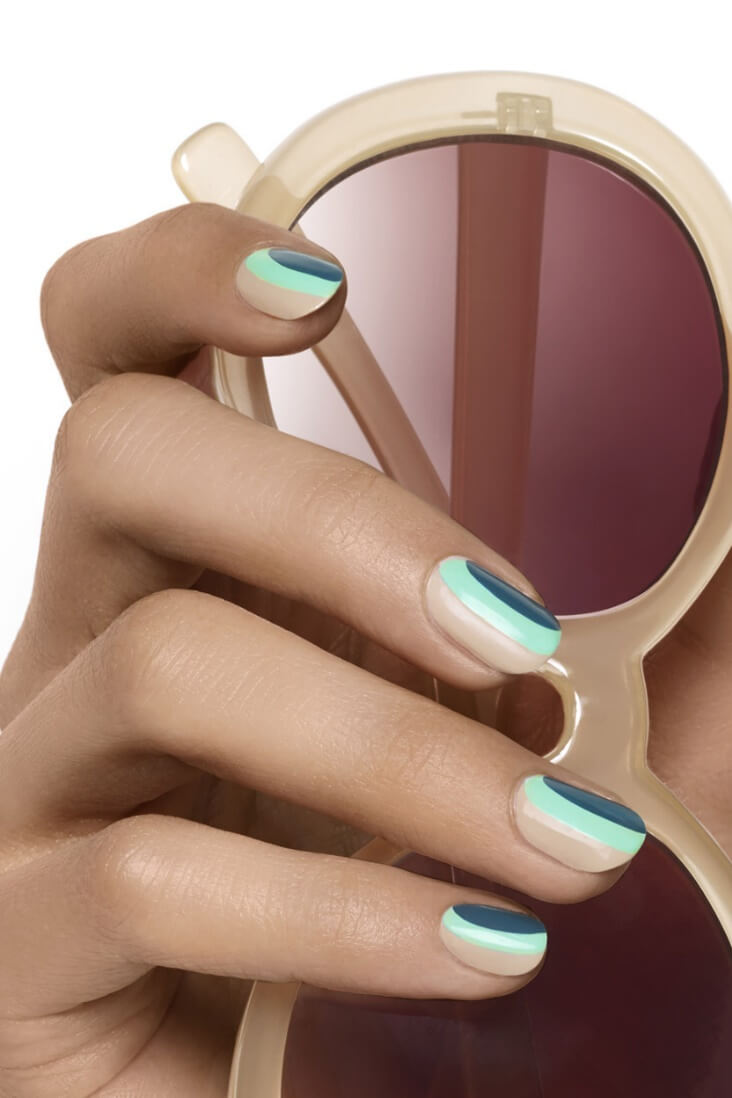 Get in the mood for spring with this simple, striped nail art featuring navy, mint green, and beige.
16) Retro pastel flower nails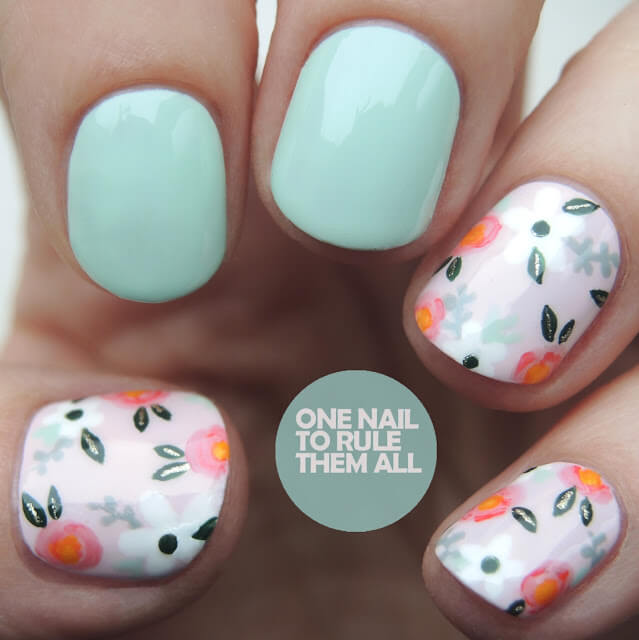 We love this vintage-inspired manicure from nail blog One Nail To Rule Them All. Using a base color of pale pink, nail artist Alice has created a pink, orange and white floral design you might see on a vintage handbag or blouse. Don't forget the two robin's egg blue accent nails!
17) Chunky rainbow glitter nails
Prepare to turn heads with this rainbow made from chunky glitter.
18) Adorable Easter peeps nails
Show your enthusiasm for spring and Easter with these adorable fuzzy chick nails. All you need to do is add flocking powder to get that fuzzy effect. Note: No actual chicks were harmed in the making of these nails.
19) Colorful square nail art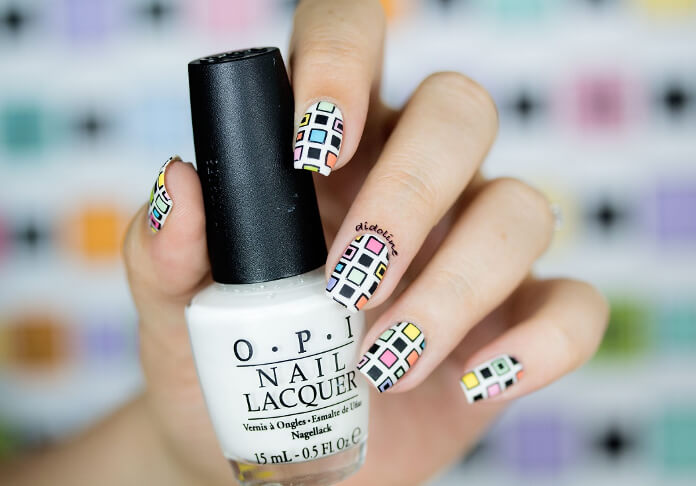 Using the stamping technique, you too can emulate these funky yet minimal nails. Alternate stamping big and small squares in different colors to get this look.
20) Creative black and neon spring nails
For a tropical effect, try using a black background on your floral nail art. The contrast between the dark background and the light blue, green, and pink flowers creates an almost neon effect.
21) Perfect pastels
These opaque pastel nails reminiscent of Easter eggs are accented by an attractive floral pattern over a clear gel nail base.
22) Abstract dry brush nail art
Incorporate a bit of abstract art into your manicure using the dry brush technique over a white base using different shades of pink. Add a glitter accent nail like the one shown here if you're feeling fancy, or repeat the same abstract design on each nail.
23) Stylish monochromatic outlined nails
This outlined nail art is really trendy right now. Keep things monochromatic with using a thin black outline around your white base nail. Add a matte top coat for an artistic finish.
24) Neon purple and teal patterned nails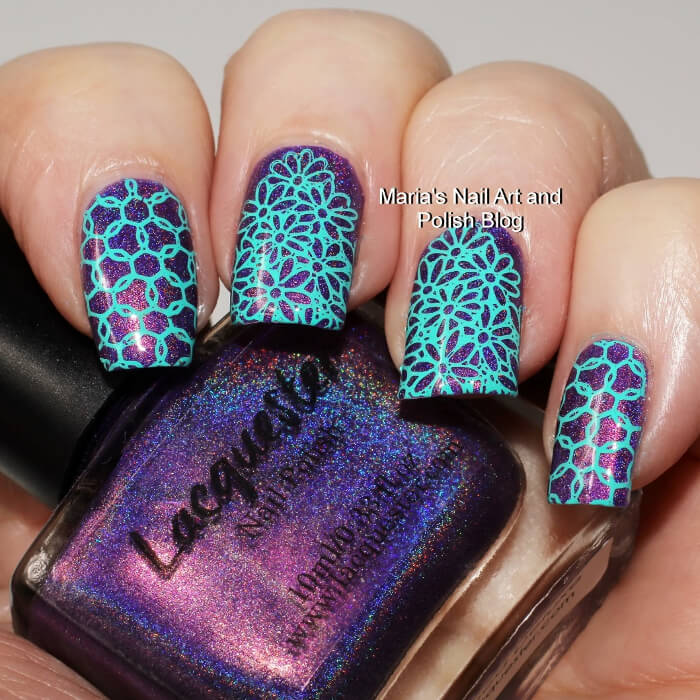 Combine stamping and metallics to copy this awe-inspiring nail art look. Using both flower and circular stamp patterns, this look is edgy and busy.
25) Pretty sunset nails
What better way to celebrate spring's arrival than to decorate your nails with this orange and white manicure, using a semi-circle and three triangles to create a small sun on each nail.
26) Electric yellow and blue zigzag nails
With this intricate nail design, each nail has its own unique look. Featuring triangles and other geometric shapes on some nails and gold studs and gems on others, this manicure is sure to please.
27) Colorful braided nails
If you're looking for a colorful nail art design, look no further than these criss-cross neon nails with paint drip details. A skilled nail technician should be able to recreate this vibrant look featuring as many as 10 different bright colors.
28) Gorgeous glitter nails with rhinestone accents
These girly and delicate nails are perfect for anyone who loves glitter and mint green. Create interest with an accent nail by only applying the nail polish to the tip. Add white lines and a rhinestone to complete the look.
29) Cute dots and stripes
If you have a nail art pen, you can try this fun look at home. Using a combination of blue, pink, green, and white, your black nail art pen can easily draw stripes and dots to make exciting patterns.
30) Stunning orange glitter gradient
If your go-to is glamorous manicures, consider adding a pop of bright orange to kick start your spring. Start by taking the orange one-third of the way down from your tip, and cover the rest of your nail with glitter.