Some rules should be applied in the summertime – light foundation, or no foundation at all, nude lipsticks instead of dark colors, and a lot of bronzer or highlighter. If you limit yourself to use only the most important products, we guarantee you will have a flawless tan and makeup.
Summer is just around the corner, and now it is the right time to get inspired by some fresh and modern summer makeup. Let's see how you can make your face glow, and your makeup long-lasting.
Metallic Hue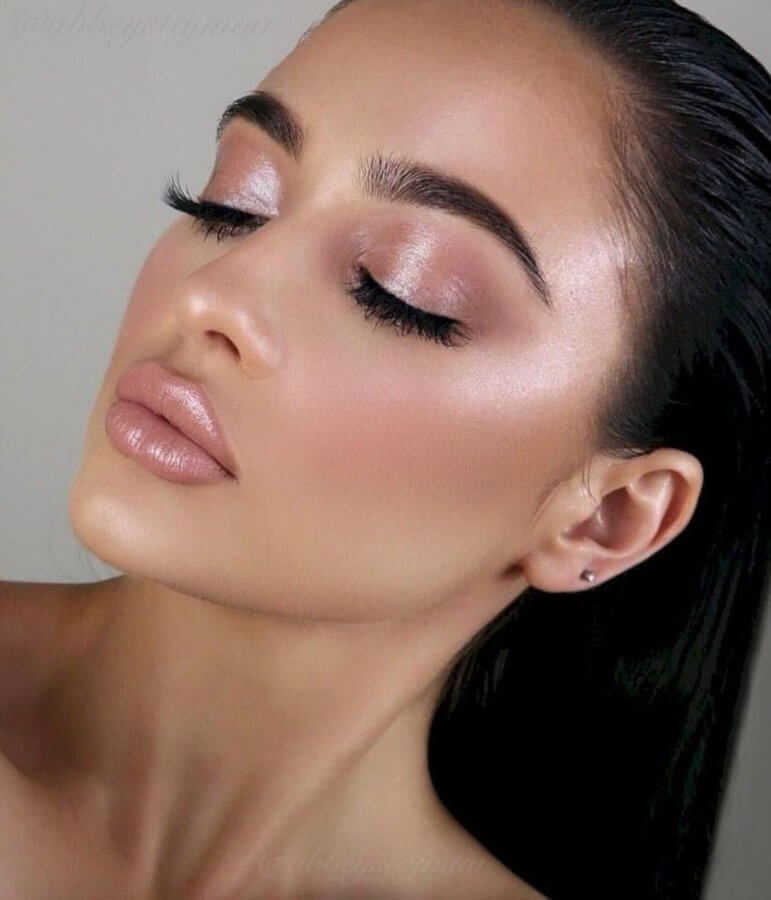 Metallic hues in the summertime are more than welcome. Even for everyday wear – you can definitely make yourself shine under the summer sun. Rose gold on your eyes and lips will enhance the beauty of glowy makeup.
Bold for the Summer
If you are heading to some elegant event, such as wedding, engagements or birthday parties, you can afford to look like this. A bit stronger makeup should be reserved for special occasions only. The intense sun can melt the makeup down, so make sure you put on a good primer and fixator.
Gold Hues
Is there anything better than golden hues in summer? We don't think so. Gold on your eyes, golden highlighter, as well as lip gloss, will make this makeup glow! It is appropriate for both everyday and special occasions. You should try it!
Enhance the Natural Beauty
Summer everyday essentials should be minimal and should enhance your natural beauty. Blue eyes match with beige, orange shades. Opt for creamy ones, since they are perfect for warm weather. You can put on matte, creamy lipstick in the same neutral hue.
Pinkish Shades
Porcelain tan can be achieved with a good primer, glowy foundation, and highlighter on your cheeks. You can make your eyes pop up with pinkish and brown shades. Use good crease brush to make your smokey summer look.
Caramel Eyes
Caramel shades suit perfect girls with brown and blue eyes. For this lovely everyday look, you will need an excellent matte foundation, a bit of bronzer, creamy orange lipstick, and creamy eyeshadow in the same shade. Apply it with your fingers.
Wet and Glowy Look
Sometimes, you don't need a bunch of makeup products to make your skin glow. You can only apply a concealer, to hide the imperfections, blend it well and in the end add highlighter on your cheekbones. Don't hesitate to add a lot of blush as well.
Fruit – Inspired
Have you ever wished to have fruit – inspired look? If you are nodding, then this is a great opportunity to achieve that. This look is juicy, watermelon looks alike and utterly eccentric. For the lips, opt for neutral lip gloss.
Smokey Eyes for Summertime
Smokey eye is one of the best makeup techniques and definitely the most used one. You can wear smokey eyes in summer or winter, and every time you wish. Neutral, beige, and shimmery eyeshadows will suit to every eye shape and every eye color.
Color Block
For those girls looking for something new and interesting, you can always try this kind of makeup. It is quite artistic, a bit of eccentric, and so colorful! Orange, yellow, and pink are matchable, even though we didn't know it!
Brows on Point
Making your eyebrows look like this is trendy and quite easy. You should leave your brows to grow, instead of twitching them and brush them. You can also color them with a gel and fix them with liquid products. They are definitely on point here.
Lilac on Your Eyes
Lilac is definitely color of the season. However, it is unusual to see it on your eyelids. It looks great, though! Instead of putting it on your crease, apply the lilac cream eyeshadow on the lower lid. Make a small wing to prolong your eye.
Red Lips
Matte lipsticks are great for summertime due to their long-lasting performances. Make sure to apply it with a lip liner – that is how it will be perfect, and it will last longer than usual. When it comes to the face, just add a bit of highlighter to the cheekbones, and correct the marks with the concealer.
Eyeliner and Blush
Eyeliner wing will make your eye pops as well prolong it. It is perfect for all seasons. You can also opt for other colors if you like your looks to be more eccentric. However, the black one is classic. Every girl should have one liquid black eyeliner in her cosmetic bag.
Ready for the Beach
Colorful scarves will add boho, summer vibe to your style. Combine the colors with the hues of your makeup and rock this beach look. Make sure your lips are shiny, and your eyes matte. Brush the brows and make them look messy.
All that Glitter
Supermodels adore it, and it is not a surprise. Glitter is the best addition to your makeup routine. It is ultimately stylish, it shines, and it gives you that special look for sophisticated, elegant occasions. Make sure the rest of your makeup is minimal.
Warm Tones
Make your face shine with a highlighter and perfect rose blush. Blend it well and enjoy the results. When it comes to the lips, pick some warm pinkish color of meat. It will blend perfectly with your sun-kissed skin and blush.
Simply Orange
We are fans of using minimal makeup in the summertime. Only one eyeshadow will be enough to make a statement and make your makeup look great. Make sure your lips stay neutral as well. Just a bit of blush and mattifying foundation make your face look flawless.
For Special Occasions
Wearing coats of makeup in the summertime might not be the best idea. However, if you opt for this kind of makeup, make sure you are heading to some special occasion. Everything should be blended perfectly to stay longer on your face.
Glowy and Natural
This is one of those no-makeup makeup looks that all girls love to wear. Including us. We adore looks that appear so effortless, still makes you shine and your skin glow. Apply a creamy eyeshadow in the nude or beige shade and add creamy lipstick in the same hue.