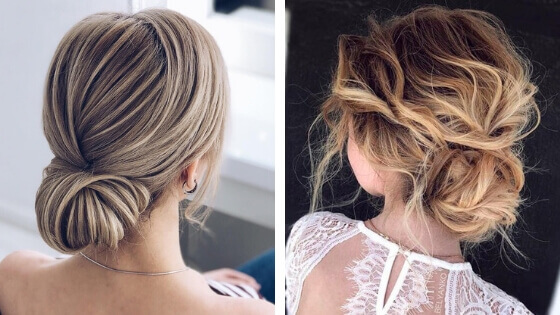 Twists and Flowers
Twisting your hair for a wedding day will have the same effect as braiding. Both of these techniques look wonderful and so eye-catching. Don't hesitate to add fresh flowers, especially if the wedding ceremony is held outdoors.
Low Chignon with Sparkly Detail
Classic is timeless. You can always count on a lovely low chignon like this. If you wish, a sparkly detail at the side will only make it look more elegant and romantic.
Wrapped Around
Instead of using bobby pins and make it visible, use your hair to wrap your low bun. It will look so chic and elegant that you will wish to wear it every day.
Goddess Braid Crown
Looking like a goddess on your wedding day is not so hard with this lovely updo. A goddess braid across your head, along with few strands of your hair left in the front will make you look gorgeous.
Fishtail Braid Updo
There are many types of braids, but the one that catches most of our attention is the fishtail one. You can dye your hair in brown, but always leave a few strands highlighted.
Low Chignon with Details
Auburn shade of your hair will make enough statement itself, but the point is in this lovely updo. These floral details will provide you with enough dose of glamour and elegance.
Low Updo with a Veil
If you have chosen to wear a veil for your wedding day, then you should make it look exceptional. As you can see, this low bun is a perfect hairstyle to go to for your wedding day.
A Bun With a Veil Crown
Small and delicate flowers on the head crown will do a fantastic job for your wedding day. Even a simple veil will look gorgeous with this lovely crown.
Messy Braid Updo
Messy hairstyles are more than beautiful. They are super chic and very convenient for your wedding day. You can always add nice white detail or hair piece.
Delicate Bun
Buns are perfect for everyday wear, but a low bun like this is great for your wedding day. To add delicate flowers, you will need a lovely string around your bun and just wrap it around.
Side Bun and Bunch of Flowers
A side bun might seem strange, but trust us when we say it – it looks unreal. When you add floral hair clip, you will get an amazing wedding updo, perfect for all kind of dresses.
Embroidered Veil
Not every veil has to be simple and without details on. You can always opt for the embroidered one and make your attire look vintage and beautiful.
Effortless and Chic
Long hair is easier to style, and we have already known that. However, if you want to make it effortless but chic, opt for a nice boho braid with some cute details.
Long Ponytail
Girls with extremely long hair can always opt for something classy and interesting – ponytail. You can make it look chicer by braiding the part of your hair or adding a shiny hair clip like in the photo above.
Vintage Princess
If you are a fan of old, vintage stuff, then you should definitely take your grandmother's hair clip and use it on your wedding day. In combination with braid, every detail will look fantastic.
Hairstyle With An Added Black Bow
A simple braided updo can always be upgraded with some interesting detail. In this case, you can opt for a velvet bow that will hold your hairstyle and make it look glamorous.
1: 1
2:
3: