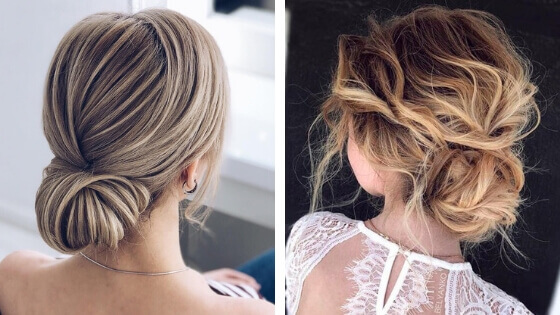 Long Braid with Details
This loose braid has some serious bohemian vibes. The strings that are attached to the braid make it look even more beautiful.
Undone Texture and Messy Bun
If you thought that messy hairstyles are not welcome for your wedding day, then you were wrong. They are more than beautiful and will make your attire stand out.
Side Braid
A side braid and long hair – there is nothing better than that. You can wear this hairstyle with any wedding dress. Also, think about adding some sparkly detail, like in the photo above.
Twist and Braid
Twists and braids can make one beautiful hairstyle when combined. Make sure to opt for an updo like this for your wedding day.
Retro Accessory
This hair accessory reminds us of that time of The Great Gatsby, round the '20s. You can wear it for your wedding day. It will give a great retro vibe to your whole look.
Blooming Hair
The trend of having a lot of fresh flowers in your hair took over, and now it is inevitable. Opt for something interesting that will attract all the view.
Greenery on Point
Greenery and flowers adorned in a hair updo – gorgeous results in the end. You can be sure your hairstyle will look beautiful and absolutely attractive.
Greenery Crown
When you want something simple, yet chic, try to go with greenery only. A crown like this will make your updo look interesting, and your attire very elegant.
Headband with Gold Leaves
If you are planning an outdoor wedding, then it is not a bad idea to be close to nature. Choose some detail, like this leaves headband that will make you look gorgeous and connected with the outdoors greenery.
Low Bun and Gold Headband
Gold details on your wedding day will provide you with nothing less than glamour. You can opt for a low bun and a beautiful gold headband and be sure you have made the right choice.
Princess-Like Half-Updo
Waves in your hair, as well as a shiny headband around your head, will make you look like a real Disney princess. With this accessory around you won't need any other piece of jewelry.
Updo with a Veil
If you are thinking about wearing a veil, but you are not really sure which hairstyle to pick – here is the solution. This updo is appropriate and very chic to wear along with the veil attached underneath.
Subtle Ponytail
Wrapped ponytail looks not only romantic but also very chic. You can always opt for a hairstyle like this if you have a long straight hair.
Top Knot Ballerina
This is ballerina bun with a twist. Instead of positioning it low, make it at the top of your head. It will look equally classy and elegant as the regular low bun.
Boho Braid
Boho vibes are more than welcome at your outdoor wedding. You can always combine a lovely lace dress with a ponytail and a braid.
Two Braids on Long Hair
If you are interested in something more casual and fun, then you should opt for a hairstyle like this. An updo with two fishtail braids and long hair will definitely make you the main attraction at your wedding.
Daisies in Your Hair
Curly hair might not seem so easy to style. However, you can always choose an updo like this. A combination of twists and braid will make your curls look even more highlighted, but beautiful. For the additional wow effect, add some fresh daisies.
1: 1
2:
3: