Red Shade and Bangs
If this hairstyle is not eye-catching, then we don't know what is. It looks stunning and utterly modern. Bangs will frame your face and make your cheekbones highlighted.
Classic Shaggy Haircut
For those women who prefer classic in everything they wear, this haircut is more than perfect. You can style it like this, leaving the hair ends out or simply curl it.
Messy Brown Haircut
While here every layer has its role, the messy look will gain you a lot of comments and views. Short layers give you a lot of texture, while the longer ones are perfect for structure.
Curled Hair Ends
If you are looking for extremely classic and elegant hairstyles that you can wear for some elegant occasion, look no further. This one has everything that you need – a bit of layer, curls, and fantastic hair color.
Messy Beach Waves
Beach waves match with summertime, right? You need to try them for the upcoming season of pool parties and days spent on the beach and by the sea. When the waves are layered – they look even better.
Inspired by The '70s
Shag haircut in its best, our ladies – this is how it looks when it is inspired by the '70s. We can say it has a lot of bohemian vibes as well. It means you can wear it all summer long.
Short Layers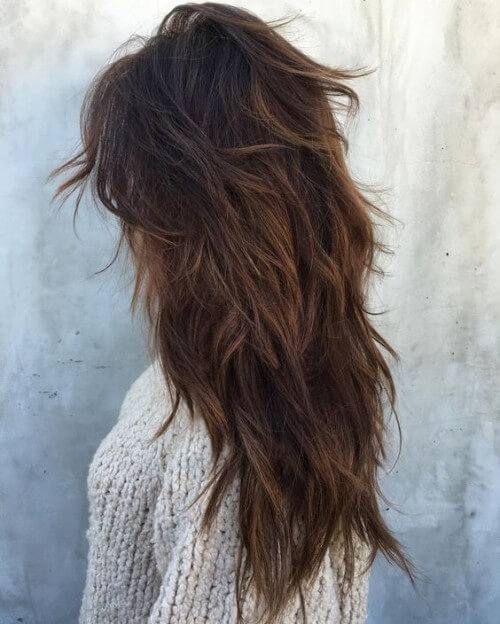 Short layers will add more texture and volume to your hair. If you have long but thin hair, opt for these short choppy layers. It is better than long ones, which won't give you much volume.
Long Curly Hair
It is almost unbelievable how good curls and layers match together. You will even get a more voluminous and more textured hair than you had before only with your natural curls.
Lavender Shag
Lavender hair is one of the leading trends. Pastel hair is more than wearable, and you need to know that. With this shaggy haircut, you will surely be noticed.
Middle Part Haircut
Middle part haircuts might be one of those that are the easiest to style. If you want to rock one of these haircuts, nothing can stop you from doing that. More layers will frame your face.
Platinum Blonde
Platinum blonde hairstyle with dark roots is dramatic and stylish itself. However, when you add choppy shag to this equation, you get a whole picture. This is a fantastic haircut for day to night wear.
Long Auburn Haircut
Auburn is a perfect color for fall and winter. Check 45 Most Beautiful Auburn Hair Color Ideas if you don't believe us. However, if you prefer it, you can wear it through all seasons and like this – with shaggy hair ends.
Rock Stars Look-Alike
Big hair was usually a trademark of rock stars. You can now have it as well! A lot of volume, texture, and this lovely shag haircut will be just enough to achieve that look.