When talking about your hairstyle, what could be more flattering, captivating and alluring in summer than long wavy hair?
Whether you are going to your best friend's wedding, beach, or just want to make it casual – here's a dose of inspiration!
Adding a sparkly detail to your hairstyle can be perfect for your wedding day, or some other extravagant event.
Braids can be equally perfect for everyday or elegant occasions. This side one will make your wavy hair interesting and more eye-catching.
The twisted half-up half-down wavy hairstyle is perfect for everyday wear. However, with elegant attires, it transforms into perfect sophisticated hairstyle that you will adore!
With a flower in your hair, you will look very unique and beautiful. Even though it has a boho vibe, you can style your hair like this as your wedding or bridesmaid wavy hairstyle.
Combination of braids and pretty long waves is perfect for everyday wear – working hours, cocktail parties or other casual events.
Retro long waves will definitely make you the main star of any event. Style your hair this way for your wedding day or for other sophisticated events – glamorous look will be guaranteed!
Galaxy trend of coloring your hair this way became super popular. It definitely appears interesting, and you can be as creative as you wish – don't hesitate to experiment with colors.
Fresh flowers in your hair can serve as a perfect detail to your long wavy hairstyle. It seems beautiful and very attractive in combination with braid.
The long braided hairstyle is perfect for open music festivals. If you are into bohemian style and way of living, then summertime can be ideal time for trying this long side braided hairstyle.
If you were ever thinking about dying your hair into grey, then let this be your dose of inspiration. Waves in combination with this trendy color look absolutely amazing!
Simple and minimal – two words describing this lovely long wavy hairstyle. It seems retro but very beautiful at the same time.
Sparkly silver string details in your wavy hair seem absolutely sophisticated and elegant.
Loose curly waves appear perfect for a wedding – whether you are a bride or a bridesmaid, you will look beautiful and have retro style with this lovely haircut.
Don't stop by putting only one flower detail in your hair. As you can see, small white flowers can look stunning when they are all over your wavy hair.
Vintage hairstyles will never go out of style. Even though they have that retro vibe, they always match perfectly with your elegant attires.
If you want to look unique at you prom night, try this beautiful flower hair accessory.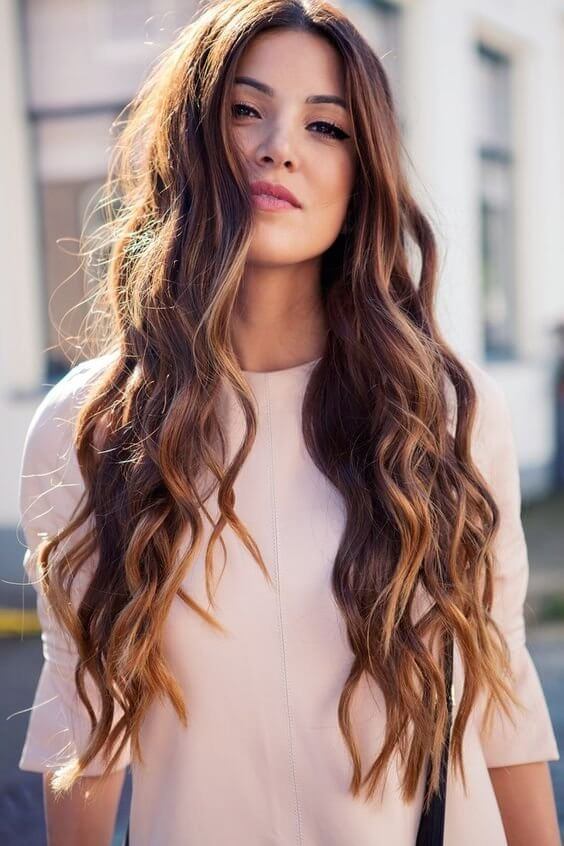 Long hair requires more work and care, but it is better looking with waves. You can choose this as your everyday hairstyle.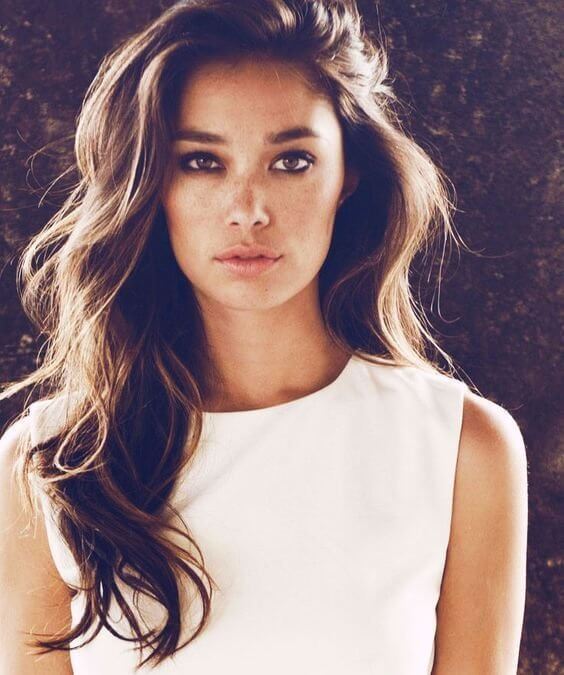 Throw over your hair on one side and make your waves long and loose. You will look sexy and attractive even though you spend only 10 minutes making your hair look good.
Ponytails are not just practical. They can look very chic and trendy – you can wear them like this girl with denim cap.
If you are a fan of the messy hair, then you should definitely try a shaggy haircut like this. It goes perfectly with your boho dress or gypsy skirt.
If you are more for some delicate hairstyle, then you should definitely try something like this. Don't overdo it, just style your hair for everyday events.
And this is how super long hair looks with waves!
Nothing can beat voluminous wavy hair! It will make you feel perfect at any formal event.
When waves are not enough, you can catch some attention by putting a half bun on the top of your head. Seems practical and beautiful, right?
As I have mentioned, a long wavy ponytail can be chic. You can wear it like this – twisted and loose with wavy hair.
Every curl is in its right position, while one side of your hair is thrown up on the other one. This hairstyle is perfect for every occasion.
Colorful scarf in your hair will definitely make you unique and very beautiful. It is perfect hair accessory for hot summer.
Buns are practical for picking up your hair. Do it half way – just make a small bun on the top or below your hair section.
We imagine wearing this hairstyle on the seaside. Mixed with sand and sea salt, it will look stunning.
Side braid has never looked nicer! It is a bit messy, but there is the charm.
Balayage is a special technique that hairstylists use. The results with wavy hair are just amazing.
If you are a fan of darker hair colors, then check out this balayage hairstyle combined with long wavy hair. Looks perfect, right?
Using braid as your hairband is not only practical, but it can look fantastic as an everyday hairstyle. Combining it with waves will make you shine wherever you go.
Silk bow in your wavy hair is not only retro but also looks lovely and romantic. You can switch colors and patterns so you won't get bored.
When it comes to bangs – you can either love them or hate them. However, they are never going out of style, and they seem perfect with wavy hairstyles.
This hairstyle is very achievable and looks perfect for everyday wear.
Braids are simply unavoidable! You can opt for these side ones – they seem pretty interesting and fashionable.
This hairstyle is ready for some night out! Voluminous and very wavy – this look will attract many people to turn their heads to your way.
Young girls can wear these loose wavy hairstyles to schools, parties and for other everyday activities.
If you prefer brunettes and brown tones of your hair, don't worry. We have found this lovely wavy hairstyle that seems ideal for you if you have brown hair.
Side hair is maybe one of the most glamorous hairstyles that you can find. Loose and big waves will boost your elegant attire.
A beautiful wavy hairscreates a vintage look with a modern twist.
Don't hesitate to wear loose side hairstyles with your waves for your wedding day.
Nerdy looks combined with bangs and waves look nothing less but perfect!
If you are into romantic hairstyles for your wedding day, then go with something like this.
You should definitely make a headband of flowers! It seems pretty and beautiful with long wavy hair.
You can't ever have too many flowers in your hair!
Soft pink roses in your loose braid and long wavy hair are a perfect combination.
Double braids and long waves can be a perfect prom combination for this important night.
Long side braid might be a great hairstyle for dancing all night long. Choose some open space.
Pastels are one of the main trends in this year's fashion. Color your hair in powerful pastels and don't hesitate to show it off!
Delicate braid as a headband is probably the best idea for many elegant events. It will keep your hair in place, and it will make you look beautiful.
If you are looking for an extravagant hairstyle, then this one can be perfect for you.
If you opt for your wedding theme to be boho and chic, then you should try this hairstyle. Fresh flowers and minimal hairstyle should be your choice for your important day.
You don't need to overdo it with waves. Try this hairstyle with waves only at the edge of your long and silky hair.
Velvet bow in the emerald green shade is an excellent hair accessory for both everyday wear or elegant events.
Gold shaded hair matches with the dress. Go with loose wavy hairstyle, and you won't regret it.
Make a braid right above your ear. It will look fabulous and attractive.
Accessory on the one side of the head and loose waves are perfect for your wedding day hairstyle.
Leather jacket and printed tee are a great way to show off your rock 'n' roll style. Messy hair and braids are working along perfectly with this style.
Season of music festivals is already knocking on our doors. You need to prepare – this hairstyle and this bohemian outfit will make you a central star of the festivals.
Romantic half-up hairdo in combination with waves can be your choice for everyday occasions.
Pinky shades on your hair can make you look like a Barbie. If you want to achieve this look with an exciting twist, make two twisted braids and let your hair wavy and messy.
What about purple? If you are into darker but eccentric hair colors – try this!
Twisted and then made into one big braid – this hairstyle will be a head turner, count on that!
Did you ever wish to look like a mermaid? Well, now it is more than possible. Just add some cute hair embellishment like flowers, little seashells or starfish.
Blush blonde hair and matching makeup will make you a star of any event!
Natural brown hair and medium long hair will be a perfect choice for your everyday hairdo.
One bow can change your bad hair day into a chic and romantic one!
For elegant occasions, opt for super shiny hair accessories.
This bridal hairdo can be an amazing choice for your outdoor or beach wedding. Do you agree with us?
Natural waves might demand some extra work, but they look fantastic.
Orient inspired hair accessories are always in style!
We were always looking amazed to redheads. They are definitely unique, and with long wavy hair, you will gain a lot of glances over your side.
Wavy side ponytail seems romantic and very appropriate hairdo for your working hours or business meetings.
You can look like you have just come back from the beach. Even in winter, you can make these lovely, messy beachy waves.
Subtle waves are perfect for everyday wear. You can also opt for blonde highlights – this will make your hairstyle even more interesting.
The trend of wearing ash blonde hair took hearts of many fashion girls. We suggest to try it yourself!
Don't hesitate to wear flowers in your hair. It looks romantic – you should always opt for fresh herbs and flowers!
Carrie Bradshaw inspired – that is how we see this lovely big white floral accessory in your long wavy hair.
This lovely and pretty sparkly side hair detail will make you shine on your wedding day!
Vintage dress matchy with your hair embellishment looks very stylish and will never go out of fashion.
Boxer braids look youngish and very bohemian. You can wear them in combination with beachy waves.
If you are bored of seeing a regular bun, then make it of your braid! This is great style inspiration for everyday wear.
Make two side buns for boho festival look. You will be ready for Coachella in no time!
Beachy waves and the beach works perfectly together. The smell of sea salt and sand in your hair is everything you will think about all summer long.
Long wavy hair in combination with a black fedora and large turquoise jewelry are some of the main characteristics of the bohemian style.
This hairstyle is absolutely appropriate for both everyday wear and as your work hairstyle inspiration.
This hairdo is perfect. It has braid, ponytail, and waves all combined in one!
Extremely long hairstyles are a bit complicated for taking care of. However, you can never go wrong with side braid and waves!
Crisscross your braids and make them like a web over your long wavy hair.
Tied back hairstyles can seem tedious. However, with ombre colored hair nothing will seem dull anymore!
Circular twist in the back look like you has flowers. It seems incredible for elegant and sophisticated outfits.
Waterfall braids are trendy and most of all they look very romantic and glamorous. With the floral hair accessory and waves, you will have a perfect hairstyle for your big day.
Looking glamorous was never easier! With the addition of sparkly detail and waves, you don't need to worry about anything.
If you would like natural and romantic wedding hairstyle, then you should definitely opt for something like this.
For more traditional look, add a veil.
Half-up ponytail will be your first choice when it comes to casual and everyday hairstyles.
You can also opt for a mix of bohemian and perfect summer casual hairstyle.
Bows can be practical – when you want to enjoy like this without washing your hair just pick it up with your velvet bow.
This is what we like to call extreme long wavy hairstyle!
With balayage like this, your waves won't be unnoticed!