Winter is here, and that means it's the perfect time to reinvent yourself and try out some cool (no pun intended) hairstyles and haircuts. Ready to take the plunge? Check out some of our favorites!
Ponytails
Ponytails are perfect for any season, especially winter. They're easy to master, and there are so many different styles of ponytails that will keep you looking oh-so-adorable all winter long!
Make the messy high ponytail your winter savior.
A wavy ponytail is perfect for the Holiday season.
Add a cute accessory to take your ponytail to the next level.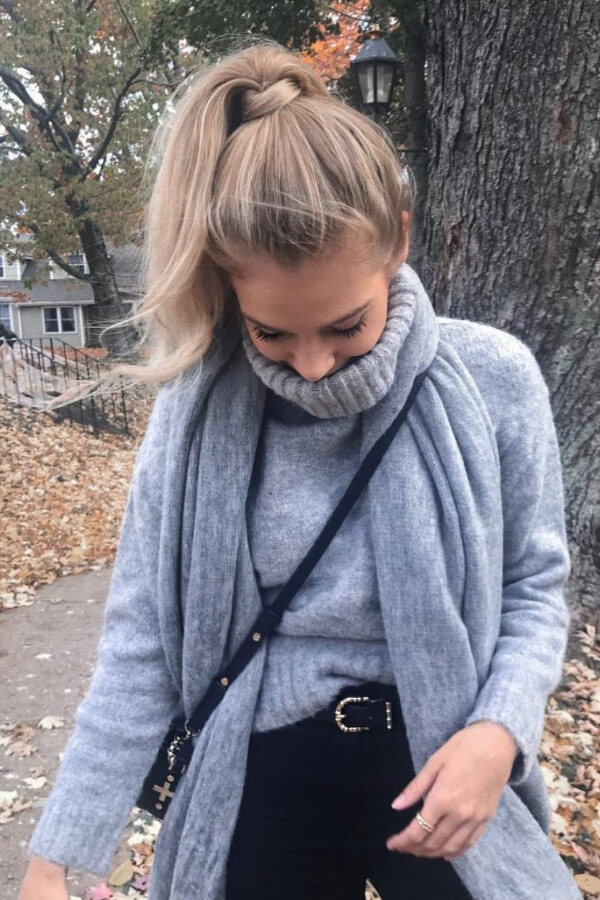 A ponytail will complement your winter layers perfectly.
A side ponytail is perfect for the girly girl.
Hats and Beanies
Cold and dry days often translate to frizzy, unmanageable hair. Time to bring out your hats and beanies! After all, they're the perfect solution to your winter lousy hair days.
A black wide-brimmed hat is a splendid addition to your winter wardrobe.
You can't go wrong with wavy hair and a hat.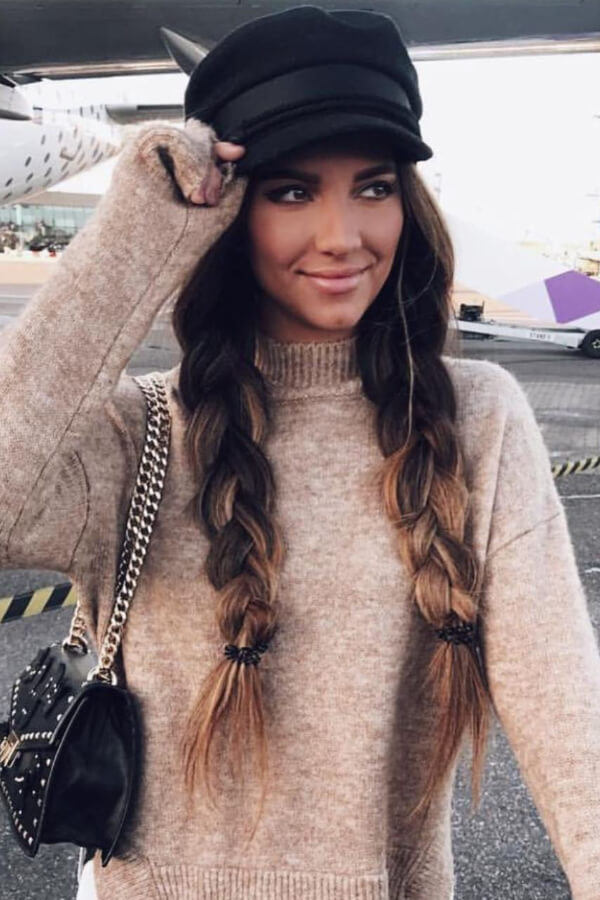 Two braids and a hat equals an attractive winter look.
Now doesn't this just make you go aww?
Add a cute touch to your casual look with a baseball cap.
Braided Beauty
You simply can't deny that braids are downright gorgeous no matter what time of the year it is. There are so many braids you can put your hair into – from regular to French or Dutch braids, braids are everything this winter!
If you're going for a regular braid, why not try this adorable high braid that is super chic for winter?
An oldie but goodie, classic pigtails look fabulous on everyone!
A fishtail braid is a perfect style to achieve that intricate look without having to try too hard.
Messy but cute is the way to go!
A loose French braid with a big red bow is Holiday perfection.
Long and Straight Hair
While wavy styles have been ruling the roost for the last couple of years, long and straight looks are slowly but surely coming back into fashion. Think Rachel Green from everyone's favorite show, FRIENDS!
Straight, sleek, and shiny hair with striking red lips – could it be more more perfect?
This has got to be one of the most fuss – free hairstyles to wear!
Add bangs to look even more stylish!
A few layers go a long way when it comes to straight hair.
The best part is that this looks good on anyone and everyone!
Va-Va-Volume
If you want to add a little oomph to your look, voluminous hair is the way to go. There's just something about healthy, bouncy hair that livens up a dreary winter day like nothing else.
Say yes to voluminous curls this winter.
A voluminous bob is super cute and chic!
A messy updo with volume in the right places should be your go-to look for holiday parties.
Even simple looks can make quite the statement sometimes.
If you are not blessed with natural volume, you can always resort to a little light teasing to achieve the desired look.
Short and Cute Cuts
As the old saying goes, "Shorter is hotter." So if you're planning on chopping off your locks this winter, here are some hot looks to try.
A shoulder length curly bob looks absolutely darling!
A brave look for brave girls!
A shabby pixie cut with bright faux fur will make you a real fashionista.
A sleek lob is so sexy and easy to maintain.
Say yes to an asymmetrical, choppy pixie!
Natural Looking Waves
Who says beachy waves are just for the summer? If you are blessed with naturally wavy hair, don't think twice about sporting your hair as is this winter. For the rest, there's always a curling iron!
We love this just-out-of-bed look, don't you?
A beanie will beautifully complement your natural waves.
Try using a large curling iron to achieve the same look.
Natural waves with a red top and red lipstick is a fashion win as far as we're concerned.
Adorable? We sure think so!
Colored Hair
There's no time like the winter to add a little color to your look. From subtle colors to more in-your-face choices, the sky's the limit for the adventurous girl.
Delicious rose gold is one of the hottest colors this season!
How about this ombre look if you want something that's a little "out there"?
This subtle grey look is gorgeous for winter!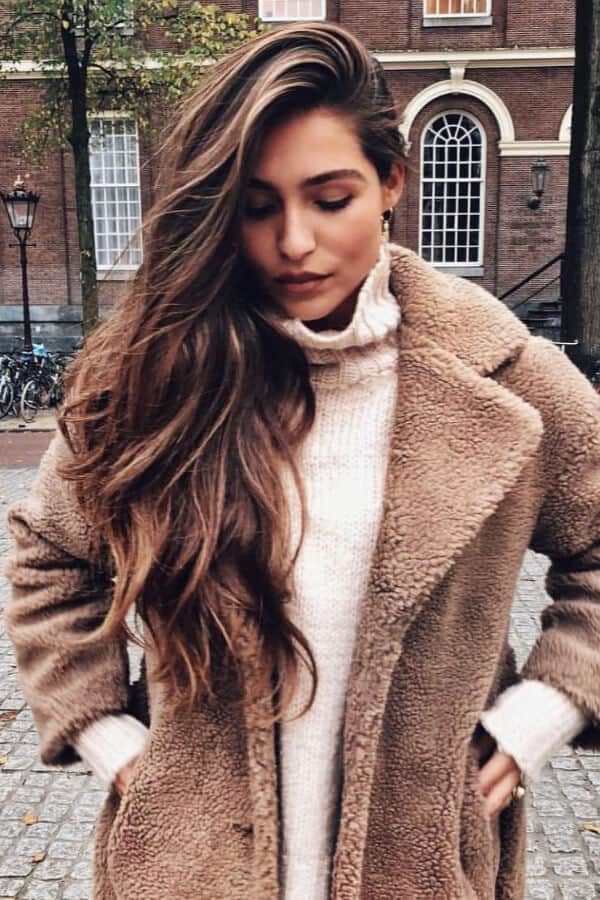 Chestnut-brown highlights will add some much-needed warmth to your look.
Now, that's a look that will make heads turn!
Top Knot
Top knots are both practical and incredibly stylish! The best part is that they don't require a lot of effort or perfection. Lazy girls, rejoice!
This messy, twisted top knot is a nice change from the usual.
Sleek, sexy, and ready to slay winter!
Use a hair gel or cream to push back your baby hairs for that flawless finish.
Is that HOT or what?!
If you're looking for a statement top knot, this is it!
Holiday Special
For most of us, winter is synonymous with the Holidays and endless parties. It goes without saying that these occasions deserve unique hairstyles. Why not try one of these lovely looks?
Try retro-inspired finger waves with some shiny bobby hair pins for a classic look.
Everything about this look from the berry color to the updo to the makeup is sublime!
Now that would be a hit at any party!
How fun is this Holiday look?
Style your messy pixie with some statement earrings for that Holiday glam.