It can be tough sticking with the same hair color every single day, which is why it may be a fun idea to start experimenting with bolder shades!
If you have the gift that is a beautiful, deep skin tone, you can find so many unique, bold, and striking hair colors that can complement and accent your skin shade perfectly.
Take a look at this list of ideas and find some new hair-loving inspiration!
These gorgeous wavy locks show just how stunning a mix of blonde and brown can be!
With a solid base of blonde, this hair color also includes shades of dark brown and tiny bits of red tints.
Silver hair has become one of the more popular styles lately, which is why these locks look so luscious and eye-catching!
A bold and beautiful choice, this bubblegum pink hair color complements olive and deeper skin tones.
This look mixes shades of black and grey, perfect for achieving a bold, midnight-inspired look.
You can never go wrong with highlights! This color includes dark and light shades of brown, mixed with subtle hints of blonde strands.
This stunning look starts with a black base and includes a subtle amount of red, making for fierce hair color!
RELATED: Trendy Fall Hair Colors: Your Best Autumn Hair Color Guide
Both bold and elegant, this look mixes shades of black and purple that result in an ombre-inspired style.
These luscious curls have an adorable pink bubblegum base that is complemented with some dark brown strands to finish off the look.
Beautiful color for deeper skin tones, this look mixes shades of blonde, silver, and pink, creating a unique, beautiful hair color.
Striking and stunning, this look consists of a bleached blonde shade, making a major standout style and gorgeous finish.
With various hues, this hairstyle comes together to create an elegant and adorable look.
This bold blue hair color is complemented by subtle strands of black and looks stunning on the deeper skin.
Showing off a pretty ombre style, this color mixes a bit of brunette and blonde to create an elegant, yet unique finish.
This black and silver mix makes ordinary hair pop and truly stand out from the crowd!
This beautiful, elegant ombre style brings together shades of deep purple and intense black, making for a striking, bold look.
Utilizing a mix of light and dark brown shades, this simple, yet stunning look can be a comfortable choice for everyday wear.
This look mixes strands of blonde and brown, creating a sophisticated and intricate hair color.
Another ombre beauty, this dark brown look gradually fades into a light blonde color towards the fall of the hair.
A bolder choice, this unicorn-inspired mix of colors utilizes a striking blue, deep purple, and a hint of aqua green.
This look takes on a rainbow-inspired finish by incorporating different deep complementary shades, such as blues, greens, and purples.
Another unicorn lover's dream, this look screams bold color with its bright mix of pastels!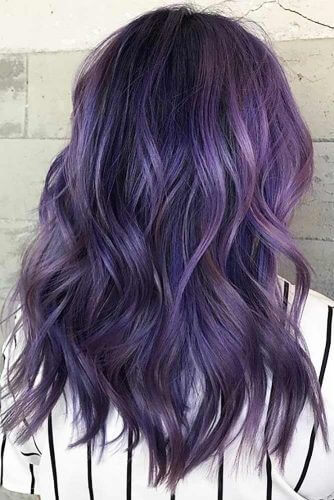 Mixing hints of black into a full base of purple, this look is a beautiful option for deeper skin tones.
This beachy ombre look mixes shades of dark brown and blonde, complementing olive skin tones and summertime.
If you're wanting to steer clear from going too bold, experiment with something like this style, as it utilizes a common dark brown ombre base with just a bit of bold red strands.
An adorable look, this peach blossom style can easily complement all things springtime or summer!
A sexy and striking look, this shade of burgundy/brown will have everyone stopping and staring in awe!
These gorgeous curls consist of a unique color that mixes shades of purple and red, beautiful on darker skin.
With a mix of deep black, ruby red, and a slight tint of purple, this look brings together a more sultry side of color!
A simple, everyday type of style, this highlighted hair brings together beautiful shades of brown, mixing in both light and dark accents.