The hairstyle that you choose should not only suit your skin tone and facial shape but it must also suit your personality. It is important for you to be comfortable with your hairstyle in spite of the fact that hair grows out. Probably, more than any other hairstyle, the short hairstyle requires courage. This is because if you do not like your short hairstyle then there is nothing that you can do about it except using a wig.
Women in the 21st century are fond of fashionable short hairstyles that are trendy and chic. They also look for short haircuts that can be managed. The present era is an era of busy business and service women who hardly have the time to manage long hair. Women in the present times like going for hairstyles that suit their corporate world and also look stylish and trendy by the night.
Even the modern moms want to look stylish with least effort and time going into hair management. If you are actually looking to go for a change with your hairstyle, making the choice of a short hairstyle will definitely transport you into the modern world of fashion.
The Benefits of Fashionable Short Hairstyles
Fashionable short hairstyles look young, vibrant and refreshing. They can be managed well and they also help women look groomed all the time. Short hair is considered as modern hairstyle and there are many women who are keeping their hair short irrespective of their age. Keeping the hair short is not enough in maintaining a style statement. It is important that short hair is styled in a chic and meaningful manner to bring out your personality. If you are looking forward to going for a short haircut have a look at the best stylish top short haircuts of 2016.
Sweet Tart
This is perhaps currently one of the best short hairstyles. It stands on a little edgy side for the ones who are looking for a bolder hairstyle in comparison to a typical A-line bob. You also have the option of adding a fun fashionable color to your hair as this will help you in going for a fresher take on the popular shape. This hairstyle goes well with all facial shapes. The women with fine hair will experience extra movement in using this style. Women with thicker and curlier hair might experience better hair texture with this hairstyle.
Stacked Classic
This hairstyle is a timeless classic appearing as short stacked bob. It is easy to manage and dress up hairstyle. One of the best things about this hairstyle is that it requires proper styling and nothing else to make a woman stand out in the crowd. In this hairstyle, a little hair length is left in front which helps in adding great variety to this styling option. The stacked classic short hairstyle works best for almost all sorts of face shapes but it is not good for women with full cheeks and round faces. This is because the hairstyle accentuates roundness. The women with curly hair should try and put in some money in getting a smoothing treatment before trying this fashionable short hairstyle.
Voluminous Bob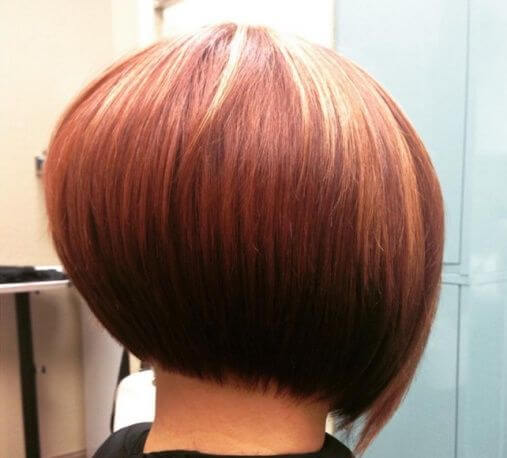 This is a polished and cute hairstyle. You can always request your hairstylist to offer you an angled and asymmetrical bob cut. The graduated and voluminous bob is for women with thick hair. It looks best with blonde highlights and brown layers. This kind of haircut appears quite full for women who have thick hair and thus it is the intended hair cut for the ones possessing thick hair. In this hairstyle, some shorter layers of hair added in the middle of the back of the head for giving the hair a bouffant appearance. The entire look is completed by adding blonde and light brown layers on the top.
Fun and Flirty Hairstyle
This is a modern woman's short hairstyle and it is generally found being worn by the fictional fairy tale characters found in children's movies and books. This is a playful look that also appears professional and expresses the inner spirit of a woman in a cute manner. Women with all types of face shapes can go with this look. But, it is important for women with small forehead to go for shorter fringes on the cut as this helps in avoiding the situation of overwhelming a lot of hair on the face. Women with wavy and curly hair types should make use of good quality hair styling products to avoid frizz.
The Smooth Pixie Hairstyle
This is a hairstyle that offers a versatile appearance and works with almost all varieties of the outfit, make-up, and jewelry. Women also have the option of going for side parted pixie cut like Jennifer Hudson, the famous celebrity.
Curly Bob Cut Featuring Bangs
This is one of the most elegant short hairstyles coming with frames and flatters. This hairstyle flatters the entire bone structure at the right and even the most perfect spots.
Chic and Short Hairstyle
This is a short hairstyle that you can try if you are looking forward to an appearance that helps you in making a big impression without putting in a lot of effort. You also have the option of going for the super cropped and rocking Afro Holange haircut. The bonus that comes with this short hairstyle is that you get to show your beautiful face from the center and the front.
Honey Kissed Swirl
If you want to add a kind of Old Hollywood type look to your appearance, then you must definitely go for the side parted wavy short hairstyle. This hairstyle can be given a touch of exclusiveness by adding red lip and smoked for extra glamour.
Platinum Pixie Hair Style
The platinum pixie hairstyle can have an extraordinary impact on the look and the appearance of a woman. This hairstyle also makes a woman look part sexy and part edgy.
Loose Waves Bob in Three-Tone Color
At the first glance, the loose waves bob short hairstyle in three tone color might look great and might compel the onlookers into thinking that the hair is in natural color. This hairstyle requires a trained and experienced hair stylist. This is a color-treated hairstyle using three varied shades of color. This is the best hairstyle for all those women who want their thin hair to appear a little thicker than normal.
Chin Length
It is quite evident from the name of this hairstyle that it is a style where the hair does not go beyond the chin. To get the best results with this hairstyle, women must ensure that they wear their hair in easy and soft waves. One of the best things about this style is that it works both for casual and professional environments. This hairstyle should be maintained using curling irons and rollers to make the hair look great always. This hairstyle is not super short and is great for women with straight and thick hair. It is a hairstyle featuring choppy layers of hair graduated back for an angled look.
Curly Pixie
The curly pixie is a hairstyle featuring tapered sides. One of the most wonderful things about this hairstyle is that you can wash it and give it a shape that you might have always liked. But, it is important to trim it every six to seven weeks to maintain the hairstyle for a long time. Just like the other short hairstyles, even this hairstyle requires less maintenance. If you want to give this hairstyle a good shape, try using a good quality hair product.
Soccer Mom
The soccer mom hairstyle is longer in the front and shorter at the back. If you want a great look with this hairstyle, try making it spiky with the use of hair sprays and gels.
Asymmetrical
The asymmetrical is a dramatic hairstyle and women who do not care about weird stares can always go for this hairstyle. This hairstyle is for confident women and one of the best things about this hairstyle is that it gives a high-fashion and edgier look to a woman.