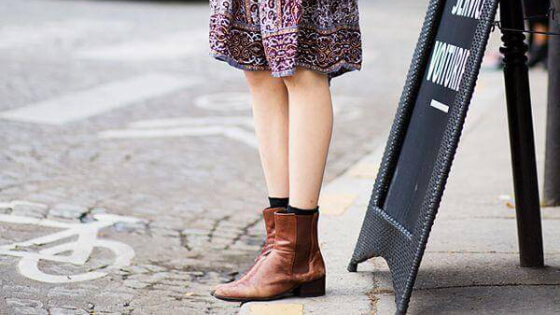 Fall is here! Time to transform your summer wardrobe and bring out fall essentials like fluffy cardigans, wooly scarves, warm jumpers, and cute booties!
They are perfect shoes for the fall considering the "just-right" temperatures and their versatility. Plus, you can wear booties comfortably for hours and they always look adorable!
Wearing Booties With Rolled Up Jeans
Rolled up jeans are a great way to show off your pretty booties. You can either buy cuffed jeans or roll up your existing ones for a casual fall look that you can wear anywhere. Just remember to leave a little gap between the cuff and your boots. Letting your ankle peek out will visually elongate your legs. Longer legs FTW!
You can't go wrong with a blue jumper on blue jeans and brown booties. Add a colourful scarf to break the monotony.